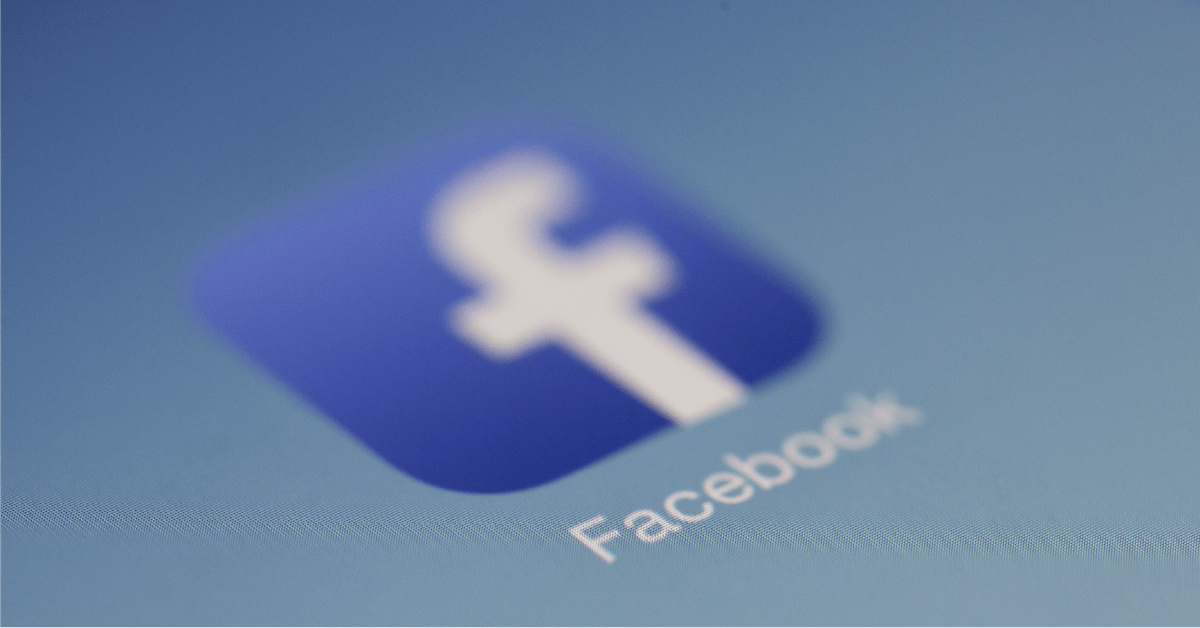 Facebook advertising can be an excellent tool for generating new leads for your business. By leveraging its massive user base, businesses can reach new audiences, build brand awareness and expand their prospect database.
Still, there are several steps to setting up advertising campaigns on Facebook and considerations needed to determine whether or not Facebook is the right choice for your business.
Should You Advertise on Facebook?
Like any other channel, you need to determine if Facebook is a worthwhile investment for your organization's marketing budget. Depending on your business, industry and available offers, advertising on Facebook may not be a great fit.
Audience
From a B2B standpoint, advertising on Facebook can be a great play if your target clients are B2C companies. Businesses that work in the hospitality, education, human resources and non-profit sectors are all great examples. Because these sectors deal with client communities, it's likely that they have a strong professional presence on Facebook and are more likely to engage with your content.
"It really does depend on the type of personas you're marketing to," says Rider Gordon, lead search strategist at New Breed. "You really need to consider whether Facebook is a part of their professional life."
The important thing to remember when determining whether your audience will engage with advertising on Facebook is that everyone has their own search and social media behavior. With over 2.5 billion active users, there is a lot of variability in how people use and engage on Facebook.
Business goals
Unlike other advertising platforms such as LinkedIn and Google, Facebook isn't necessarily a great platform to nurture leads. But, if your objective is brand awareness or to generate new leads, Facebook has vast potential.
"Facebook is not a good generator on middle- or bottom-of-the-funnel offers," says Rider. "What we have found to be most successful are low-touch, actionable pieces of content."
Ideally, the offers you advertise on Facebook are ones that generate an immediate return for the user. Printables, templates or checklists are all examples of offers that a user can download and immediately interact with or share with coworkers.
Alternatively, if your content offers are largely e-books and guides meant to push leads down the funnel, you may struggle to generate interested or quality leads on Facebook.
Company and audience values
In July of 2020, thousands of businesses including Disney, Coca Cola and Ben and Jerry's boycotted Facebook's advertising platform in response to Facebook's failure to address bias, incendiary content and misinformation.
Given the negative perception of Facebook that is held by consumers and businesses alike, you need to also evaluate your own organization's and audience's values. This consideration is just as important as any other factor in determining whether or not your business should advertise on Facebook.
Getting Started With Facebook Ads
Once you have decided to move forward with Facebook advertising, there are a number of steps that you have to take.
Create a company page and Ads Manager account
If you don't already have a company page on Facebook, you will need to create one. This page will serve as the public host and face of your ad content. Additionally, you will need to create a Facebook Ads Manager account and link it to your company page. This platform will enable you to create, manage and track your various campaigns.
Install a Facebook Pixel on your website
With your accounts created and linked, you will need to create a Facebook pixel for your website. Similar to a Google tag and a LinkedIn Insight Tag, a pixel is an identifier unique to your Ad Manager account that is installed on your website. The pixel enables Facebook to track visitors to your site and enables you to create retargeting audiences and track conversions.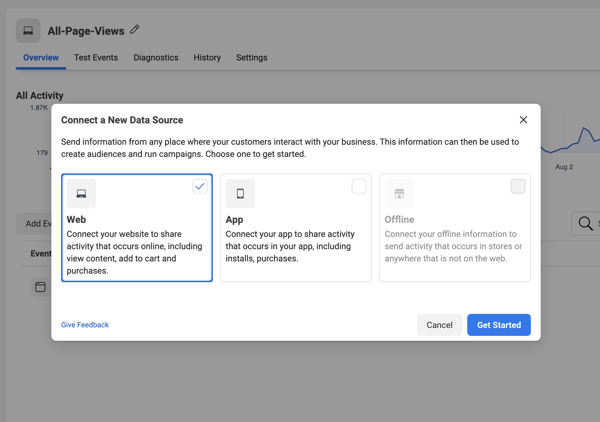 To start working with your pixel, you will need to generate a pixel from the Events Manager section of Ads Manager and install it on your website either directly in its code or through a third-party integration such as Google Tag Manager.
Structure your advertising campaigns
Organizing your Facebook advertising campaigns can be daunting but can pay large dividends in reporting and managing ads in the future. Campaigns should be organized by the content offer or asset that you are promoting. Your budget is set at the campaign level.
Housed under the campaign are ad sets, which are best used to test that offer against different audiences. For example, one ad set may target website visitors while another may target an affinity group. You can modify how much of the campaign budget goes to each ad set.
Grouped within ad sets are generally two to three ads that test different creative or copy against one another.
Choose your objective
While there are a number of Facebook ad categories, broken out by marketing objective, there are three that are among the most effective for B2B campaigns.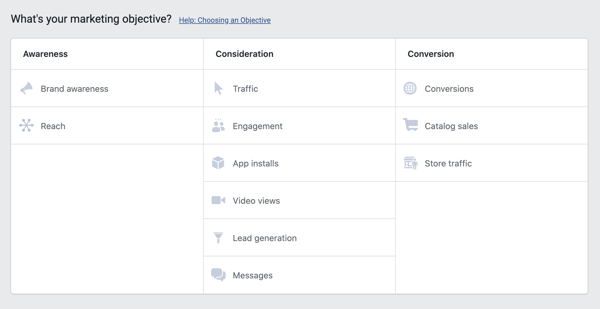 Reach: The goal of these campaigns is to be seen by as much of your audience as possible. These campaigns are best used when targeting a smaller audience for a specific purpose.
Traffic: The primary goal of a traffic campaign is to drive visitors to your website, but not necessarily to convert. This can be used effectively in retargeting campaigns to bring users back to your website.
Lead Generation: An excellent tool for capturing user data, lead generation campaigns can lead to strong returns, but can be difficult to control in terms of the emails you get. Lead generation campaigns may be the preferred method for your business, but they may require some back-end work in your CRM to incorporate Facebook leads into your existing workflows.
Create your audiences
When creating audiences on Facebook, you will need to consider the type of content you are advertising and who you want to see that content. That said, there are types of audiences you should focus on when just starting out:
Website Retargeting: Using your newly installed Facebook pixel, you can create an audience of website visitors to serve them ads that drive them back to your website. You can create audiences based on all site visitors or take a targeted approach by focusing on specific pages.
Existing Databases: You can upload existing lists of prospects in your system to Facebook. Depending on Facebook's ability to link your list with existing users, you will be able to target ads directly to individuals already in your pipeline.
Affinity Groups: Targeting by Facebook interest or affinity groups means building out a framework of variables that your desired target audience meets. If you're a company that sells software to wineries, you may create an audience of Facebook users in groups about wine.
"Those three audiences should be your first priority," says Rider. "Depending on how they perform, you can then consider creating lookalike audiences that expand the reach of your ads based on your existing audiences."
Design your creative
With everything else established, one of the final areas of focus is designing your ad's creative. Much like content, your visuals should be lightweight and eye-catching. While Facebook limits how much copy can appear both in-post and in your visuals, there are best practices to consider as well.
"Ad copy and creative that doesn't take itself too seriously performs well on Facebook," says Rider. "Your objective is to capture the attention of viewers who are scrolling quickly."

While there are multiple ad formats to choose from, the best two when just starting out are static image and carousel ads. Carousel ads generally perform better than static images and offer more creative freedom. Creative should be 1200 by 628 pixels for static images or 1080 by 1080 pixels for carousel ads.
Takeaway
Depending on your industry and your promoted offers, Facebook advertising may or may not be the best fit for your business. However, by following the steps laid out above, you can create strong advertising campaigns that generate quality leads for your business.
Chris is a Brand Marketer at New Breed where he is responsible for crafting design and video assets that support our brand. When he's not behind the camera, he enjoys kayaking and tending to his sourdough starter.