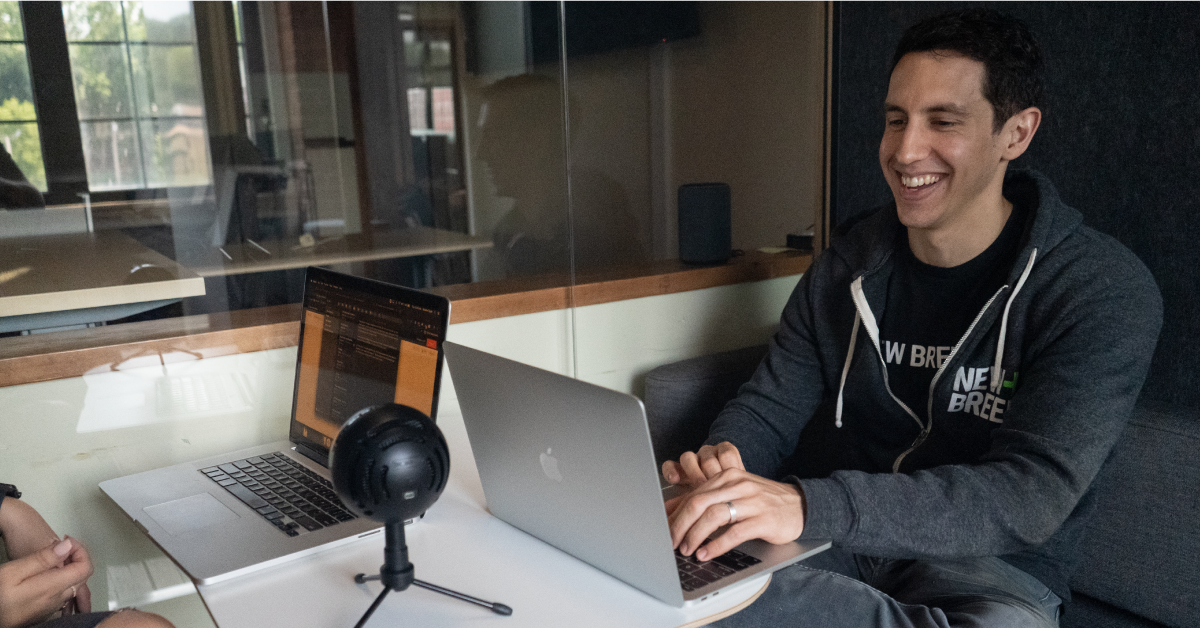 By now, you're likely very familiar with podcasts. Even if you haven't been the one asking for recommendations of what to listen to, someone has probably asked you.
According to Edison Research, podcasts reach over 100 million Americans every month. That means podcasts are not just another format for your content — they're a realistic tool to build brand awareness and attract prospects.
Podcasts also offer a unique opportunity to connect with your audience in a non-traditional way. You'll be providing a voice for your brand as listeners take their daily commute, work out, clean the house or tune in outside of a standard working environment.
With the number of podcasts out in the space, including many for B2B brands and marketers, you may be eager to dive right in. If you're unsure of how to start a podcast for your business, these are some essential steps to take to get started:
1. Establish Clear Goals
While it may seem like everyone in your industry (or even your neighbor) has a podcast, you shouldn't be starting one just because your competitors are. Like any channel in your marketing mix, it's important to establish clear goals from the outset.
Ask yourself, what are you trying to accomplish with your podcast? Are you trying to spread awareness about your brand and build an audience? Attract new customers for your business? Generate revenue from ads?
Your answer to that question will likely inform many of your future choices when it comes to subject matter, equipment, cadence and more.
Well-defined goals will also help you track your podcast's performance and determine whether or not it is a worthwhile investment for your business. While podcasts can be extremely affordable, the best ones require a significant investment of time that small teams may struggle to accommodate.
2. Identify Your Subject and Format
With that in mind, you also need to consider what your podcast will cover — and how you will cover it.
Subject matter
Podcasts are an excellent tool to reach niche audiences. As the medium grows in popularity, there's an increasing demand for content on everything from container shipping to zen gardens.
Like any content you're producing, your podcast should be relevant to your audience's interests or provide answers to their common challenges. If your goal is to build brand awareness, you may go with a broader core topic. If your goal is to attract customers, you'd likely choose something more niche and focused.
Format
If you're an avid listener, you know podcasts come in many different formats. Many that we recommend in the B2B space are interviews or roundtable discussions with thought-leaders and industry experts. Others are led by a single host talking about a given topic.
You should identify a podcast format that is both repeatable for your business and engaging for your audience. Shifting formats on a regular basis can be prohibitive to establishing a process or building a loyal following.
A single, dynamic host can grab attention and build a following but they may may be difficult to schedule time with on a regular basis. Interview podcasts are beloved by many but often put significant weight on finding captivating and engaging guests — which will require pre-production work on your end.
When deciding on a format for your podcast, it's a good idea to look toward top podcasts outside of your industry — or even outside of B2B. Story-driven, journalistic podcasts like Serial, 99% Invisible and How I Built This have cultivated large followings and can lend a lot of inspiration to new podcasters, especially in B2B where more and more brands are breaking into the space with more traditional formats.
3. Get the Right Equipment
One of the many reasons podcasts have become so popular is that they're fairly easy to start. The barrier to entry in regards to equipment, software and expertise is relatively low. As long as you have a computer, you can produce a podcast.
That said, production value can really make or break a podcast. Since it is strictly an auditory medium, your podcast should sound as good as possible. It's unlikely you'll hold anyone's attention through 30 minutes of static and background noise.
That's why it's important to consider securing the following essentials before you get started.
Equipment
The most budget-friendly microphone is the one included with your phone or laptop. But to reach a desirable level of sound quality, your microphone will likely require the most investment of your podcast setup.
The Blue Snowball microphone is a cost-effective option (roughly $50) that will provide a huge boost to your sound quality. It can plug directly into your computer via USB. The Snowball is a cardioid pattern microphone, which means it will only record what's directly in front of the microphone. This limits excess room noise, but would require a second microphone to record co-hosts or guests.
For just over $100, you can upgrade to the Blue Yeti microphone which offers multiple audio patterns for recording multiple guests, greater sound quality and USB or XLR inputs for multiple recording options.
Regardless of the microphone you choose, supporting equipment like pop filters to reduce hard "p" or "b" sounds and microphone arms to hold your mic can round out your recording setup.
Finally, if you decide to really invest in podcasting for your business, an external recording device can really bring your audio to new heights. Paired with an XLR microphone (like the Blue Yeti), an external recorder like the Zoom H6 can record multiple microphones, set unique audio levels for different speaking volumes and record at higher bit rates than your computer among many other features.
Software
While microphones plugged into your laptop via USB can be a perfectly suitable way to record audio, you will need some means of capturing the audio on your device or editing it once you've uploaded it. This is where recording and editing software comes in.
Most computers come with some kind of base audio recording software like GarageBand for Mac. Alternatively, Audacity is a free PC-friendly software with tools similar to Garageband. These tools allow you to record your voiceover and then edit accordingly such as adding music, sound effects or splicing in additional interview recordings.
The next step up from free tools would be along the lines of Adobe Audition which boasts more robust features and presets to improve your sound quality and editing workflow.
If you want to reduce complications and don't want to employ full-blown editing software, Macs (Quicktime) and PCs (Voice Recorder) come with built-in recording tools that offer very little bells and whistles. That way you can capture your podcast audio and upload it straight to your hosting platform.
Hosting
Much like a blog, podcasts are distributed by an RSS feed. Your listeners will subscribe through the podcast app of their choosing (Apple, Spotify, Google, etc.) which are powered by your RSS feed. Every time you upload a new episode, your RSS feed distributes it to podcasting platforms and alerts subscribers.
Podcast hosts help create your RSS feed and distribute your podcast, making it an important decision when creating a podcast for your business.
Most podcast hosts are relatively cheap with costs based on upload limits or monthly episodes. New Breed's Adding Value Podcast is hosted by Anchor, a free platform that simplifies distribution and monetization. Other well-known hosts include Podbean, Buzzsprout, Captivate and Wistia.
Evaluating different platforms can largely be narrowed down to determining the value of the following criteria:
Cost: Many podcast hosts charge a monthly or annual fee based on how many episodes or the length of content you upload in a given timeframe
Distribution: Most podcast hosts will provide you with the necessary information to set up your podcasts on listening platforms like Apple or Spotify while others will do the distribution for you and get you on as many platforms as possible.
Analytics: Certain platforms offer more robust analytics including audience retention, demographics, downloads and subscriptions
Monetization: It can be difficult to determine your podcast's ROI. Platforms that offer monetization enable you to make money off of ads run on your podcast.
Production: Some platforms have built-in production tools that enable you to record, edit and publish without the use of third-party tools.
4. Have a Set Cadence
As we've already covered, podcasting is a lot like blogging. Having a set cadence is very important for building a loyal following and boosting your subscribers.
Listeners come to expect when a new episode will publish and tune in. If episodes come out without a clear pattern, you may struggle to build a following. That's why even if you can't publish frequently, it's important to post regularly.
Your cadence will likely be dependent on the bandwidth you have to contribute to your podcast's production. If you can't commit to publishing once a week long-term, don't start by doing so. Posting once a month is fine, as long as you can keep it up.
No matter what cadence you decide to go with, having a backlog of episodes before you launch is highly recommended. Having multiple episodes prepped before your podcast goes live will help you stick to your established cadence while remaining flexible if problems arise during the recording of future episodes.
Additionally, if you decide to launch with a number of published episodes, you're more likely to build a following sooner as you're giving your audience a good sample of what to expect if they subscribe to your show.
5. Prepare for Every Episode
While the work you do for each episode will vary depending on the format you choose for your podcast, it's important not to skimp on preparation. The more prepared you are for recording, the less work will have to be done in the editing process.
When interviewing guests, be sure to research the subject matter, their background and draft questions in advance of your conversation. Having background information on your interviewee can help you spur conversation early on and get comfortable before diving into the specifics of your interview.
Alternatively for hosted or discussion podcasts, draft a list of key takeaways or topics that you'd like to cover in the episode. That way, hosts come prepared for the conversation with their own insights or opinions.
Story-driven, journalistic podcasts may require multiple interviews, research and story mapping before ever jumping into the edit.
It's also important to cater your pre-production work to the needs of the host or guest. While some podcasters will be comfortable jumping on mic with little more than some bullet points, others will prefer full scripts.
Depending on your format, be sure to allocate enough time to planning and adjust your cadence accordingly. If you will be spending substantial time prior to recording and editing, a weekly cadence might not be possible without excess time built into your production schedule.
6. Publish, Promote and Repurpose
With your equipment secured, planning done and audio recorded, all that's left is to publish your episode. Right?
Not so fast. There are still hundreds of thousands of podcasts asking listeners to lend their ears. When you're publishing your podcast on your chosen host, be sure to invest time in drafting compelling copy for your episode title and description.
Podcast listeners can search for episodes and shows, so including relevant keywords in your description is an effective means of targeting the right listeners.
Since you have invested time and money into producing your podcast, you want to promote your show as much as possible. Social media posts, email campaigns and even paid advertising are effective ways to spread the word about your podcast and build up your listenership.
Finally, repurposing your podcast content is a great way to make the most of your efforts and squeeze every ounce of value out of your podcast. When you record interviews with guests, record both audio and video as it gives you additional promotional material to upload to social media or edit into content as part of your greater video strategy.
Podcast episode transcripts can also be repurposed as blog posts to attract more website visitors through SEO or give visitors an alternative way of engaging with your content either through listening or reading.
Finally, while podcasts are traditionally listened to, creating supporting visual assets such as graphics or charts that align with the content in your podcast can improve a listener's experience and give them greater reason to engage with your podcast and content in the future.
7. Measure Your Success
With your podcast running smoothly, how do you determine whether or not it's successful? At the time of writing, it can be difficult to determine if people who are listening to your podcast are leads or contacts in your CRM — especially if you're publishing through any of the standard podcast hosts.
That's why the key performance indicators you track should ultimately tie back to the goals you set for your business' podcast at the onset. If your goal is additional contacts, asking "How did you hear about us?" as part of your form strategy can be helpful in tying leads back to the podcast.
If your goal was brand building, then traditional podcast analytics are more effective to look at. Monthly downloads and average episode downloads are good indicators of your podcast's following and subscriptions across multiple platforms. If these numbers are climbing, then it means your audience is growing.
If these numbers are stagnant, it doesn't necessarily mean podcasting isn't right for your business, but it may be worth looking at your cadence, promotional strategy and content. Are all of these things in line with the needs of your audience?
Looking at reviews on listening platforms like Apple and Spotify is a good way to evaluate the effectiveness and compelling nature of your content and format. Reviewing and adjusting based on feedback is helpful, but it's important not to overcorrect based on individual comments. Instead, be on the lookout for common trends that are appearing.
Finally, keep an eye on audience retention. The only hard and fast rule for podcast length is to cater to your audience. If you find that most of your listeners aren't lasting through the entire length of your episodes, you may need to think about whether the content is engaging enough for the length and adjust accordingly.
Chris is a Brand Marketer at New Breed where he is responsible for crafting design and video assets that support our brand. When he's not behind the camera, he enjoys kayaking and tending to his sourdough starter.