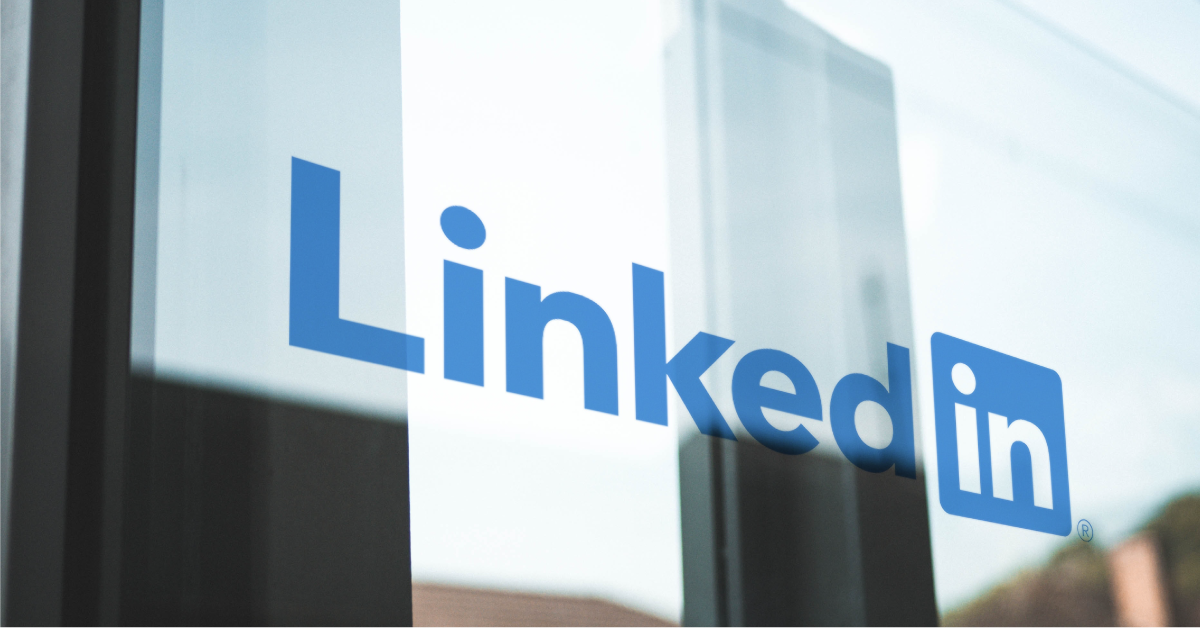 You can't run a comprehensive inbound marketing strategy without a presence on social media. While not every social media channel is right for every business, LinkedIn is one of the most popular platforms for businesses in the B2B space.
A strong presence on LinkedIn is important for telling your story, building brand awareness and cultivating an online community around your business. Additionally, LinkedIn company profiles can rank on Google if you have a keyword-rich profile. That means you can expand your reach and serve your prospects relevant content outside of traditional web methods like blogging.
With that in mind, I sat down with Inbound Strategist Kirsten Forrester to learn more about how businesses can make the most of their LinkedIn company profiles.
1. Have a Clear About Section
Your LinkedIn profile is an excellent place to tell your brand's story and connect with members of your community, including prospects and customers.
"As soon as someone lands on your page, you want it to be really clear who you are and what you offer," says Kirsten.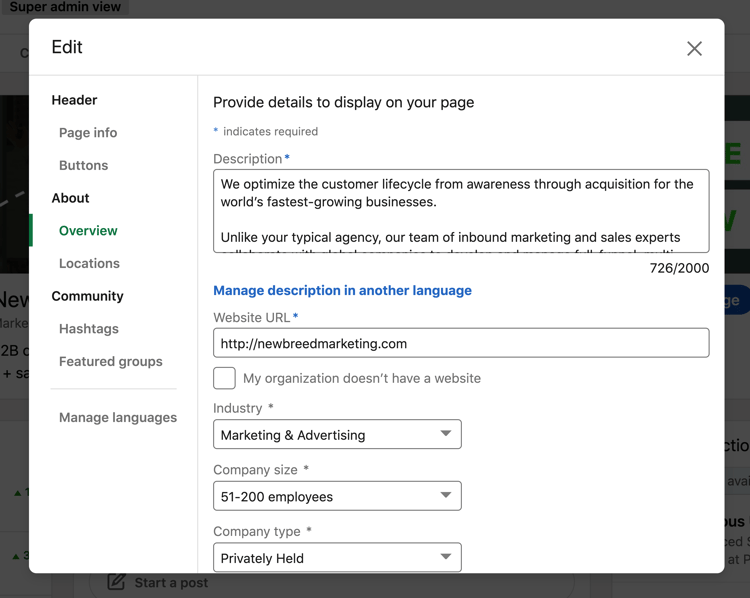 Making sure you establish your brand's core value proposition within your profile's tagline is an important first step, but you should be filling out every available field including industry, company size and specialties to give a holistic overview of your company and its work.
You can continue to expand on your value proposition and how you deliver upon it in the long-form about section.
"The about section is really where you can do a lot of work from an SEO perspective," says Kirsten. "You can do a little more storytelling about how you address pain points, what you solve for and what you offer."
The about section is also a great place to naturally weave in keywords that are relevant to your work and the things your best-fit customers are searching for. When done effectively, a keyword-focused about section can help your LinkedIn company profile rank in search results. Additionally, you can incorporate backlinks from your LinkedIn profile by linking to your blog posts or website pages from your posts, further improving your profile's search rankings.
2. Customize Your Profile's CTA
In addition to being detailed in your profile's about section, there's also an opportunity to update your profile's call-to-action.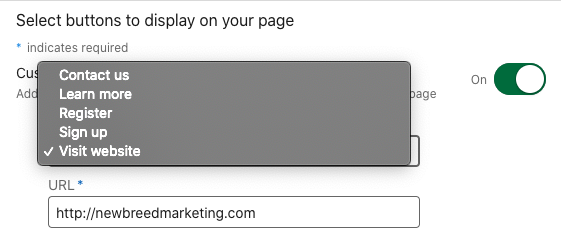 There are a number of options to choose from that you can customize to the needs of your business. Customizing your CTA to a relevant offer or specific web page is an opportunity to educate your prospects about specific details of your company or one of the pain points you solve for.
At New Breed, we prefer people visit our website to get a better sense of our diverse service offerings and content offers, but that isn't the best fit for every business profile.
3. Build Out Your People and Careers Sections
Your company profile can also be an important channel for reaching prospective employees as well as potential customers. That's why it's important to make sure you update the Careers section regularly and encourage your employees to update their own profiles to feature within your profile's People section.
"A big part of LinkedIn is the community, and your community is more than just your customers — it's your employees," says Kirsten.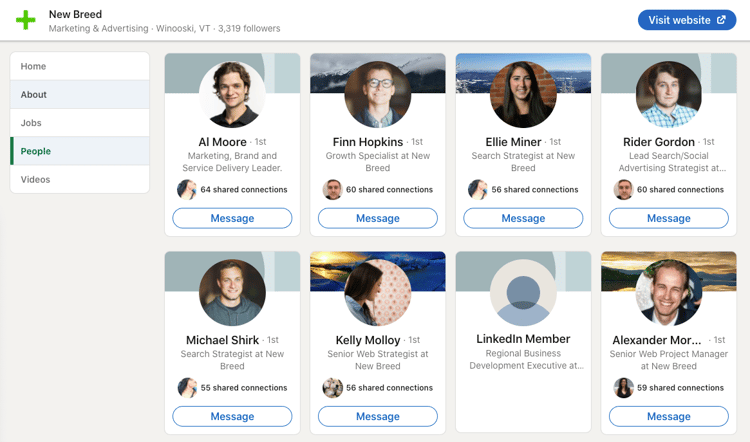 Encouraging employees to update their personal LinkedIn pages and engage with your company profile is important to tie real people back to your brand and cultivate community around your work.
"If you engage with your employees and feature them on your company profile, they're more likely to engage with your content," says Kirsten. "That only helps expand your reach into the networks of your team members."
Likewise, keeping your Careers page updated with positions you are actively recruiting for is key to getting engaged applicants and not misinforming prospects who may be interested in roles that are no longer available.
4. Take a 4-1-1 Approach to Posting
In addition to the work you can do on your profile itself, it's important to consider how you maintain and share from your LinkedIn company profile.
From a content perspective, Kirsten recommends taking the 4-1-1 approach. Essentially, every six posts can include a soft promotion of your business or service, a hard promotion and then four educational posts or pieces of content.
"People want to follow you not just because of what you sell, but because of the value you provide," says Kirsten. "On LinkedIn, it's really about striking a balance between content specific to your business and other, more helpful industry-related content."
This approach aligns nicely with the inbound methodology that focuses on educating prospects toward your solution versus strictly selling them something.
5. Establish a Posting Cadence
As important as the content you're posting is the cadence at which you are posting. In order to ensure you're not forgotten about, it's important to post from your LinkedIn profile with regularity — even if you can't do so frequently.
"A regular cadence is very important for comparing data," says Kirsten. "But, it also helps your users know 'Okay I know I expect to see something from this company about three times a week.'"
If you're posting without a traditional pattern, it's much harder to compare one set of data to another. A week with 4 posts compared to a week with 1 won't be able to provide any useful insights.
Alternatively, if you post with regular frequency, you can test different approaches and compare data such as the types of content or posting times that perform better than others.
6. Diversify Your Content
Your LinkedIn profile is a great place to drive traffic to your website through link shares such as blog posts and key website pages. That said, it's important not to become stagnant and share a diversity of content on your page.
"A lot of B2B companies make the mistake of only sharing links or sharing the same links over and over with different copy," says Kirsten. "People will recognize the same links and get tired of seeing the same content."
Video, photos and other multimedia content is especially effective at garnering engagement and driving clicks to your website. While it can be tempting to always share the same content with subtle tweaks, remember that LinkedIn — like other social media platforms — is a community.
You are constantly talking to a similar audience and trying to grow that audience. Your community is less likely to engage with content they've seen before, so building in a variety of content and format into your editorial calendar is preferable.
7. Utilize Hashtags
One of the challenges faced by B2B marketers is the value of hashtags. They are not dead! Hashtags can provide significantly greater reach to your content when used in your LinkedIn posts effectively.
It's important to strike a balance between niche hashtags that are specific to your business and broad hashtags that your content can get buried in.
"You should curate your hashtags to be relevant to your industry while aiming for the middle ground between too specific and too broad," says Kirsten. "I would say the helpful area for small pages to be in is between 15,000 and 200,000 uses."
While hashtags can be very useful for reaching a wider audience, you shouldn't overdo it. Writing naturally and for your reader is still fundamental to good social media content and frequent hashtags can get in the way of doing that effectively.
8. Focus on What's (and Who's) Trending
It can be easy to associate social media trends with B2C brands, but there's plenty of opportunities for B2B companies to capitalize on what's happening if it's relevant to their business.
By staying on top of what's trending, you can find new opportunities to tie it back to your business and join the conversation, likely expanding your reach. That said, it doesn't always have to be coming directly from your company.
"Don't be afraid to tag people or share other people's content," says Kirsten. "A lot of brands can't keep up with original content creation, so this is a really easy way to get engagement and clicks and become a hub of helpful information."
Identifying influencers in your industry or even among your employees is an excellent way to take some of the content creation load off of your company profile. It's also another opportunity to provide educational content rather than hard promotions for your business or products.
Takeaway
A successful LinkedIn company profile goes beyond the initial setup of your page. You should consistently be managing your page to build awareness of your brand and educate potential prospects on the value you provide.
Regularly posting or sharing thought-leadership content is an excellent way to foster greater community around your business, drive traffic to your website and make the best use of your company's profile.
Chris is a Brand Marketer at New Breed where he is responsible for crafting design and video assets that support our brand. When he's not behind the camera, he enjoys kayaking and tending to his sourdough starter.