Social media marketing offers various opportunities for marketers to engage their audience. Initially, this mode of communication appears to be more beneficial for business-to-consumer (B2C) marketers. For most B2B industries out there, social media tends to be a not-so-reliable part of the marketing equation.
On the one hand, B2B marketers feel obligated to use social media because almost every person is active on these platforms, but on the other hand, some firms overlook its importance as they don't feel their business will have a large or active social following.
While it's true that your B2B company's Facebook page or Instagram profile probably won't accumulate a fan base like a famous athlete, musician or actor, you can see results from social media by focusing on LinkedIn and Twitter.
These two platforms are ideal for B2B marketers for several reasons.
On LinkedIn there are:
63 million decision-makers
180 million senior-level influencers
10 million C-level execs
Twitter, while not solely focused on business, can be equally powerful.
67% of B2B companies use Twitter for various digital marketing purposes
Twitter is used by 75% of B2B marketers to promote their products and services
Businesses rate Twitter as the third most effective social media platform
Getting Started with LinkedIn and Twitter Marketing to Increase Business Revenue
While LinkedIn allows you to build credibility and create a meaningful network, Twitter contributes to conversations that are valuable for your business.
Here are some strategies to help you gain better responses and revenue from LinkedIn and Twitter.
LinkedIn InMail
If you did not know, InMail is 30x more likely to receive a response from the customers than any email or cold call. This serves as a savior for those marketers struggling to get a response from their social media campaigns. With a premium solution, InMail ensures your marketing message reaches the right inbox at the right time.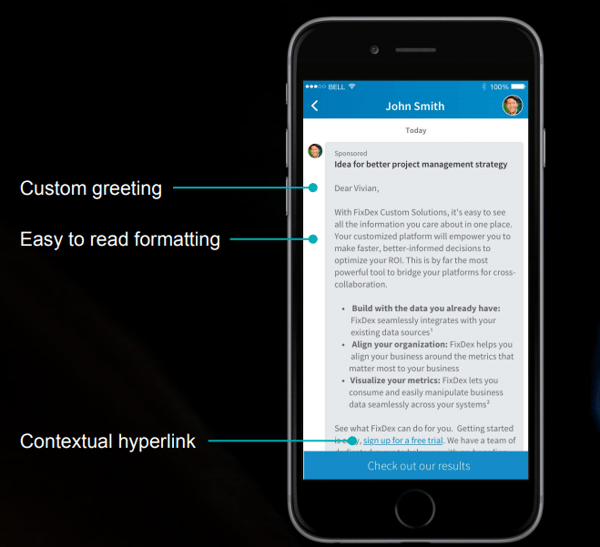 Image Source: LinkedIn
To enhance your response rate from LinkedIn InMail messages:
Begin by optimizing your LinkedIn profile with your B2B company information such as its history, mission and how it helps others
Create a personalized message with thorough research on your prospective clients and their likings
Ask your prospect about their needs rather than promoting your product on the first
Follow up with them another two or three times
By following these procedures, you can initiate a more natural conversation and enhance their trust of your brand.
LinkedIn Groups
LinkedIn Groups let marketers reach out to a large number of potential clients without paying a penny. There are several categories of LinkedIn groups, and it's up to you to choose the best one for your B2B firm. Some of those categories are listed below:
Profession-related groups
Product-related groups
Industry-related groups
Topic/subject-related groups
Media-related groups
Event-related groups
However, you are only allowed to join up to 50 groups at a time. So, it's vital to be selective even if it's free. Once you join those groups, you can immediately interact with the other members who may be interested in your product or services.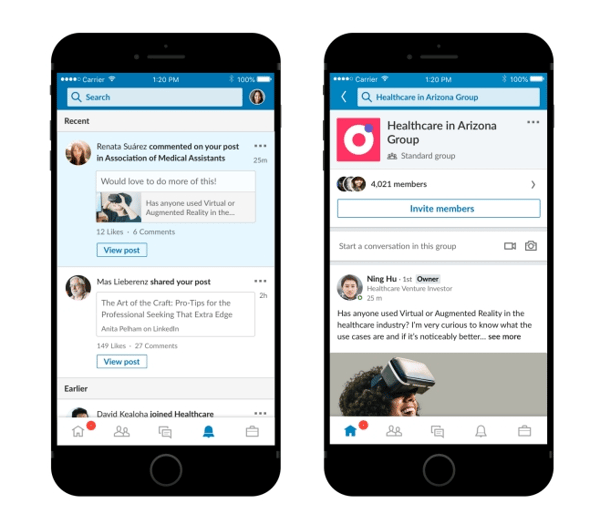 Image Source: LinkedIn
On the other hand, you can also start your own business group, where you are able to host a community of brand advocates and potential clients.
LinkedIn Insights
As a B2B marketer, you can promote your brand by acting on LinkedIn page insights. With the data you collect, you can strengthen your relationships with the audience and increase social media engagement.
Your analytics page provides valuable insights, such as:
Monthly engagement metrics for your posts
Reach and engagement rate for each post
Follower and visitor analytics
By analyzing this data, you can focus on crafting the most compelling content and making the best use of LinkedIn. Along with the above options, you can also add a tracking code to the links you mention in your posts so that you can view the traffic details for each page.
Twitter Search, Mentions and Discussions
Twitter has approximately 330 million monthly users, and that offers a huge opportunity for B2B marketers to share business news, promote ideas and participate in discussions.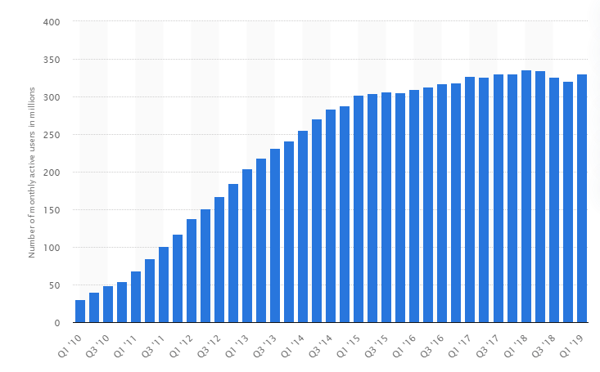 Image Source: Statista
Twitter's search option is the best way to start with this social media platform. It helps you find people using a particular hashtag or identify tweets about topics relevant to your B2B segment. For instance, marketers can search for conversations related to business technology with a hashtag #biztech.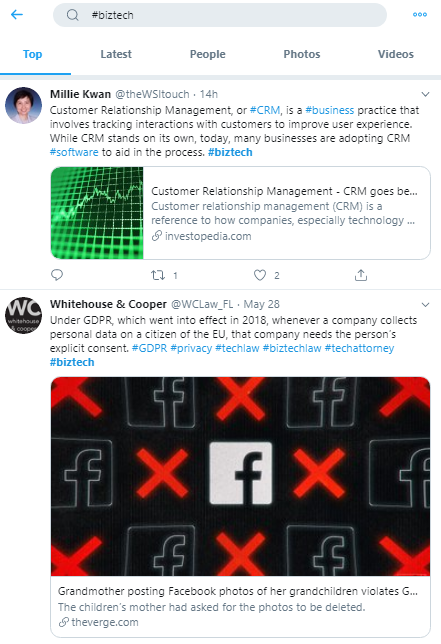 Image Source: Twitter
It's always a good practice to listen to what's happening in and around your B2B market by closely monitoring your Twitter feeds. You can identify the target groups you are most able to help and who are interested in using your product. Use search terms like 'any advice on' or 'anyone recommend' to identify the people looking for immediate assistance.
With this option, you can identify the existing conversations on Twitter and utilize that to solve their problem or directly message them. Before pitching your products, keep these tips in mind:
Remember to be respectful in your message
Offer value first and allow them to respond with a request
Wait for the right time to formally pitch your product
Twitter Polls and Chats
Twitter Polls lets B2B marketers learn their follower's opinions regarding the type of content they would like to read or gain value from. Since your poll request might get lost in the vast ocean of various business posts, it is always important to pin them to the top of your feed. This way, it remains visible for the entire duration of the poll, making it more likely to collect responses.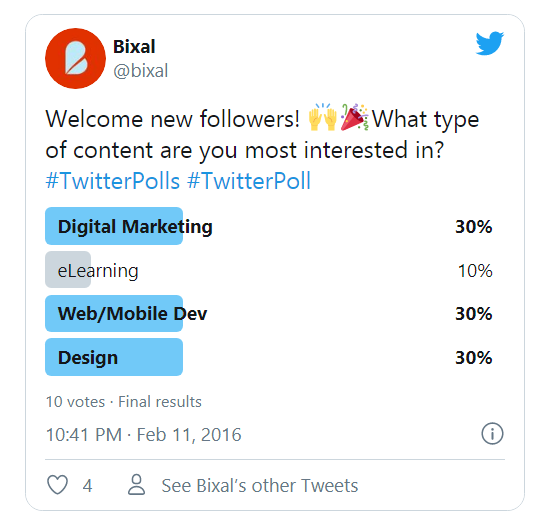 Image Source: Twitter
In the above example, the firm uses a poll to inform their content strategy. They have spotlighted this Tweet by pinning it on the top of their profile, so it was the first thing their followers would see when they visit the page.
You can also request your audience to retweet the poll as the responses get added to the original statistics. Once done, identify the patterns of response to learn what your audience expects from your brand. There is no better way to leverage Twitter than by knowing what your audience wants.
Twitter also has Twitter chats, which allow people to share their opinion or resolve their queries in real-time. Twitter chats offer a perfect way to connect with your audience and establish relationships. In most cases, a Twitter chat is hosted by an admin who asks questions and comments on answers to engage the audience.
Final Thoughts
If you are worried about how to market your business on social media in 2020, fret not. Use LinkedIn InMail, groups and insights as specified above to reap your desired benefit. Likewise, do not overlook the effectiveness of micro-blogging site Twitter. With polls, chats, searches and discussions, you can quickly create a valuable relationship with your followers and enhance your brand worth.
Emily Johnson is a marketing consultant with 10 years of experience in the execution of marketing strategies. Currently, she heads the marketing department at Blue Mail Media, a renowned B2B data solution company based out of Irving, Texas.
Connect with the author