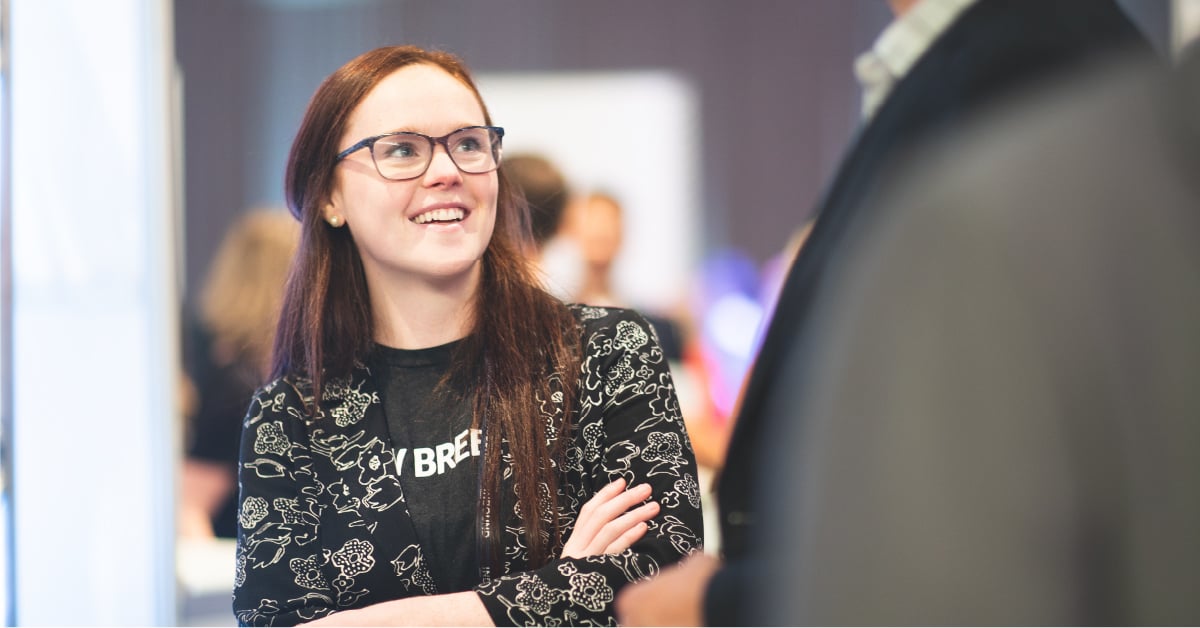 People usually prefer viewing a concert in-person or live-streaming it, rather than merely listening to that music on the radio. Although we can save time and money without attending a live event, why do we still choose to go? Because watching your favorite band perform live alongside other fans creates a better, more memorable experience.
And those types of live experiences aren't just for entertainment. They can be leveraged by B2B marketers too! In fact, 74% of customers agree that engaging with live marketing experiences makes them more likely to purchase the products, as per a research report by Event Marketing Institute (EMI).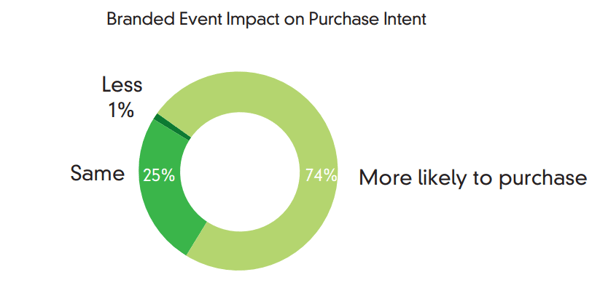 Image Source: EMI
While live events are most effective, sometimes budget restraints or world events make hosting them unfeasible. In such cases, digital alternatives such as virtual live events, webinars and interactive quizzes can be effective experiential marketing tactics to help you stay connected with your audience.
What is Experiential Marketing?
Experiential marketing (also called as engagement marketing) is a process of immersing audiences in engaging live experiences. It includes the creation of positive experiences that can create a long-lasting impression and thereby entice prospects to buy from you.
Experiential marketing is often confused with event marketing. Although they're a bit similar and work well together, there are subtle differences. In the event marketing strategy, companies host certain events where customers interact with their brand.
However, with experiential marketing, you go beyond just hosting an event to create a remarkable experience that audiences can immerse themselves in and become a part of. You can host these experiences in conference centers, restaurants or even organize it virtually, using formats like:
Facebook or LinkedIn Live events
Interactive user groups
Live demos
Webinars
Expert panels
Ask me anything (AMA) events
Coffee chats
Examples of Experiential Marketing
Red Bull's parachute jump
Red Bull is one of the famous brands in the world to use experiential marketing. According to experts, the company spends only a small portion of its resources on traditional marketing, whereas the rest of the investment goes to experiential campaigns, content creation and sponsorships.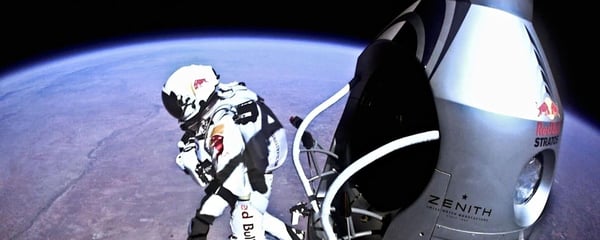 Image Source: Red Bull
The brand, which has long been associated with bold actions and risk-taking, has set the world record for its highest parachute jump. In 2012, the company broke the earlier record along with the best-known professional skydiver Felix Baumgartner, by dropping from an altitude of 128,000 feet.
This is one of their most awaited experiential events that produced an excellent outcome. Their live video garnered more than 3 million views and is considered as their greatest stunt so far.
Key Takeaways:
Embrace your identity by pushing yourself to the extreme limit
Take your customers along with you by organizing live events or updates
Leave an impression profoundly in the customer's mind
Always think big and harness the most out of your creativity
South by Southwest's online film festival
South by Southwest is a world-renowned festival. Their event celebrates film, comedy, technology, business, music and more every year in Austin, TX. However, in 2020 due to COVID19, the organizers recreated the festival virtual since attendees could not make it in person.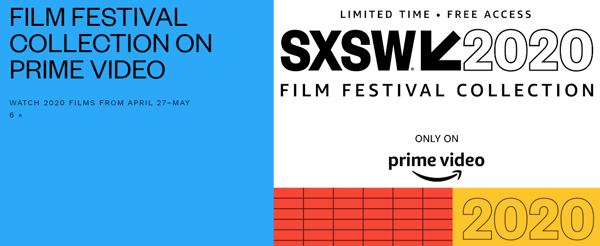 Image Source: SXSW
They streamed some sessions online and launched the SXSW 2020 Film Festival Collection for people to enjoy. This one-time event was free to U.S. audiences, allowing a large amount of people to participate.
Key Takeaways:
Organize virtual event if you are unable to host an in-person gathering
Consider live streaming with free or discounted tickets
Why Are Experiences Important for B2B Companies?
According to research from the experiences management firm Walker, customer experience is the most important differentiator of a brand
76% of B2B marketers agree that experiential and event marketing campaigns help them increase brand awareness, as per the Freeman data report
How to Leverage Experiential Marketing in Your B2B Company
1. Truly understand your customers' behavior
To create the best experience for your customers, you have to analyze the data of individual attendees. For in-person events, that can include heat maps, RSVPs, traffic patterns and activity participation. For virtual events, this might include website heatmaps, video watch rates and link clinks. In combination with that data, you can take advantage of artificial intelligence tools to truly understand your customers and make their experience stand out from others.
One such tool is Grip's Matchmaking Engine. The tool's algorithm provides advanced data search and analysis linking the closest objects. It will interpret customer data from social media profiles like Facebook and LinkedIn to learn their behavior and then recommend people to meet with or sessions to attend. Attendees can either schedule the session or indicate their lack of interest in the recommendations.
This real-time behavioral insight helps you:
Determine the best-suited program for audience members and provide recommendations accordingly
Drive re-booking and provide better data with a clear understanding of the attendee's behavior pattern
And this process is proven to work. According to Eventbrite, approximately 55% of audiences agreed they created a connection using Grip's AI matchmaking algorithm that they would've failed to create otherwise.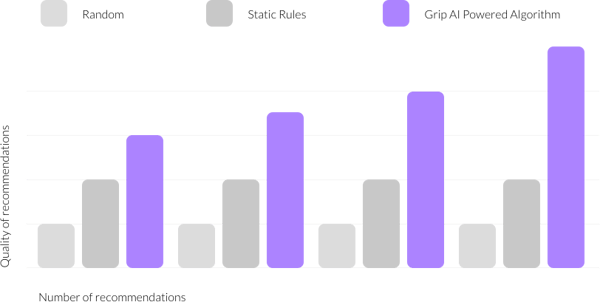 Image Source: Grip
2. Ensure a hyper-personalized experience
Hyper-personalized experiential marketing makes your attendees comfortable and connected with your brand. This can involve the following procedures:
Acknowledging every individual who has joined a live stream
Scheduling orientations for new attendees
Maintaining adequate staff presence for events in a physical location
Producing content based on audience suggestions
One way to create hyper-personalized experiences is through interactive quizzes. Here, marketers classify the participants into personality types based on their answer. If your brand focuses on selling various products, this is the perfect solution to provide personalized product recommendations to each personality type.
LeadQuizzes website has created a meaningful quiz without blindly chasing traffic. With ten different questions, they aimed to figure out whether some B2B marketing strategies were already a part of the player's lead generation process.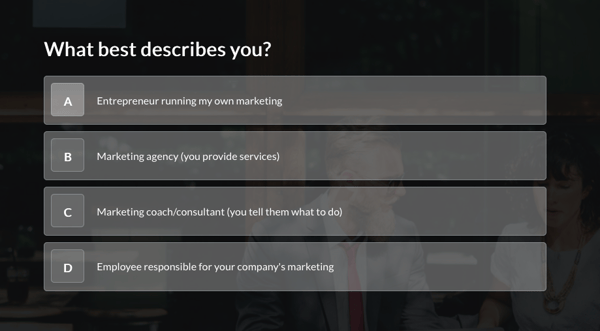 Image Source: LeadQuizzes
Before presenting the personalized results, they invited respondents to sign up for their newsletter. On top of the quiz results, they also offered value in the form of tips about lead generation.
BrightEdge is another company who offers business solutions to other businesses. It has also created an exemplary B2B quiz, "Do you think you know Digital Marketing?" with 15 questions to test the overall knowledge of a digital marketer.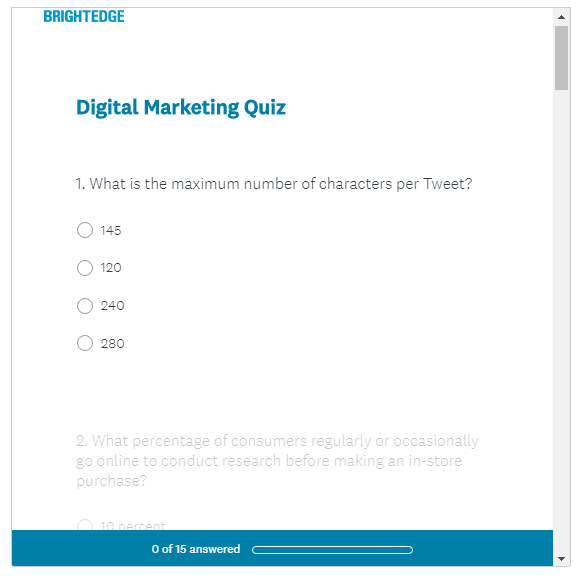 Image Source: BrightEdge
This quiz created an experience participants enjoyed, and it helped them assess their marketing skills. Moreover, it helped BrightEdge in suggesting the users with a personalized solution based on the results.
3. Create innovative networking opportunities
Make networking a natural part of your event schedule. According to experts, 80% of attendees stated that networking was important to them. Therefore, B2B brands have to create an environment and activities that facilitate organic attendee connections instead of a plain handshake and the exchange of business cards.
Wistia is a video marketing platform designed specifically for businesses in need of networking option. A couple of years ago, the company hosted its first-ever virtual event called CouchCon, which included top industry speakers such as Phil Han, Sr. Product Marketing Manager at LinkedIn, who spoke about video marketing strategies for B2B firms. Attendees learned different ways to market a company using video from 13 top influencers.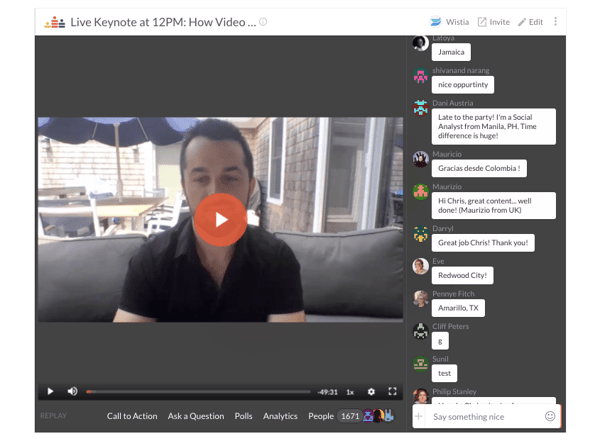 Image Source: Wistia
Beyond the information shared or learned, most of the people attend events to meet their peers and build the network. Wistia is about building relationships, and they wanted to ensure that CouchCon provides the attendees with networking opportunities. They accomplished this by creating a dedicated Slack channel where event attendees can join, meet the peers and share resources.
This virtual event by Wistia was a huge success. They witnessed more than 1,700 attendees and a ton of engagement throughout the talk during the live session. Hundreds of conversations took place in this one-hour live event and people from all over the world, including France, Mexico, Jamaica, Italy and India, to name a few tuned in to partake.
Besides, they have received a positive outcome on social media. Tons of attendees shared their live experiences and how it helped them learn more about the topics they were interested in.
4. Make your event inclusive
For both in-person and virtual events, it's essential to ensure your programming is inclusive and reachable to all the audiences. In terms of languages, fonts, sound effects and colors, make sure the touchpoints of your live experiential event are wide-ranging. Provide captions and visuals wherever required, along with the descriptions for visuals. That inclusivity should be present not just in how you deliver the experience to your audience, but also who you feature if you're hosting a talk or event.
A recent research report by Bizzabo revealed that almost 70% of speakers at events across the world are male.
Image Source: Bizzabo
The all-male panel is a notorious example of excluding women's voices in the events. This can alienate potential attendees who feel they're not represented and lead to criticism on social media. To avoid this, invite speakers of various backgrounds and identities so that attendees can learn from a larger variety of perspectives and experiences.
Making your experiential marketing inclusive undoubtedly encourages the audience to engage with your brand, such as submitting the questions in comments or praising your approach via chat tools. Most of the online platforms come with such interactive features. It lets people participate in polls or live tweets and take requests in real-time. At the end of the event, you should ask for their feedback through these virtual applications to refine the future outcome.
5. Take the help of online influencers
Leveraging key partnerships with B2B influencers will boost the visibility of your brand and the perception of your offerings. Influencer marketing or sponsorships may sound novel within B2B spaces, but it is proven to produce extraordinary results when performed well. There are several sponsors and thought leaders who share similar values of your brand. Be it healthcare or petrochemical industry, identify such experts, and ask them to support your brand's mission online.
American Express is one of the top companies that invest heavily in B2B influencer marketing. AmEx has collaborated with influential bloggers, Emily Henderson and Grace Bonney, to reach out to small businesses using experiential marketing tactics. The campaign by the name "Love My Store" lets customers know that even small businesses accept credit cards.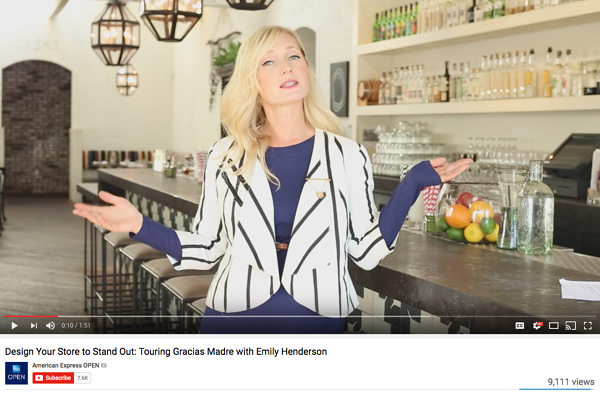 Image Source: YouTube
This campaign earned 5 million impressions and resulted in the sale of 400,000 Amex decals.
Now it's Your Turn
Experiential marketing enables you to strengthen customers' connection with yousr brand. So, without delay, start implementing the above tactics in your business to make your campaign remarkable, memorable and worthwhile.
My name is Lauren Williams, currently working as an SMM at MedicoReach. I have been working in the B2B healthcare industry for a decade now. Through my blogs, I keep the industry updated on the latest trends, development, and advances across the various segments.
Connect with the author