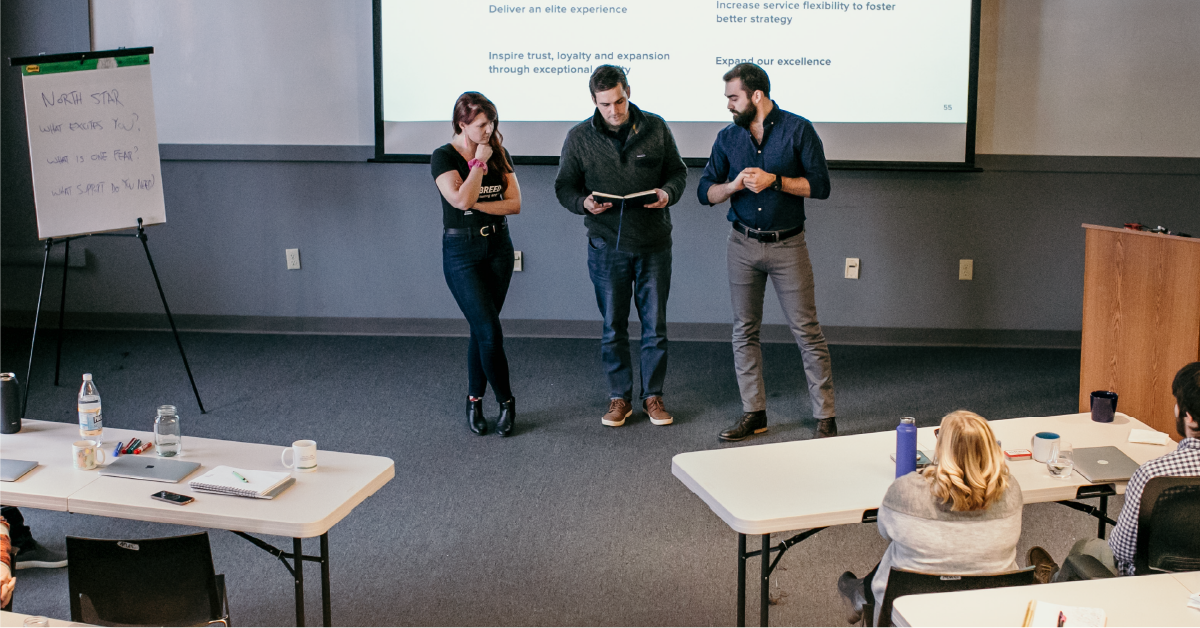 Aligning brand-building efforts with revenue growth remains one of the most important challenges in marketing. While most organizations have an intuitive understanding of the importance of branding, the wide-ranging nature of brand initiatives can be difficult to fully quantify, even in today's data-driven landscape. As a result, marketers frequently hear a version of the following question: how can we make our brand drive more revenue?
A clear understanding of brand affinity is a good place to start. Driving more brand affinity through your marketing work can help you drive the rational and emotional experience needed to convert more opportunities into evangelists who will buy from you again and again.
What is Brand Affinity?
Brand affinity is the emotional connection between a brand and its audience that leads to greater loyalty and adoption. Brand affinity often results from a sense of shared values, and in some ways this alignment is the ultimate goal your business should aspire for — the idea that amidst all the other brands in the marketplace, a customer will still choose yours because they know, love and trust you.
In short, if brand loyalty is about creating repeat customers, brand affinity is about creating evangelists who choose you out of preference, not convenience, and will ultimately go to bat for your business. This preference is especially important in crowded markets, where customers consider the values of the businesses they purchase from with greater frequency.
Leveraging your organization's values and identity to set yourself apart from competitors and create true evangelists is the cornerstone behind the concept of brand affinity. Take Volvo for example. For decades, Volvo has homed in on a singular core value in their messaging — safety. They sell cars, yes, but beyond that, they sell peace of mind. While Volvo's marketing campaigns evolve, virtually everything the brand does ladders up to the principle that safety comes first. Volvo customers are exceptionally loyal, not necessarily because they believe Volvo produces the best cars, but because they believe intuitively that Volvo is committed to a value they share.
While brand affinity is core to marketing in the B2C space, it can often be overlooked in the hyper "rational" world of B2B marketing. Think about the messaging we often hear from B2B brands: A new product feature. A "proven" way to save money. This type of messaging is important and plays a role in driving loyalty, but not necessarily affinity. While you want to have proof of value, if you only focus on that aspect, you do so at the expense of why someone actually wants to buy from you. The values of your company can be the differentiator.
Branding Pillars
Building brand affinity takes significant time and patience, as well as a strong initial foundation. Without the core elements of your brand intact, you cannot expect to generate customer loyalty and affinity. Here are a few key strategic pillars that should underpin your strategy for building brand affinity:
Brand platform
You can't drive brand affinity unless you have a clear understanding of what your brand actually is — both presently and what you would like it to be. Knowing the current perceptions of your brand and your aspirations for it will inform the messaging and overall marketing strategy you use to reach those aspirations. A good brand partner will help you clarify and solidify this essential strategic underpinning for all future marketing and brand work.
An external and internal activation strategy
While the strategy you implement to activate your brand in the marketplace is an important part of building affinity over time, an often overlooked aspect of that strategy is how your internal team engages with and talks about the brand. Consider how every single employee carries your brand message into the touchpoints that they have.
How is your sales team talking about it on calls with prospects? Is it aligned with what's on your website? What about the messaging your marketing team is putting in content and advertising?
It can be easy to convey your brand's sentiment and messaging through standard marketing collateral. It is important that your sales and services teams also understand your messaging in order to carry that energy further down the funnel and into service delivery. Ensuring team members feel emotion and pride for the brand they work for is vital for building affinity.
Brand management and participation
With that in mind, brand management and, importantly, brand participation are also key cornerstones of brand affinity. While brand management refers to the process of codifying and protecting brand consistency, an effective brand manager will not only drive adherence to brand guidelines but also inspire their audience to actively engage with the brand. This can be achieved any number of ways but often takes the form of events, interactive content or other immersive or dynamic tactics.
Building Brand Affinity
So, once your brand foundation is in place, how can you move toward driving brand participation and affinity? Consider your existing marketing strategy and buyer's journey. Are your campaigns laddering up to your core values and brand platform? Are your marketing and sales team sharing the same message?
And, most importantly, do your product and service teams back it up? Ultimately driving real brand affinity means delivering on the brand promise made by your marketing and sales teams. You cannot underestimate the value of internal communications. When your brand will truly take flight is when your team is actively engaged and interested in carrying the values and messaging of your business themselves. If your services team is actively engaged with your clients and perpetuating the same values and messaging they heard when they were considering your business, you start to build a community around those values and ideals.
You can enrich this experience beyond exceptional service delivery by offering personalized and premium content for clients and customers. That community and affinity enable evangelism, acquisition of new business and retention of existing customers.
Since brand affinity doesn't happen overnight, it's important to constantly manage your marketing, sales and service delivery as your business evolves. Each area should always return to your original brand platform and values. If one team is slipping, you will be hard-pressed to build brand affinity.
Takeaway
Brand affinity takes a long time. Investing in and maintaining your messaging can be challenging. When certain aspects of your business or a particular product is struggling, it can be difficult to not try to shake things up. Whatever you do, it should always be aligned with the core values of your brand.
It takes a certain degree of patience — and stamina — to press on and reinforce that message. While your product may change, your brand should endure.
Al is the Director of Marketing for New Breed. He has spent the last 15+ years as a B2B and SaaS marketer, and he is passionate about helping companies leverage the digital space to reach and engage their audiences effectively and efficiently.
Connect with the author