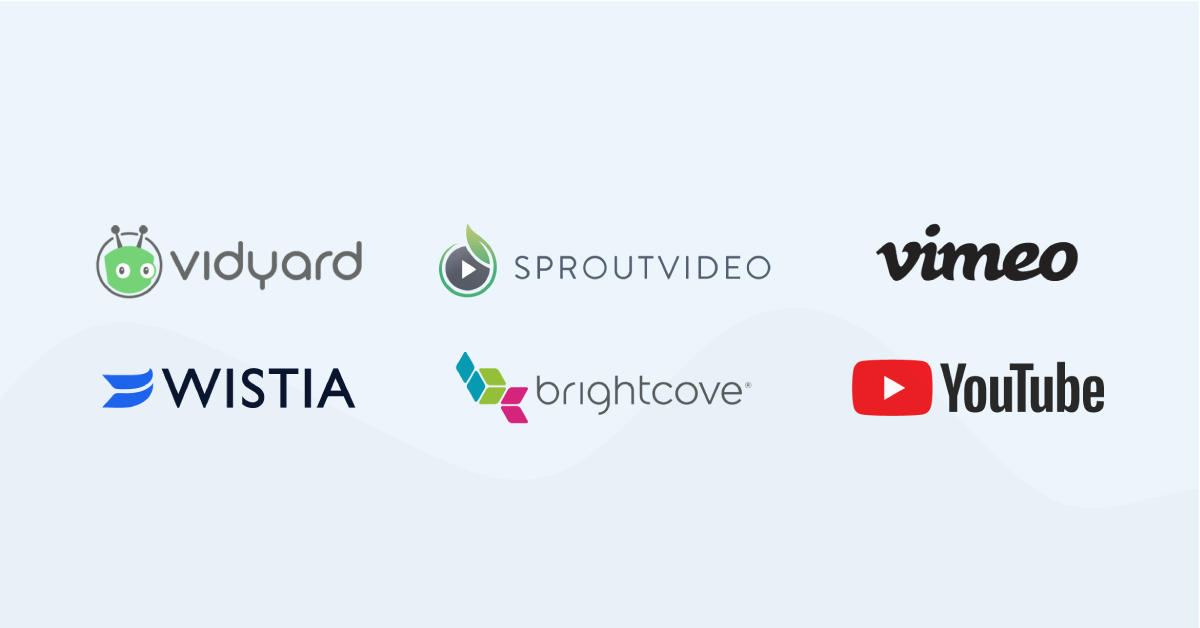 It's no secret that video marketing can be a valuable addition to your inbound strategy. Video presents an excellent way to present educational content in an engaging format and turn your team members into brand ambassadors.
If you're going to invest time, money and resources into producing video content, then you have to have a good place for it to live. Video hosting sites are third-party tools that enable you to upload and house your content. Uploading to your own website can be a drag on bandwidth, server space and site speed, so embedding from a video hosting site is preferable.
While there are a number of options available, these are some of the best video hosting sites for your business:
It would be silly to draft a list of the best video hosts and not include our own partner Vidyard.
Like some others on this list, Vidyard is an ad-free video host that enables you to embed videos on your website and elsewhere. In addition to simple editing functions, robust video analytics and automatic transcription services, Vidyard users can record and upload an unlimited number of videos. While free users are limited to 5 embeds, you will never have to worry about file size or file management, which is a huge plus.
Under their premium plans, users can embed more videos and create forms and calls-to-action directly in their videos to capture lead information, seamlessly folding video into nurture efforts. Sales reps can also send quick, personalized videos to their prospects using the Vidyard Chrome extension GoVideo making Vidyard a top-to-bottom solution.
Personalized video is still a relatively new medium, but is one of Vidyard's main value propositions to marketers. This feature requires custom pricing but enables users to pull data from their CRM and embed it directly into videos. That way, a viewer can watch your video and see their name, job or any other contact record data appear in real time.
Vidyard also powers video hosting for HubSpot video that is available to anyone on a HubSpot professional or enterprise account.
Much like Vidyard, ads will never run on videos you host on Wistia. The Cambridge-based video hosting site also offers advanced engagement and analytics functionality.
Like Vidyard, Wistia users can create engagement opportunities like calls-to-action and email forms (these are referred to as turnstiles on Wistia). Where Wistia's engagement tools take a step up is in their chapter functionality. Chapters enable users to mark points in the video where there are section breaks or points of interest to the viewer. Viewers can then easily navigate through longer content.
Wistia also offers detailed video analytics to better inform your efforts, including viewer history, heat maps and A/B testing.
Users can customize their Wistia player's color and user interface to match their company's branding or website stylings. Additionally, premium users can build Wistia channels on their website. These channels house all of your videos in one place, enable you to group similar content together and encourage viewers to binge your content.
While Wistia plans are based on the number of videos uploaded and their functionality is matched by others on this list, many of their features put your viewers first. These include an exceptional user interface and functions like channels, up-next videos and resumable content for viewers who leave a page and come back.
Finally, Wistia recently unveiled brand-new functionality that supports podcast hosting on top of their video hosting. While not related to video, Wistia can be a prime option for marketers looking to consolidate their tech stack and host podcasts and videos.
Platforms like Vidyard and Wistia shine when it comes to incorporating video into your marketing and sales efforts. Brightcove shines when it comes to straight-up video hosting.
With more stringent technical specifications for video uploads, BrightCove prioritizes video quality and streaming functionality, making it ideal for companies with larger video libraries.
Through its many third-party integrations, Brightcove offers advanced video editing functionality within the platform that others on this list can't match. But, those same third-party integrations do limit some of its built-in functionality, including limited reporting and analytics.
Brightcove also offers features that support live streaming, making it ideal for companies who prioritize webinars or other virtual events. While the platform is ad-free by default, Brightcove does enable users to monetize and distribute their videos with significant control over advertising.
With its prioritization of video features over marketing features and custom pricing, Brightcove is not for everyone, but if video is going to become a focal point of your business, it is worth a look.
SproutVideo is another ad-free video hosting site that offers much of the same functionality as Vidyard and Wistia.
While in-video engagement opportunities, lead capture tools and analytics are all available in their lowest pricing package, Seed, additional features come at more premium costs. SproutVideo also offers a larger upload limit (500GB) and the ability to upload ultra HD video (up to 8K resolution).
Where SproutVideo stands out from Wistia and Vidyard is their support of live streaming video, enabling users to share more immediate and less produced video content with their audience.
It's important to note that Vidyard, Wistia, Brightcove and SproutVideo all come with robust third-party integrations that are especially important for B2B marketers. These include popular marketing automation platforms like HubSpot and Pardot. Integrations enable you to seamlessly integrate your video content into your existing nurture strategies.
While Brightcove — and to a lesser extent, Vidyard — offers functionality to distribute your video content, each of the aforementioned platforms lacks built-in audiences. These are best defined as "on-site" video hosts.
Vimeo is a popular alternative to YouTube and enables its users to take advantage of its built-in, albeit narrow audience. Much of Vimeo's audience is made up of creators and video professionals. While it may be the ideal audience for a creative agency, the added reach of Vimeo may not be appealing to B2B financial services marketers.
As a video hosting site first and foremost, Vimeo offers less marketing functionality. That said, it does include sleek and customizable embed players, as well as some, limited engagement opportunities. Greater marketing functionality such as live streaming, chapters and calls-to-action are available with more premium plans.
In comparison to others on this list, Vimeo has more stringent upload limits for higher prices, but it is still an ad-free platform.
When it comes to audience size, nobody can match YouTube. With roughly 2 billion monthly users, YouTube provides phenomenal opportunities to reach viewers with your video content.
Like Vimeo, YouTube doesn't boast the same degree of marketing functionality as others on this list, but they do offer near-limitless upload potential. YouTube Studio also offers helpful editing tools and a sizable suite of royalty-free music and sound effects to bolster your production efforts.
Additionally, YouTube users can also create branded channels to house their video content and build greater brand awareness.
While no other platform can match their potential exposure and SEO capabilities thanks to their relationship with Google, YouTube is not necessarily the ideal solution. Embeds from YouTube will almost always feature related content that can pull users out of your content or off of your website entirely.
Additionally, while there are no premium plans for YouTube, the platform is not inherently "free." Recent updates to the platform ensures that advertisements will run on your video content, and creators are given no control over what ads will appear.
Choosing a Video Hosting Site
While YouTube offers an excellent starting point and an incredible distribution platform, people looking for a whole suite of functionality to support their marketing and sales efforts should explore other options.
Several of the platforms listed here offer similar functionality with slight improvements or benefits in one or few particular areas. Like any software decision, it's important to prioritize which features or functionality is most important for your business needs.
Additionally, Wistia, Vidyard and SproutVideo all offer free trial or freemium options, enabling you to explore the platform and get a sense for which one makes the most sense for you and your team.
Chris is a Brand Marketer at New Breed where he is responsible for crafting design and video assets that support our brand. When he's not behind the camera, he enjoys kayaking and tending to his sourdough starter.