Every year, HubSpot makes major product announcements at their INBOUND event. In 2018, they launched HubSpot video, conversations and the standalone CMS. In 2019, they announced multi-touch revenue attribution reports and the expanded app marketplace.
While INBOUND 2020 looked and felt very different from previous years due to current events causing the event to become virtual, the HubSpot Spotlight still revealed a slew of changes the company made to their product in order to better serve their customers.
Marketing Hub
Many of the Marketing Hub features discussed were released earlier this year as part of the Marketing Hub Enterprise revamp, but there was one major announcement regarding the pricing structure.
Currently, the Marketing Hub's price is dependent on how many total contacts a HubSpot portal has. However, that's been causing friction for users because many portals have contacts in their CRM that aren't used by marketing.
To accommodate for that, Marketing Hub users will be able to designate which contacts in their CRM they want to market to starting October 1. The price they pay for the hub will be reflective of that, and then they'll get free storage of up to 1 million non-marketing contacts in the CRM.
This will make it much easier for companies running their entire business through HubSpot since marketers will no longer have their capacity limited by contacts who belong to sales, service or customer success teams.
CMS Hub
In April 2020, HubSpot launched the CMS Hub in order to create a platform that suited the needs of both marketers and developers.
While no new announcements were made about CMS Hub's features, HubSpot did highlight how the updated hub enables marketers to utilize the easy-to-use system without any knowledge of code while developers are able to build sites in their preferred tools. That combined with some of the newer security features makes the tool attractive for large companies and technical users.
Service Hub
The majority of the updates to the Service Hub relate to HubSpot conversations.
First, admins now have access to a team management view of the inbox and adjust availability statuses as needed. This can help ensure that people trying to live chat with your team are seeing accurate information regarding responsiveness.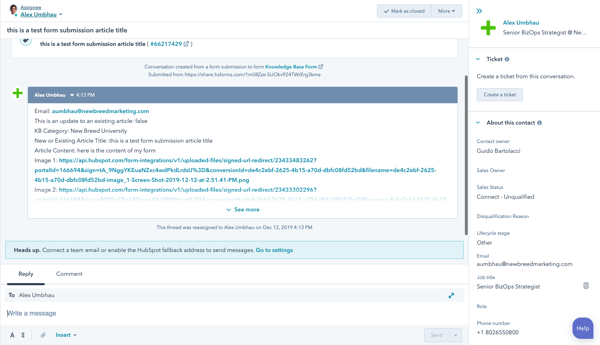 Secondly, if your site has a login feature or uses HubSpot's membership feature then logged-in users will now be identified as such in the conversations inbox. This will provide your team with easy access to their contact record, allowing you to respond contextually.
Thirdly, inside of the conversation inbox you can now access a ticket sidebar. This sidebar is customizable so it can present the information your team needs to provide informed responses to contacts.
Finally, during the INBOUND spotlight session, it was announced that in-app chat is in beta for the conversations inbox.
Regarding other Service Hub features, the knowledge base now has multi-language articles in beta ensuring that you can create self-service support assets for the entirety of your customer base.
Finally, there is now a native integration with Jira, allowing Service Hub users to associate tickets with Jira issues and create workflows and reports around Jira properties.
Sales Hub
The Sales Hub received the largest number of updates this year, with the focus on all the improvements being increasing the power of the platform for leadership while maintaining ease-of-use for reps.
AI sales acceleration
Instead of spending hours manually entering contact information in the HubSpot CRM, reps can now sit back and let HubSpot's AI do some of the work for them.
One of the newest additions to Sales Hub is the ability to use AI to auto-capture contact details from email signatures and update them in the CRM.
This feature is available now, though it does need to be turned on.
Sales analytics and forecasting
HubSpot has streamlined sales reporting in order to provide managers and reps alike with insights into the health of their pipeline and the efficacy of their work.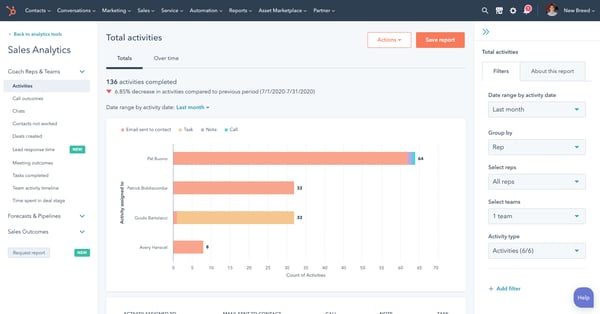 The sales analytics tool includes out-of-the-box reports on forecasts and pipelines, sales outcomes and sales activities. These reports can be filtered by date, teams, owners and pipeline to enable you to dig into individual and team performance on top of getting a more holistic view.
HubSpot also announced a new forecasting tool which is currently in beta. Instead of analyzing pipeline through the lens of deal stage, this tool looks at in-progress deals based on how likely they are to close.
Today View
The today view is a presentation of tasks, activities and calendar events for sales reps. It makes it easy for reps to orient themselves regarding what they're working on and what they need to prioritize. The feature is currently in beta.
CPQ enhancements
HubSpot announced a number of CPQ enhancements in their INBOUND Spotlight session.
The product library has been made more flexible, quotes are more customizable and HubSpot's ability to integrate with accounting tools has been extended.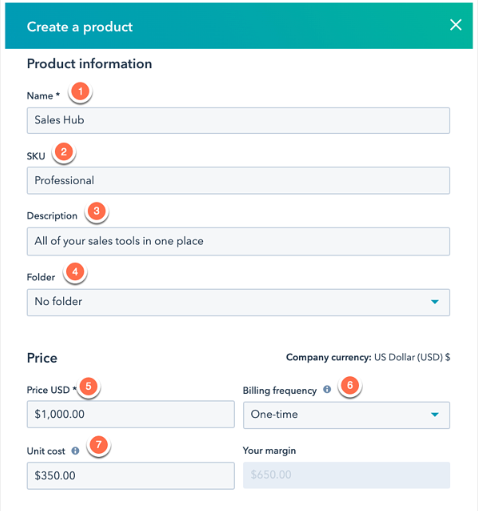 QuickBooks, NetSuite, Xero and Nubox all integrate directly with deal records, and there's an accounting extension API that will let you connect third-party tools if you use a different solution for invoicing.
With this update, you can use your preferred accounting software to generate invoices, associate tax codes and select currencies without having to leave HubSpot.
HubSpot Keyboard for Mobile
HubSpot has made significant improvements to their CRM mobile app to make it more usable for sales reps, but they've also launched a keyboard that enables users to access CRM information while working in other apps on their smartphones.
Communications can happen through a variety of channels, but just because you're chatting through WhatsApp, Facebook Messenger or iMessage doesn't mean you don't need access to quotes or meeting links. The new keyboard will allow you to insert information like that effortlessly so your sales process doesn't need to stop even when you're on the go.
Cross-Hub Features
In addition to hub-specific updates, HubSpot also announced features that impact multiple hubs.
Custom Report Builder
In the HubSpot Spotlight session, Chief Product Officer Chistopher O'Donnell said, "The key to driving personalized customer experiences is connected data. When your data is connected, you can tie every marketing interaction to key conversions and revenue so you can identify trends and optimize the buying journey for future customers."
While HubSpot did allow you to create custom reports before, up until the release of the new custom report builder users were unable to truly connect data from across their company because they were limited to just utilizing standard objects.
Now all HubSpot Professional and Enterprise users have access to the open beta that allows you to build reports based on all the data in your HubSpot portal — including blogs, sales activities, video and feedback.
Custom objects
HubSpot traditionally has four types of standard objects: contacts, companies, deals and tickets, and most of the out-of-the-box capabilities of functions like tickets, workflows and reporting was limited to those objects.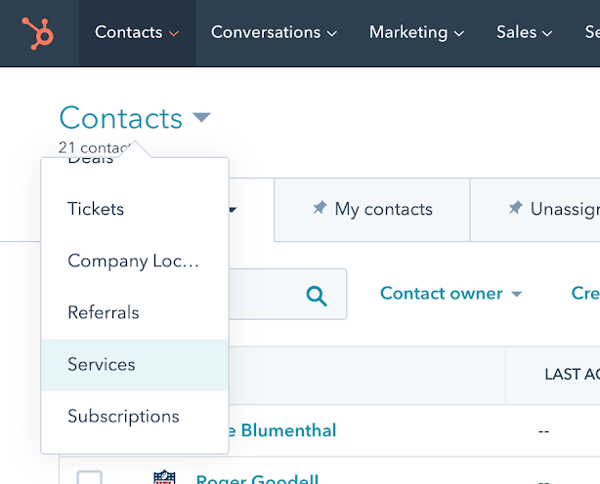 This was forcing companies to try and match their business operations to HubSpot's platform in order to leverage them. However, now with custom objects, you can configure your HubSpot portal to align with your business operations.
A custom object can be anything your company needs it to be. It's an identifier that you name and the set of properties that you create and assign to it. You can use custom objects for everything you use standard objects for, such as reporting, workflows and tickets, greatly increasing the flexibility of HubSpot.
Custom objects are currently in beta for enterprise accounts.
Quinn is a writer and copyeditor whose work ranges from journalism to travel writing to inbound marketing content.