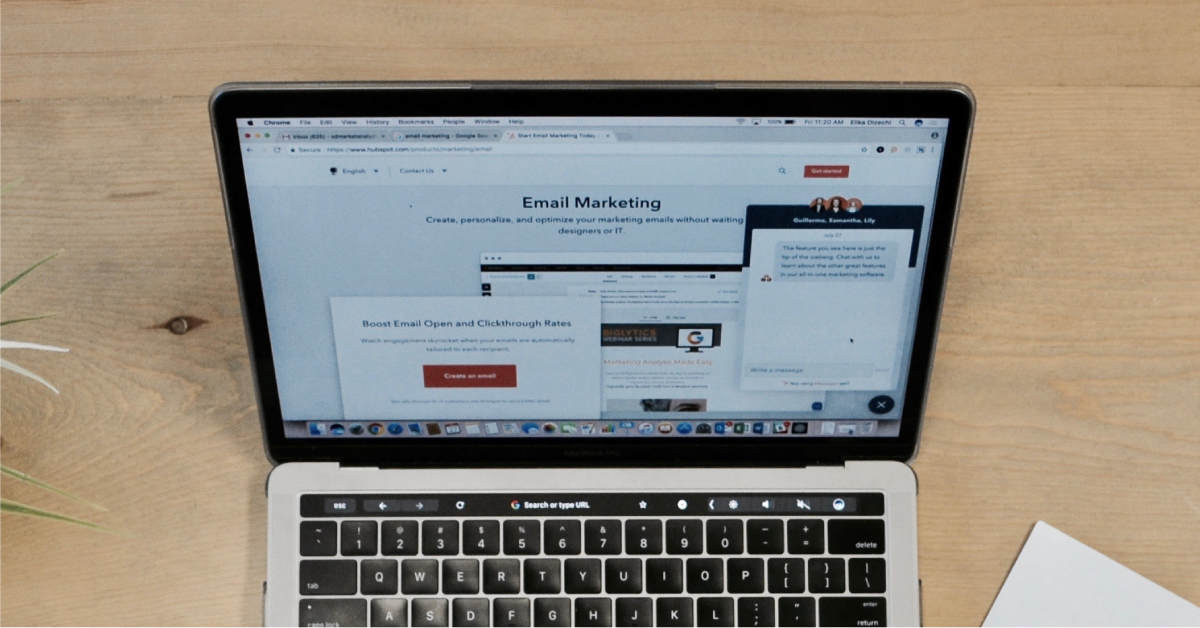 Being able to track marketing efforts and ROI has become a marketer's way of proving their efforts contribute to their company's success. But, it's equally as important for marketers to have a real understanding of what's working and what isn't so that they can make the best decisions around how to serve prospects and customers.
When it comes to email marketing, we typically look at numbers like open rates and click-through rates. But, while those numbers are great for a surface-level analysis, they don't give you a full picture.
What is Email Marketing ROI?
Email marketing ROI is calculated by subtracting the investment you make into the tactic from the revenue attributed to the channel.
The investment is made up of the software that you are using for your email automation and contact management system and the hours that your team is spending to create and launch emails.
We use HubSpot for all of our contact management and email automation work, so that is our software cost. We have one employee on our internal team who manages all of our marketing email communication, and their time is logged weekly. Together those represent our investment into email marketing and need to be subtracted from the revenue we generate to find ROI.
For you, the cost could include the time of multiple team members and multiple different software.
Calculating Email Marketing Revenue with Attribution
Before being able to calculate the ROI from your email marketing efforts, you have to first have a good understanding of the different ways that email can influence revenue at your company.
Email can influence deals in multiple different ways. In fact, it spreads across the entire customer lifetime from lead to prospect to customer and beyond.
Email can be used as a tool to build a relationship with your prospects as well as brand affinity. Anyone that has given you their email and consented to receive communication from you is able to receive promotional emails including blogs, videos, product updates or other relevant industry information. Emails used in this way influence the top of the funnel because engagement with them doesn't signify any real buying interest.
If we move further down the funnel with email, it can also provide middle- to bottom-of-the-funnel touches. These can be in an attempt by marketing to get a bit more information from recipients or even help sales close a deal at the very end of a buyer's journey.
You can do this by promoting content offers gated by forms that ask visitors more specific qualifying questions than what was included on earlier conversion points. This helps you learn more information about your leads and prospects which will help tailor all future outreach.
Lastly, marketing emails can also serve as sales enablement. These emails may include bottom-of-the funnel-content like case studies that are used to help influence a deal to close. Sending marketing emails at a crucial moment like when a deal is in the proposal stage or final steps to close can serve as that last needed trust mark to close a deal.
When it comes to actually tracking the dollar amount email earns you from each deal your company closes, using an attribution tool like HubSpot's is extremely helpful. HubSpot's attribution tool will let you report on the influence that your emails are having on the revenue your sales team is closing. With tools like this, you will literally be able to tie back a dollar amount to an individual email.
The Takeaway
Once you have a system in place to track your email attribution and you have an understanding of what your investment into email marketing is, you can plug those into the formula to get your email marketing ROI.
Having a hard number for ROI is a great way to track and measure success over time, but it isn't the end all be all. You should take marketing ROI as one piece of the full picture and combine it with open rates and click-through rates to get a real understanding of how email is serving your audience and what opportunities there are for improvements.
Understanding which marketing tactics are influencing deals is crucial not only to showcase ROI, but to be able to make informed decisions on strategy as to what works best and what doesn't. Maybe you realize that all of your email attribution is coming from very top-of-funnel emails rather than evenly across all of your email efforts. With information like that, you can make informed strategy decisions that will help your customers get what they need as well as produce the best results as a marketing team.
Weslee Clyde is an inbound marketing strategist at New Breed. She is focused on generating results using inbound methods and is driven by the customer experience. When not at the office, you can find her binging a docu-series on true crime or perfecting her gluten-free baking skills.