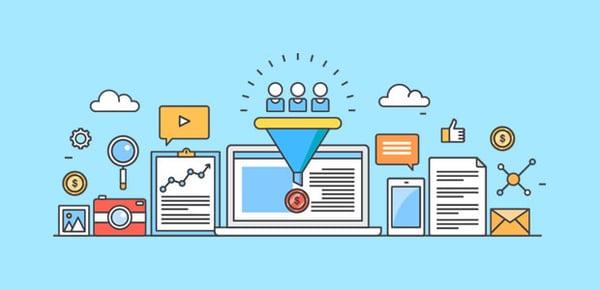 Source: Optinmonster
For marketers, an abundance of trackable metrics is both a blessing and a curse. This surplus of measurable data presents a critical dilemma: it seems that we have more data than we know what to do with. However, all metrics are not created equal and it's easy to get caught up in tracking metrics that aren't worth our attention.
Avoid falling victim to analysis paralysis by aligning your metrics with your goals. This will keep your measurement plan concise and prevent vanity metrics from clouding your data. A concise strategy will allow you to make data-driven decisions when it comes to optimizing your website for conversion. Be sure to align your conversion optimization strategy with your KPI, your LPIs and your TPIs to see the highest return.
Key Performance Indicator (KPI)
Due to the excess of data available, countless professionals make the mistake of tracking multiple KPIs. What they don't realize is that tracking too many KPIs can unnecessarily complicate your strategy and create ambiguity. When it comes to KPIs, you should really focus on one — this is the key performance indicator, after all. Save the lower-level metrics for LPI or TPI designation. Staying focused on a singular KPI will keep your actions aligned with the thing that matters most — your company's bottom line.
When choosing a KPI, consider the most important goal of any business: producing revenue. What action can a user take on your website that will bring them closest to converting into a paying customer? This is the action that will convert a qualified visitor into an opportunity that sales can immediately follow-up on. Is it booking an assessment? Downloading a free trial? Requesting a personalized demo? Whatever action that may be, consider it your one true KPI.
Once you've established your KPI, your conversion optimization efforts should go beyond simply increasing submission rates for your existing assets. It should foster the creation and measurement of future assets, too — all tracking toward your one big KPI.
Leading Performance Indicator (LPI)
After establishing your KPI, you should track several LPIs. Essentially, a leading performance indicator is the "next best thing" to your KPI. A KPI is a method of proving the revenue-oriented results of your efforts whereas leading indicators act as predictive metrics to support that KPI.
If your visitor didn't convert on your KPI, what is the second best action they could take on your website to convert into a customer? LPIs are the lower-level conversions that ultimately contribute to revenue. Tracking them will enable you to better anticipate the number of users who are on the path to becoming an opportunity and allow you to optimize for conversion.
Depending on your business, a valuable LPI might be a middle-of-funnel conversion like a template download or webinar registration. However, that doesn't qualify every middle-of-funnel conversion as an LPI. Analyze your middle-of-funnel content and see which offers are actually converting users into customers, not just leads. Consider content with the highest close rate, not just content with the most views or downloads. Metrics related to profitable pieces of content are going to be the most valuable LPIs.
Tactical Performance Indicator (TPI)
Tactical performance indicators are actions unrelated to revenue that occur on your site. Consider TPIs as micro-conversions or baby steps towards converting on an LPI or ideally, your KPI. Low-level metrics like CTA clicks, page views, session duration, and number of pages per session are examples of useful TPIs.
Determine what specific actions typically prompt conversion and designate your TPIs from there. Tracking TPIs might seem trivial, but doing so can provide valuable insight into the actions that precede conversion on an LPI or KPI. These metrics effectively demonstrate a user's behavior on your site and can enable you to better optimize for higher-level conversions.
Implementing Conversion Rate Optimization
If your website looks amazing but isn't driving conversion, you may want to consider optimizing for conversion with your KPI, LPIs, and TPIs in mind. Afterall, your website is one of your most valuable assets. If it's not significantly contributing to revenue, is it really doing its job? Fortunately, there's no need to overhaul your entire site to address this problem. Conversion optimization practices can be easily and effectively implemented to address gaps in your funnel and ultimately drive revenue.
At New Breed, we leverage the principles of scientific method (observe, hypothesize, experiment, measure) to enact changes that positively affect top-level KPI and track leading and tactical indicators that contribute to performance. No matter what your "one big thing" is, New Breed's conversion optimization program has a data-driven approach to define, design and evaluate your chief metric.
Amanda is a former New Breeder.
Connect with the author