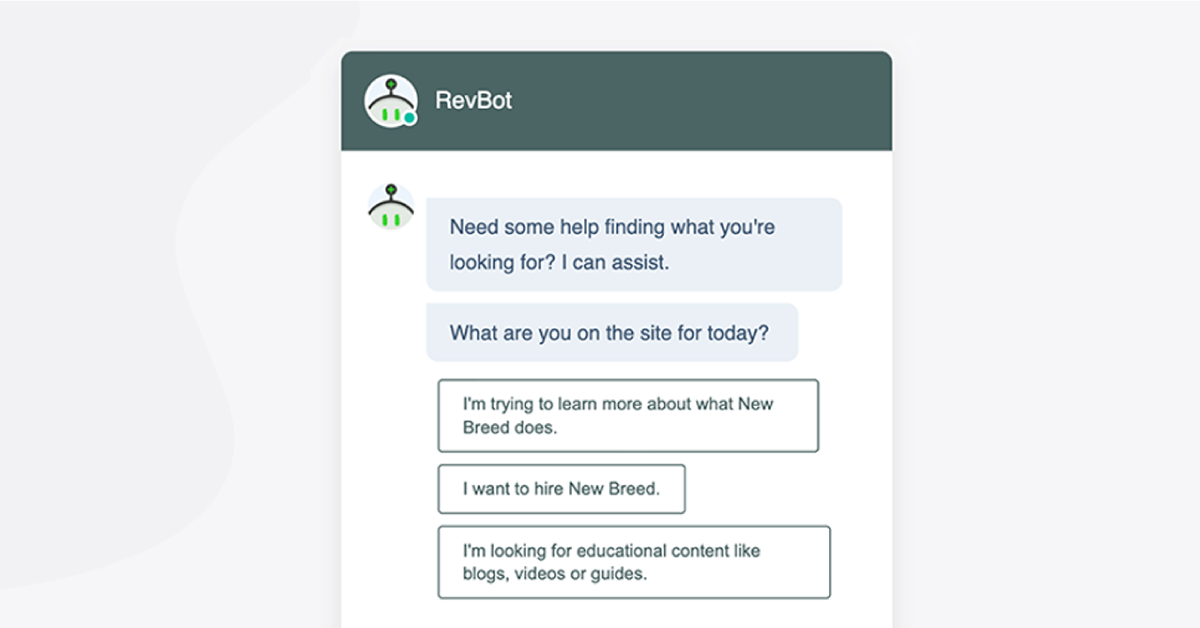 HubSpot Conversations is an intuitive and easy-to-use tool for companies who are just getting started with conversational marketing or who use HubSpot to run their marketing strategy.
The tool can be used for live chat, automated chatbots (or chatflows as they're called in HubSpot) or an automated conversation that later routes to a live agent.
When setting up a chatbot, you can take a who, what, when, where and why approach to get started: Why are you creating this chatbot? Who is it targeting? Where will it be located? What will it say? When will live interactions be available?
Here are 14 tips to help you build the most effective chatbots in HubSpot.
1. Start by Determining an Objective for Your Bot
The first thing you need to figure out is the goal of your bot because that objective will influence everything else about your bot. The goal is essentially the action you want users to take as a result of interacting with the bot.
Your goal doesn't need to be lead capture. You could create a bot with the goal of sending visitors to specific webpages or answering frequently asked questions. Or you could create bottom-of-the-funnel bots that aim to book meetings with your sales team.
2. Use HubSpot Lists for Segmentation
Getting your bots in front of the right people is one of the most difficult parts of conversational marketing. One of the biggest benefits of HubSpot chat is that if you use the HubSpot CRM you can easily create audiences without needing any integrations. You can utilize HubSpot lists to determine who will see individual chatflows and who won't.
For example, if you're hosting a webinar that's only relevant to some of the industries you serve, you could make a list of contacts that work in those industries so if a website visitor works in a different industry or their industry is unknown, they wouldn't see that message on the bot.
HubSpot allows you to create lists based on contact behavior, other list memberships and contact properties. Because HubSpot has so many properties you can choose from, using them for bot targeting is really easy.
3. Consider Page Targeting
Not only do you need to think about who will engage with your bots in terms of segmentation but also where on your site they appear. In HubSpot, you can not only narrow your audience based on lists, but you can also identify specific pages for chatbots to appear on.
The messaging of your chatflow should match the page it appears on. For example, you can be super specific in what you say in a chatbot that appears on a single blog post because you can make an informed guess about what the visitor's intent and interests are. However, a bot that's on your homepage would need to be broader because there are many different reasons someone could arrive on that page.
You want to be as specific as possible in your messaging without making anyone feel like it's not the right message for them.
4. Prioritize Your Chatbots
Even though a visitor might meet the criteria to see multiple chatflows while they're visiting a page on your website, only one can appear. To solve for this, HubSpot lets you set priority levels for your chatflows to indicate which conversation you want to be presented when there is more than one that applies.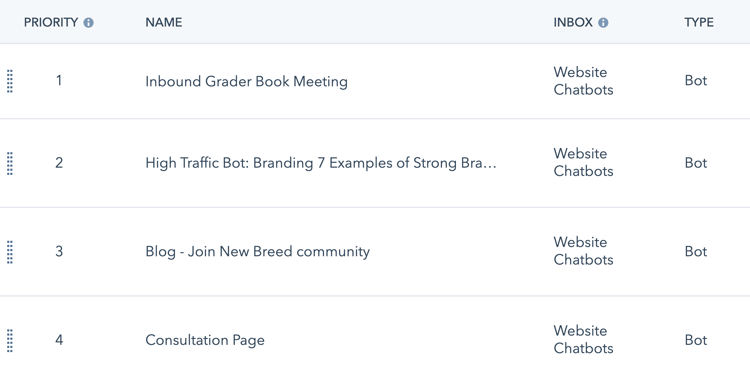 When you're setting priority levels, high-intent and super targeted chatflows should be top priority. Since those have narrow use cases, you want to ensure they are displayed whenever applicable. On the other hand, a general bot that could appear on numerous pages would be low priority because it's less important that its message is shown than page- or visitor-specific information.
5. Set Hours for Live Chat and Routing
You can decide within each bot you build when it will appear on your site or you can create settings that'll apply to all of your bots. For example, our chatflows will only route conversations to one of our reps between 9:00 a.m. and 5:00 p.m. Monday through Friday because those are our business hours.
Depending on how your business operates, you might set your hours to start earlier, last later or have midday breaks.
Whatever you decide, it's essential to ensure that if you're allowing a visitor to initiate a live chat there is someone available to respond back to them. It's better to have an automated message saying no one is available right now and provide an alternate means of communication than to have a site visitor sitting in your chat by themselves.
6. Draft Your Playbook in a Document Before You Start Building Bots
Draft the general path you want users to take on an outside document before you start building anything within HubSpot. While HubSpot has improved their interface significantly and continues to do so, you still cannot view all the branches of a conversation at the same time. You have to select one option to preview and edit at a time.
If you have a general idea of where you're going from start to finish, it will be a lot easier to build out your chatbot and avoid mistakes or dead ends. If not, you might get halfway through creating a conversation and realize an option you provided early on makes later messages redundant.
7. Don't Overcomplicate Your Chatbots
HubSpot works best for building simple bots. The more branches you add to your paths, the harder your bot becomes to manage.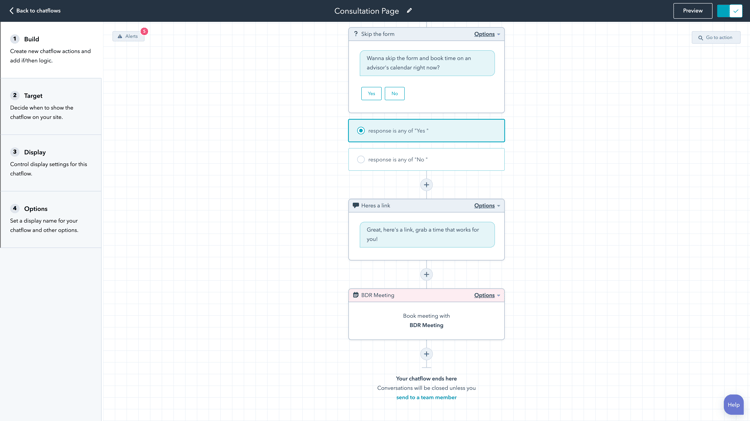 Ultimately, you should do what's best for your website visitors when building your chatbots. Often, those conversations and messages are as short and simple as possible.
It's easy to get carried away when building a chatbot because you have the option for unlimited branches, follow-up questions and properties. However, keeping your bots simple will make it easier for you to edit them as you test and optimize them over time. Additionally, it's a better experience for users when they don't have to choose between 17 options or engage with a bot for 20 minutes in order to get the information they need.
Include enough options so that you can ensure users are on the right path but keep it as simple and to the point as possible.
8. Use Personalization
Personalization is your friend and should be used wherever you can include it naturally.
For example, if you include someone's name or company name in a chatbot greeting, they're more likely to engage with that message than if they see a generic greeting. Or, if you reference a previous behavior of theirs while recommending a next step, that can provide a lot of value for users.
However, you shouldn't have a sentence with six personalization tokens or go so overboard that the person feels like the amount of information you have about them is creepy. Find a balance that feels natural.
9. Be as Human as Possible
Remember that there are real people on the receiving end of your messages. It's easy to get caught up in the technology of the different branches and settings when creating automated bots. But, even though your chatbot is automated, you don't want it to come off as robotic.
Match your voice and tone to your company's brand. You can make jokes or use emojis if that aligns with your brand. If not, you can still be conversational without being informal.
The goal of chatbots is to make users feel like they are talking to someone instead of just inputting information into a form, so your language should facilitate that.
10. Provide the Option to Contact a Human
While team member capacity or qualification needs might not make this possible for every company, if possible you should provide a way for website visitors to be routed to a member of your team live.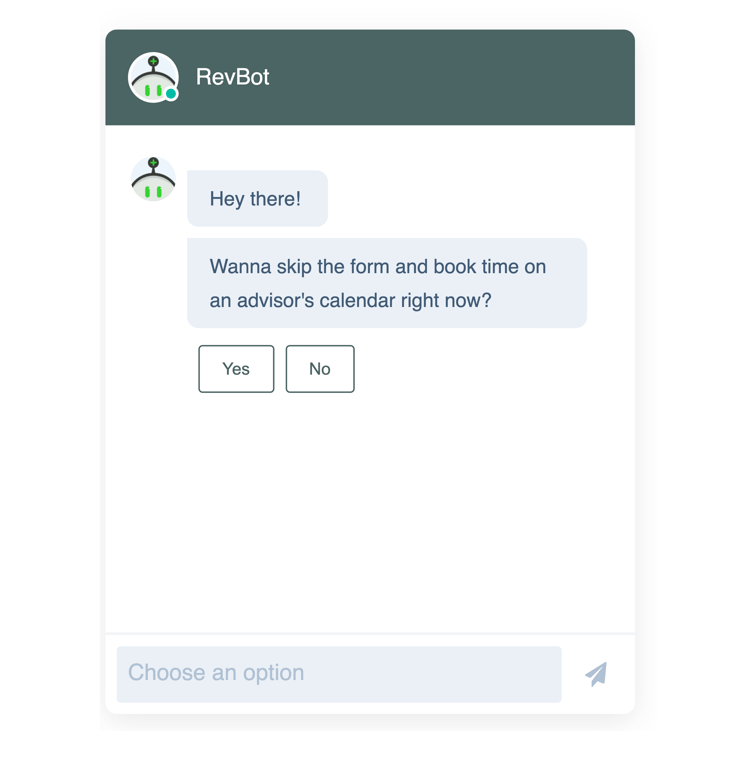 Providing the option to talk to a human reduces friction from visitors' experience if they can't find what they're looking for or don't like the automated bot. On top of that, it provides a great opportunity for sales because if someone selects that option they are ready to talk to a member of your team.
HubSpot's teams function makes routing easy because you create teams for your BDRs, sales reps and customer support reps and route or round-robin conversations to them. This means as teams change, you won't need to manually edit each chatbot that's routing has been impacted.
11. Set Up Notifications
HubSpot chats automatically route to the Conversations Inbox, which is convenient if that's where your team members are spending the majority of their time. If not, there are plenty of other notification options.
You can set up email notifications, in-app messages, push notifications and more.
For example, if your team uses Slack, there's a HubSpot-Slack integration that's phenomenal for managing live conversations. With the integration, team members can get a notification that a website visitor is trying to start a live chat conversation, and they can even respond through Slack without ever needing to go into HubSpot.
When setting up notifications, think about what works best for your team members and what enables them to respond the fastest.
12. Preview Bots Before Sending Them Live
HubSpot has a chatbot preview feature that you should use before sending any chatbot live on your website.
When you're creating a chatbot, it can be easy to leave dead ends without realizing it. Previewing it can help you find those by enabling you to engage with your bots from the visitor's perspective. Ideally, you should also have someone else preview each chatbot as well to catch anything you may have missed.
13. Build Dashboards
Another major benefit of HubSpot Chat is that you can use HubSpot's reporting features to analyze the effectiveness of your conversational marketing strategy.
There are plenty of out-of-the-box reports that you use when creating a conversational marketing dashboard, and you can create custom reports too. You can monitor conversations by page, conversations by bot, response time overall, response time by agent and more.
Having dashboards set up to monitor your bot's performance as well as your team's response time will allow you to make adjustments that will help visitors have the best experience possible with your bots and brand as a whole.
14. Adjust Over Time
As with everything else in marketing, you shouldn't just create a bot and let it sit forever.
Go back and analyze what's working and make adjustments. It's very easy to go make adjustments to messages so make sure you're optimizing your bots regularly.
Weslee Clyde is an inbound marketing strategist at New Breed. She is focused on generating results using inbound methods and is driven by the customer experience. When not at the office, you can find her binging a docu-series on true crime or perfecting her gluten-free baking skills.