Every year at INBOUND, HubSpot announces product releases and updates. At INBOUND 2020, the Sales Hub was the main focus, along with the CRM.
As with the past couple rounds of product updates from HubSpot, the goal is to make the platform more powerful while maintaining its ease of use. Here are some of the updates to HubSpot's Sales Hub:
CRM
HubSpot's CRM houses all the data used by the Sales Hub, so while it's not part of Sales Hub, upgrades to the CRM impact the usability of Sales Hub.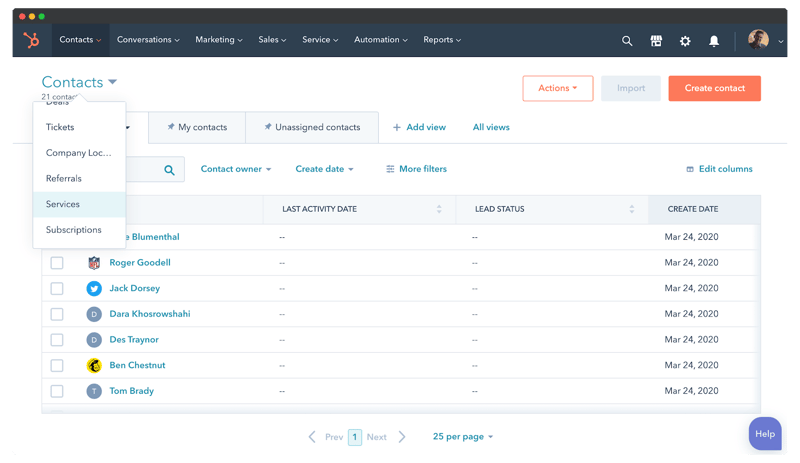 In the past, one of the biggest benefits of HubSpot CRM for sales reps was the ability to see everything about an object (contacts and companies) in a single place and customize the interface for the easiest access to the information they need.
At INBOUND, HubSpot announced the addition of custom objects which makes it easier for you to align your HubSpot portal with your company's specific needs.
Custom objects create new possibilities for how sales teams can organize and report on things like territories, products or events. They make the platform as a whole more flexible, and make HubSpot's CRM more competitive with other enterprise CRMs. When you also factor in that the CRM is part of the same platform as HubSpot's sales acceleration and enablement tools so no integrations are required, HubSpot now has a clear advantage.
Advanced Sequences
In HubSpot, Sequences are a way to manage outreach with an individual contact. You can use them to manage calls, internal tasks, automated emails, follow-up reminders and more.
Earlier in the year, users gained the ability to bulk enroll contacts in Sequences. With the newest update, the integration with LinkedIn was improved so you can use InMail and connection requests as part of your sequences.
Social selling is becoming more prevalent as data emerges about its effectiveness, and LinkedIn is the best network to use for social selling to B2B companies. Managing it through the same tool that you use for the rest of your sales outreach helps you streamline your sales process and manage more touch points directly through HubSpot.
Today View
The Today View is essentially a home base where all of a sales rep's tasks live.
Previously, you could get notifications whenever new tasks were assigned to you, but there was no single location where you could view all your tasks, reminders, upcoming calls, etc.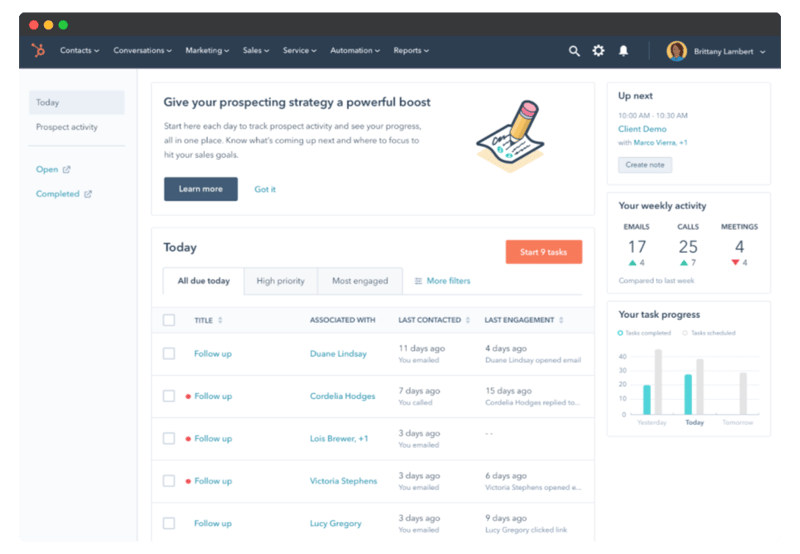 Now, HubSpot brings everything a rep needs into a single place so you can work through your day from the view. This allows you to become more efficient because you won't need to jump between different tools and browser tabs because you can see and implement all of your outreach and deal management in a single place.
Mobile App
HubSpot's mobile app has been around for a couple of years, but previous iterations haven't been super popular.
The current app now includes more features from the web platform, like the brand new today view. Additionally, the new mobile keyboard allows sales reps to pull information from the HubSpot CRM into communications they're having via text, WhatsApp and other mobile apps.
Having the ability to manage tasks, sales process, upcoming meetings at your fingertips wherever you go is almost table stakes for a sales tool. The new features make it easy for sales reps to stay on top of their deals while they're on the go.
Sales Analytics
Sales analytics enable you to measure the performance of your sales team as a whole and individual reps across territories, product lines and more. The updated Sales Hub Enterprise includes more robust reports than ever before, making it the equivalent of a standalone pipeline management tool.
Some of the new reports include forecasts, deal funnels and weighted pipeline, which better enable your sales leaders to manage pipeline, coach reps and provide sales reps with more insight into their performance.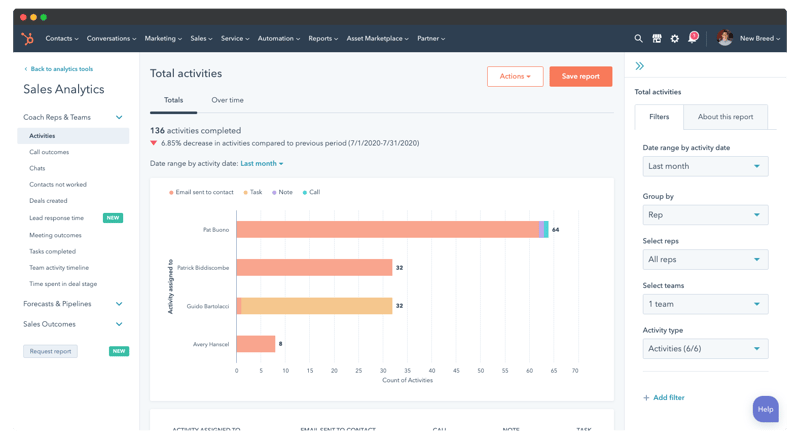 For example, the weighted pipeline doesn't just show every opportunity you have open. It incorporates deal stage to calculate the probability of it closing within your given timeframe and adjusts the projected revenue accordingly.
Another new out-of-the-box report is the pipeline waterfall, which displays how your pipeline is changing over time as opportunities are opened, are closed, increase in size, decrease in size, get pulled or get pushed.
Proposals
When sales reps are ready to send out a quote, they can now do so through a custom proposal designed using tools from the HubSpot CMS. Custom proposal templates can be built using HubSpot's design manager and then reps can easily add content and pull in products from the product library for each deal.
This update reduces the number of tools sales reps are required to use and makes it easier for your company to enforce brand consistency.
Additionally, there are now integrations between HubSpot's quotes tool and accounting software such as QuickBooks, NetSuite and Nubox, making it easier to generate invoices once a proposal is signed off on.
Guido is Head of Product and Growth Strategy for New Breed. He specializes in running in-depth demand generation programs internally while assisting account managers in running them for our clients.