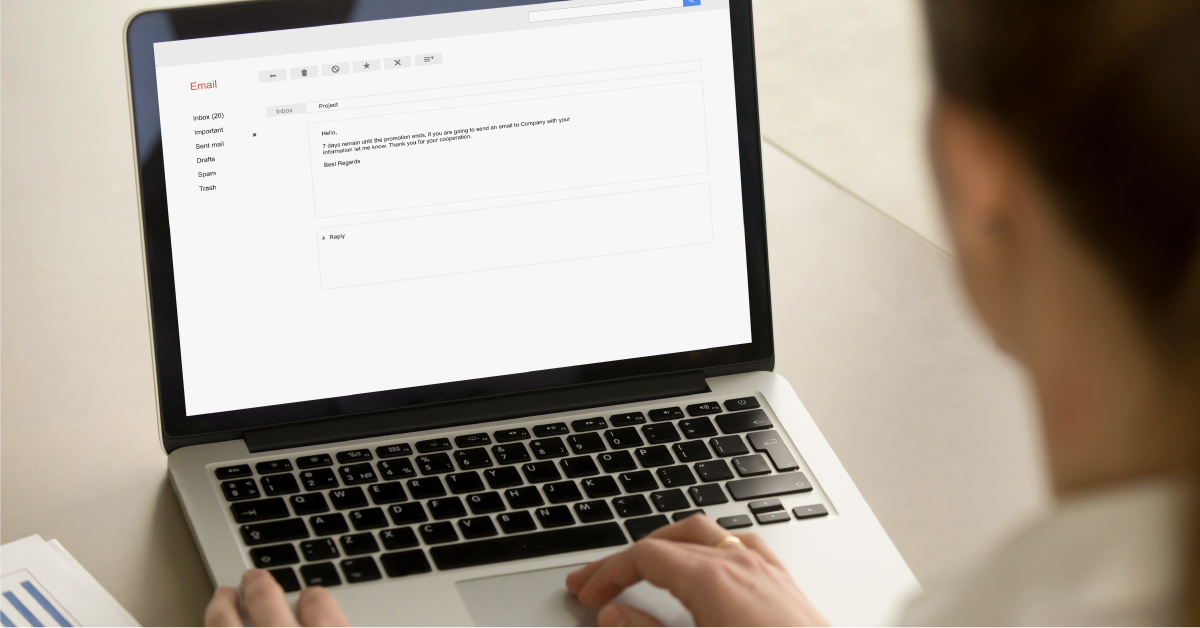 At this point, email seems like one of the oldest marketing tactics in the book, but it is still a great and effective way to engage with prospects while also building relationships with existing customers. When it comes to building out your own email strategy, what will be most successful depends heavily on your target audiences as well as their preferences.
Regardless of what industry you are in and your product or service, we're all trying to get the same results from our emails — conversions. With that in mind, there are some best practices that can be adopted across any industry to help improve your email strategy to increase the engagement and overall conversions you are seeing from your marketing emails.
1. Segment, Segment, Segment
You can create the best email in the business with the best subject line and a great call-to-action, but if you are sending it to the wrong people, all that won't matter. Segmentation is critical for ensuring your emails go to the right people to increase your chances at conversions.
Whatever you are promoting or whatever action you want the user to take from the email needs to align with the list of contacts you send it to. The more segmented the list, the better.
The actual differentiators you use for your segmentation will be based on what type of email you are sending and what the intended action is. But, consider segmenting people based on things like product, area of interest, level of engagement, buyer persona or ideal customer profile (ICP).
2. Use Suppression Lists
While you should use segmentation to pick the people you want to receive your email, you can also use suppression to exclude certain groups of people that you don't want to receive them. You can do this for negative buyer personas or ICP's, certain sales stages, people who have low engagement or individuals who don't fit the theme or message of the email for any reason.
Suppression lists help you ensure the only people receiving your emails are the ones who have a high chance of engaging with them. By suppressing those who don't, your metrics and reports will give you a clearer picture of your actual conversion rates.
3. Choose the Right Cadence
The number of emails you send will be extremely dependent on the size of your database, your product or service and your overall marketing strategy. Whether it's once a week or every other day, choose a cadence your teams have the bandwidth to stick to.
Routine is important because it will help your audience get used to seeing your emails on certain days. It will also ensure you aren't unknowingly bombarding them with email after email.
4. Align the Content and Offer
Your email doesn't just consist of the body text. You also need to consider your call-to-action, preview text and subject line. All three of those components have an impact on the experience the recipient has with your email.
Make sure that all four of those text elements are aligned and tell the same story without too much repetition or overlap. Your subject line should set the right expectation for the body copy which should lead nicely into your CTA.
Not having all of the components aligned can make readers feel misled which may result in them not reading the full email or clicking the CTA.
5. Consider Length
There is no perfect formula for the correct email length, but in general keep in mind that you want your content to be read and digested, not ignored. Sometimes this means keeping it short and sweet in order to provide value that is easy to comprehend and gets right to the point or value.
If your emails ramble on or are too hard to understand, users may delete them without reading anything, including the link or next step you want them to take.
6. Include Personalization
Even though we all use automation to send out emails these days, it doesn't mean your emails should look like they were written by a robot. Adding personalization tokens to insert things like company name, first name or specific information from your CRM can boost engagement and grab a user's attention from the start of the email.
The better quality experience your users have with your emails the more likely they will be to click the CTA and convert.
7. Write a Great Subject Line
Believe it or not, getting conversions on your emails often starts with a subject line. The subject line is the first thing a user will see before even opening the email. If they are brand new to your emails or your brand, it can hold a ton of weight as to whether or not they even open the email at all.
Subjects lines should be engaging and intriguing while still being truthful to the value the email holds. Experiment with different types of subject lines to find what your audience responds to the best.
8. Create Engaging CTA's
There are a ton of different ways to highlight an offer or link inside of your email. Whether you are using simple linked text, a button, an image or even a GIF, it should be easy to spot and enticing to follow.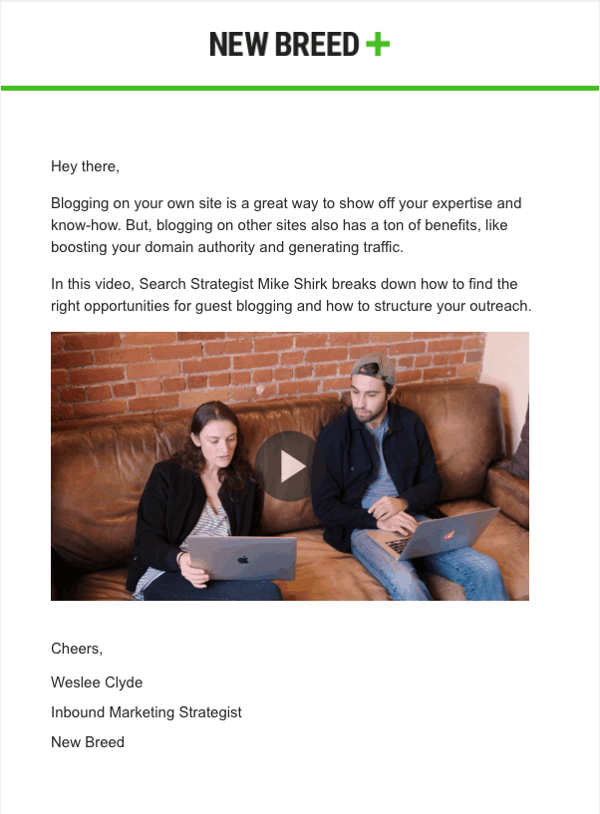 If using text, use language that clearly states there is an action to be taken like "click here for" or "download now" so that users don't get confused by where they should be clicking. If you are promoting a video, you can use a GIF with a play button on it which takes users directly to the video window in their browser.
9. Utilize a Consistent Brand Voice
Emails should be engaging and unique while still featuring your brand's personality. If you typically stick to a very corporate voice and tone, you can match that in your emails but still be personable and remember you are speaking to humans on the other end.
All of your marketing is an extension of your brand. When consistent it will help users feel like they can trust and rely on you for a certain experience which makes them more willing to engage with your content overall.
10. Run A/B Tests
If you haven't yet established what works best for your audience — test it. A/B tests are a great way to find out things like whether your readers prefer buttons over in-text links or bullets over paragraphs. You can even test things like structure or templates to discover what works best.
Just be sure when testing to only change one element at a time in an email to make sure you can do an accurate analysis of your results.
11. Be Deliberate with Your Sender Address
The first step to getting conversions is to get people to open your email, and for that to happen you have to make it to their inbox. When it comes to getting around spam filters and increasing open rates, the sender address matters.
Sending from one individual with a personal email address not only helps you pass spam filters, it also helps convey a bit of human-to-human connection. Users are more likely to notice and engage with your emails when you send them from a person at your company.
12. Keep Your Template Simple
It can be tempting to create the most overdesigned template with color, images, graphics and lots of different modules. But, emails like that can come off like an ad or scream "marketing automation." While most people are aware that marketing automation exists, it doesn't mean you want to remind them that with your emails.
There is value in serving emails to your audience that look just like a normal email you'd send a coworker. A simple email template with just a logo or a border can humanize your brand while letting the focus of the email be on the message and body text. Additionally, text-based emails will work better on mobile devices and different email clients because their formatting is less likely to get botched.
13. Test in Multiple Email Clients
Before you hit the send button, preview your email and be sure that your emojis, images and buttons show up correctly. Not all email clients allow for images to automatically pop up and some require a download.
This doesn't mean you shouldn't use pictures, but be aware that it may require recipients to take an extra step to see the image. If you are using an image as your CTA however, you may want to reconsider if your database is primarily using email providers where this is the case.
14. Monitor Performance Metrics
While conversion rates are your ultimate goal with emails, you can also use metrics like open rates, unsubscribe and bounce rate to help paint the full picture of what's going on with your emails over time.
As you are testing out different methods, styles, designs and cadences these metrics will help you find what works best for your audience.
This post was originally published May 21, 2014.
Weslee Clyde is an inbound marketing strategist at New Breed. She is focused on generating results using inbound methods and is driven by the customer experience. When not at the office, you can find her binging a docu-series on true crime or perfecting her gluten-free baking skills.