Integrations are the key to driving revops success at any scaling business. One of the greatest things about HubSpot is the plentiful integrations it offers. Over 150 different software products and applications seamlessly fuse with HubSpot CRM.
The following guide curates a number of the most effective, turnkey integrations that we have leveraged in working with hundreds of high growth organizations.
Must-Have HubSpot Integrations
We've made it easy to find what you're looking for! Jump to the section that interests you the most:
HUBSPOT INTEGRATIONS FOR SALES ↓
1. Sales Data Sync: Salesforce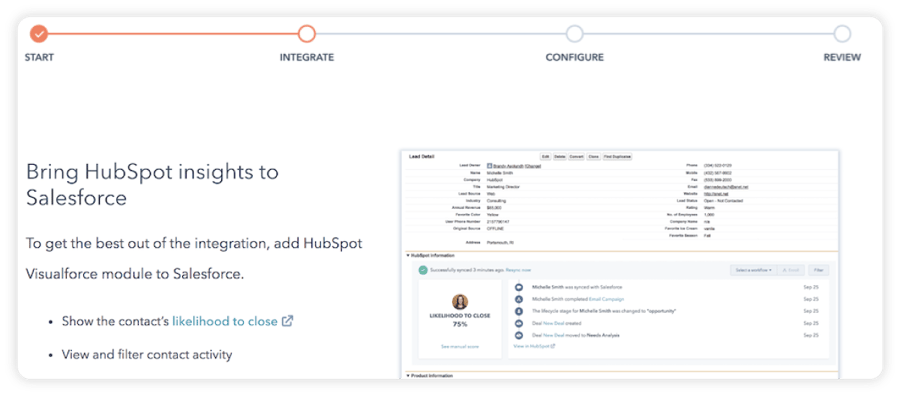 Salesforce is a stalwart in the CRM arena, and HubSpot's integration with the platform provides a host of benefits for sales and marketing teams. By merging the two platforms, you can consolidate your data, simplify your workflows, and gain a more comprehensive view of your customer journey.
Salesforce-HubSpot integration allows you to access real-time sales data, which can be used to track leads and opportunities, and to measure the impact of your marketing efforts. With cross-channel reporting and enhanced visibility into your entire funnel, you can identify trends, optimize your campaigns, and drive more revenue. Plus, the two-way data sync feature makes this integration is easy to set up and use, making it a favorite among sales and marketing professionals alike.
2. Lead Routing: Distributely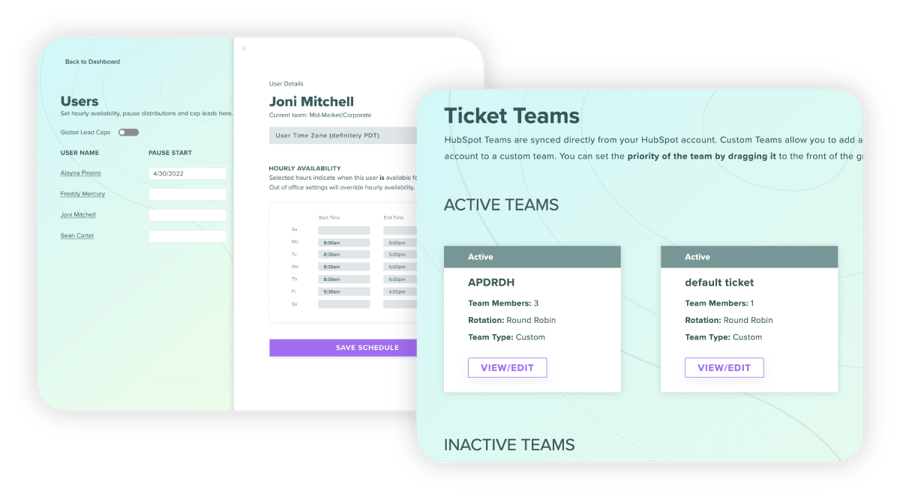 Distributely takes lead distribution to the next level with its seamless native integration for HubSpot CRM users. This lead distribution app streamlines the process of assigning and managing leads among your sales team. You can automate lead routing, ensuring that each lead is distributed to the right sales representative based on pre-defined criteria.
This native-to-HubSpot app helps increase sales efficiency, reduce response time, and optimize lead conversion rates by ensuring that each lead is handled by the most appropriate team member. Distributely's machine learning algorithms help to determine the best-fit sales rep based on factors such as lead location, industry, and size.
This ensures that every lead is handled quickly and in the most effective way possible, leading to higher conversion rates and increased revenue.
Try Distributely's free trial, and you can rest assured that your leads are being distributed accurately and efficiently, leaving your sales team more time to focus on closing deals.
3. SMS for HubSpot: AirCall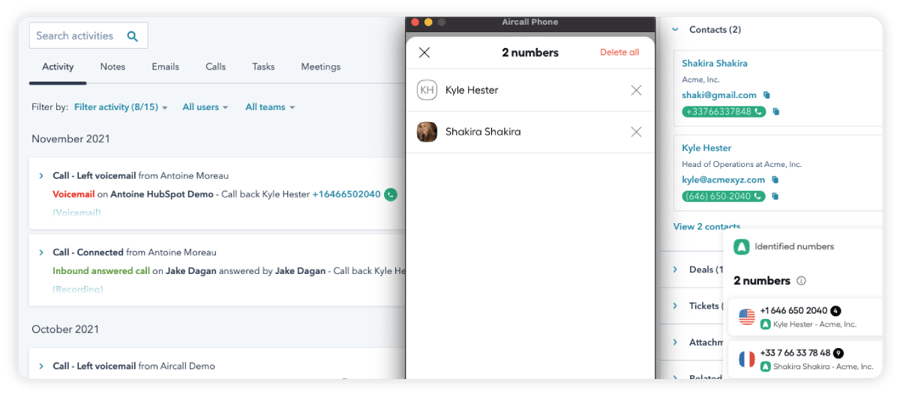 Looking to send targeted messages, automated notifications, and personalized follow-ups directly from your HubSpot CRM? Look no further than Aircall's SMS functionality. With automatic logging of calls and SMS, call note and recording logging, triggering workflows, outbound dialing enhancements, and valuable contact information, Aircall is the most popular SMS integration on the HubSpot App Marketplace.
HUBSPOT INTEGRATIONS FOR MARKETING ↓
4. Email: Mailchimp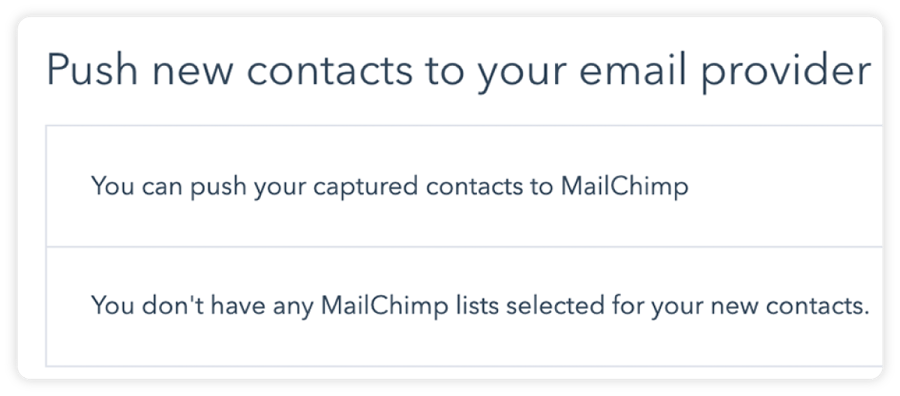 Mailchimp is a widely-used email marketing platform that helps businesses create, send, and analyze email campaigns. Mailchimp-HubSpot integration allows you to sync your email marketing data with your databse, providing a comprehensive view of your contacts' engagement with your campaigns.
By adding Mailchimp to HubSpot, you can create targeted email campaigns, automate follow-up messages, and track the effectiveness of your email marketing efforts to drive better results.
5. Campaign Tracking: Google Ads & Search Console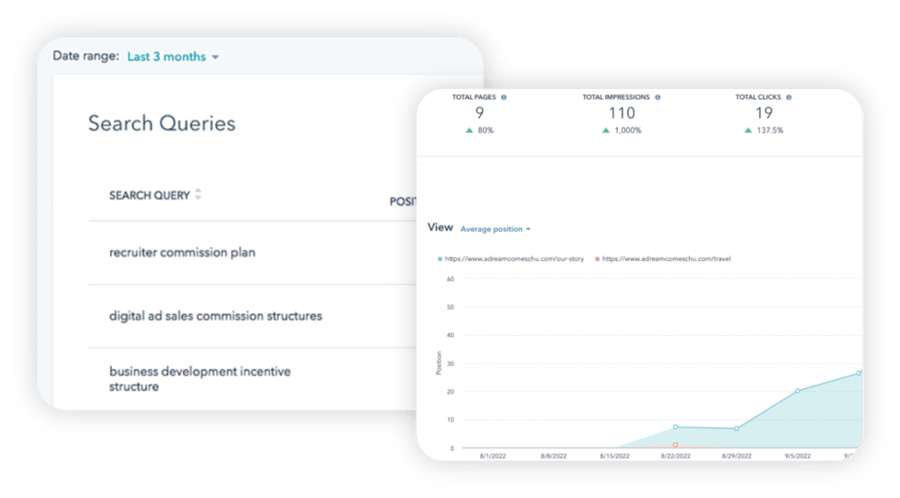 When you combine the power of HubSpot with Google Ads and Google Search Console, you'll unlock a wealth of insights that can help supercharge your marketing campaigns. Integrating these tools will enable you to fine-tune your targeting, bidding and SEO strategies, allowing you to make the most of your resources for maximum impact. Best of all, you'll be able to boost your search engine visibility, ensuring that your brand is seen by the right people at precisely the right moment.
Tracking your advertising metrics and organic search performance has never been easier with HubSpot! You'll have a comprehensive view of your campaigns directly from your dashboard, allowing you to quickly identify areas that need improvement and make data-driven decisions to enhance your overall strategy.
Thanks to the integration of Google paid and search tools with HubSpot, teams can now optimize their online presence and drive growth like never before.
6. Ad Performance: Facebook Ads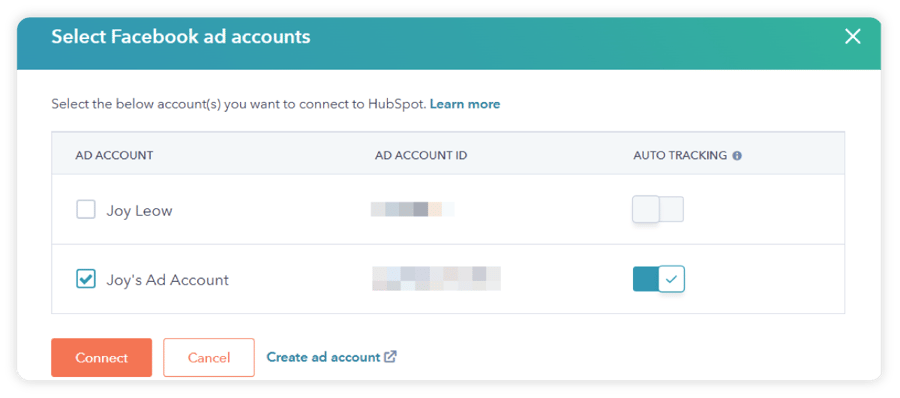 Powerful inbound marketing can't be executed unless you're reaching customers where they are — in this case, their social platforms. If you want to reach your intended audience and create targeted campaigns, Facebook Ads continue to be a popular solution.
By integrating Facebook Ads with HubSpot, you can easily track your ad performance, measure ROI, and keep tabs on your leads in your CRM. This integration can help you optimize your advertising strategy, create more effective ads, and improve your lead generation efforts.
7. Outbound Events: Eventbrite
Savvy B2B marketers know that outbound events can effectively supplement your inbound marketing strategy. Eventbrite is a platform made for organizing and managing the logistics that go into hosting an in-person event. While outbound events can be great for driving your lead generation efforts, tracking their ROI can be tricky.
Fortunately, the Eventbrite integration automatically syncs data collected from offline marketing sources to HubSpot, enabling marketers to track outbound efforts to revenue.
8. Chatbot: Drift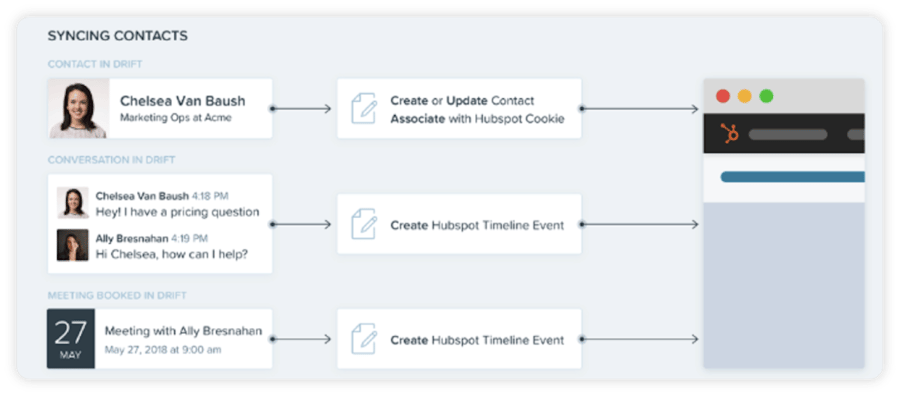 Drift is a sophisticated chatbot application powered by AI technology that can seriously enhance your lead generation efforts. Chatbots can provide the user with valuable information to help urge them down the sales funnel with greater speed. Drift chatbots can be easily implemented on the HubSpot CMS to provide real-time support for prospects on your website.
The data collected from the conversations users have with your chatbot are then flowed into your database to enrich that contact's record. As a bonus, the Drift integration has a micro-integration with Slack, allowing you to chat with prospects on your website from any device.
HUBSPOT INTEGRATIONS FOR SERVICES ↓
9. Help Desk: Zendesk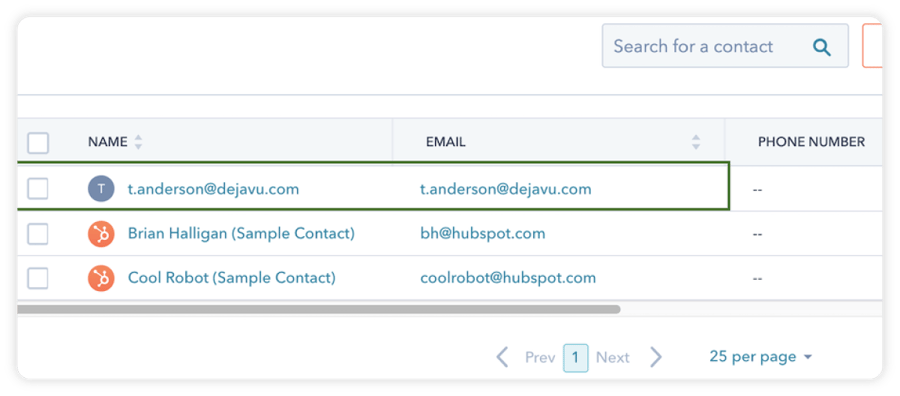 If you want to take your customer service and support to the next level, Zendesk is an awesome option. It's a user-friendly help desk platform that can help you manage customer interactions and resolve issues efficiently. By integrating Zendesk, you can sync support tickets, communications, and satisfaction ratings with HubSpot. This will give you a comprehensive view of your customer journey, streamline your support processes, and enhance your overall customer experience.
10. Surveys and Feedback: SurveyMonkey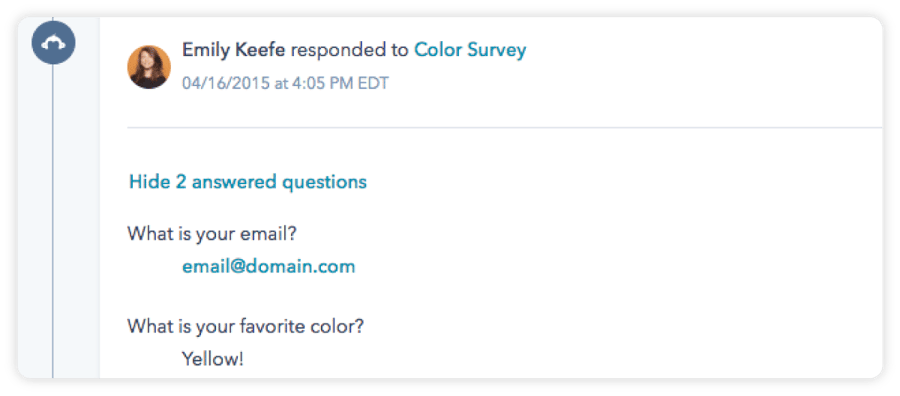 SurveyMonkey is a fantastic tool for gathering feedback and insights from your audience, and the HubSpot integration makes it even better. By syncing survey responses with your CRM, you can analyze feedback and segment contacts based on their responses, allowing you to create targeted marketing campaigns and improve your customer experience.
Plus, with the ability to personalize your communications, you can take your customer relationships to the next level with this integration.
11. Bill Tracking: QuickBooks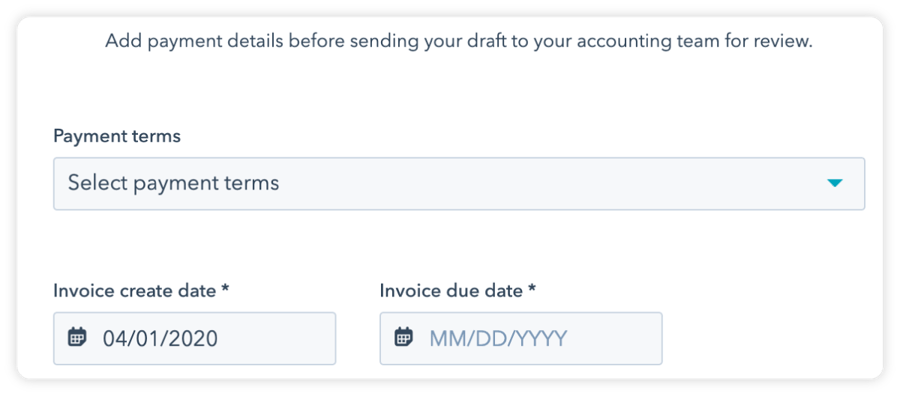 For teams wanting to stay on top of their finances, QuickBooks is a must-have accounting software. With the integration, you can effortlessly synchronize customer data, transaction details, and invoice history between QuickBooks and HubSpot, ensuring that your financial records are accurate and up-to-date.
By automating billing workflows and enhancing your financial visibility, you can make informed decisions and focus on growing your business with ease.
12. Resource Planning: NetSuite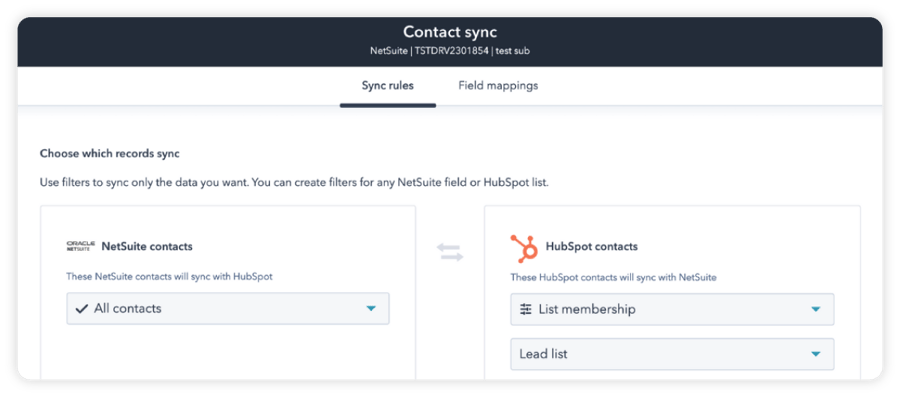 NetSuite is an amazing ERP (Enterprise Resource Planning) platform that makes financial management, inventory control, and customer relationship management a breeze. By integrating NetSuite and HubSpot, you can synchronize customer data between the two platforms for seamless communication between your sales, marketing, and finance teams.
And with automation, you can eliminate manual data entry, improve data accuracy, and gain valuable insights into customer lifetime value and purchasing behaviors. It's a game-changer for services and operations teams looking to streamline their operations and boost their bottom line.
HUBSPOT INTEGRATIONS FOR E-COMMERCE ↓
13. E-Commerce Dashboard: Shopify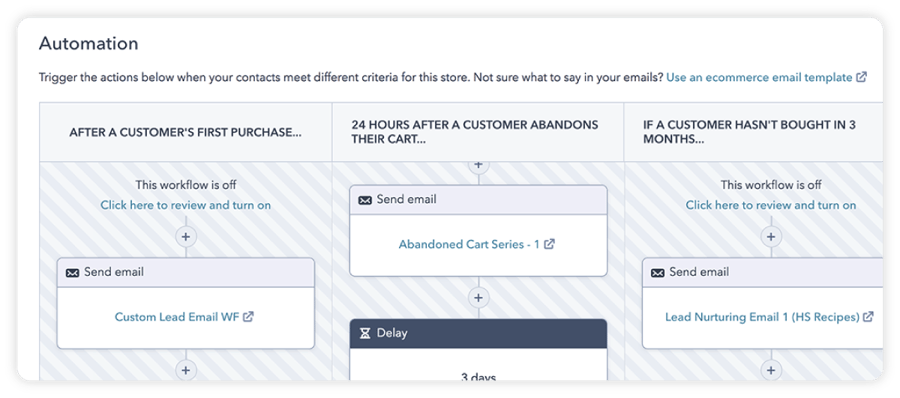 For those looking to create and manage online stores, Shopify is a popular e-commerce platform that can do just that. Its integration with HubSpot allows you to track customer data, order history, and shopping behaviors to optimize your e-commerce marketing strategy and drive sales and revenue growth.
By segmenting your customers based on their purchase history and automating marketing workflows, you can enhance the customer experience and boost your bottom line.
14. Accept Payments: Stripe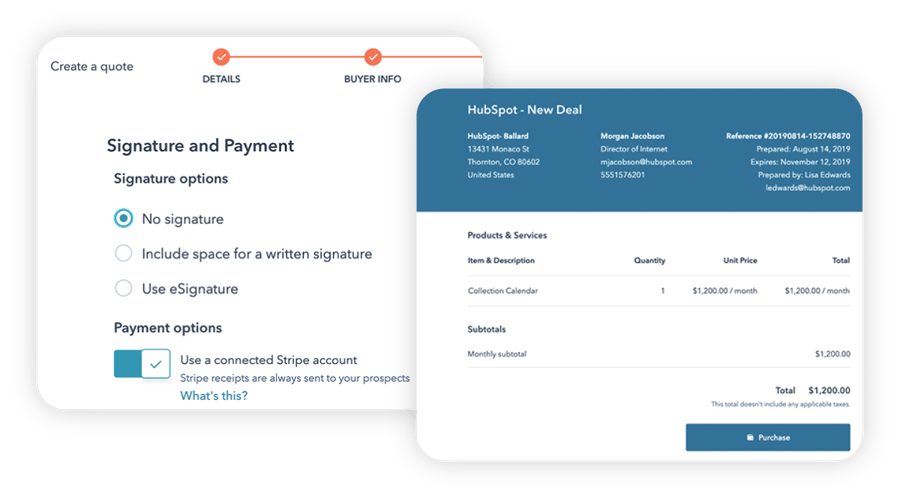 When it comes to accepting payments online, security and reliability are of most importance. With Stripe's payment processing platform, you can rest assured that your customers' sensitive information is protected and their transactions are processed seamlessly. The Stripe-HubSpot integration takes it a step further, allowing you to sync payment data with your CRM to gain a better understanding of your customers' purchasing habits and preferences.
But that's not all. This integration also streamlines your payment processing workflows, making it easier to manage invoices and billing. And with accurate financial records at your fingertips, you can make informed decisions about your business's financial health and future. So why settle for a less-than-stellar payment processing solution when you can have the best with Stripe and HubSpot?
15. Abandoned Cart Alerts: WooCommerce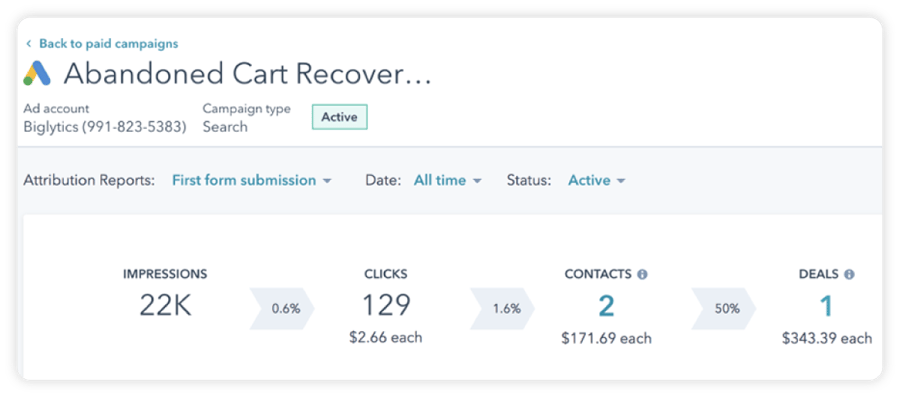 Looking to create, manage, and grow your online store? WooCommerce is a fantastic e-commerce plugin for WordPress. With the WooCommerce HubSpot Integration by MakeWebBetter, you can effortlessly connect your WooCommerce store with your HubSpot CRM, giving you a full view of your customer's purchase history and interactions.
By integrating WooCommerce with HubSpot, you can create personalized marketing campaigns, improve your customer experience, and leverage the power of your WordPress website to increase sales.
HUBSPOT INTEGRATIONS FOR DATA & ANALYTICS ↓
16. Integrated Reporting: Databox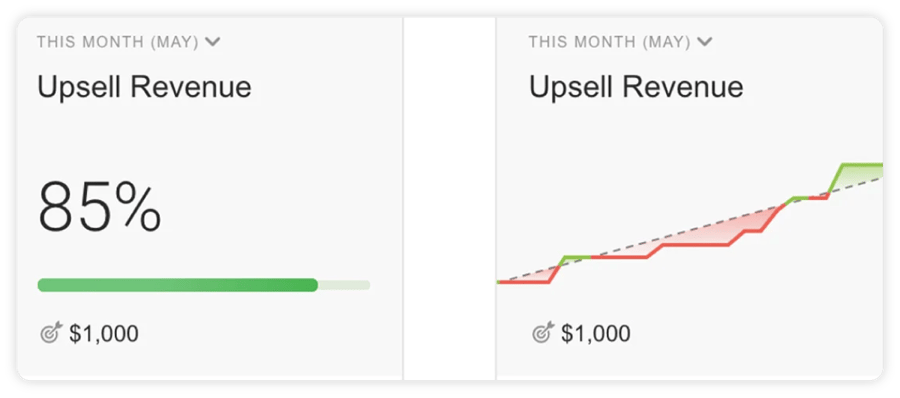 Databox is an awesome data visualization and reporting tool that can help you consolidate data from multiple sources into easy-to-understand dashboards. The Databox-HubSpot integration allows you to pull data from your CRM, marketing, sales, and service tools so that you can have a complete view of your business performance.
By connecting Databox with HubSpot, you can create custom reports, set performance goals, and track your progress in real-time to make data-driven decisions and improve your overall business strategy. It's a game-changer for teams looking to enhance their data management and streamline their reporting workflows.
17. Contact Enrichment: Datanyze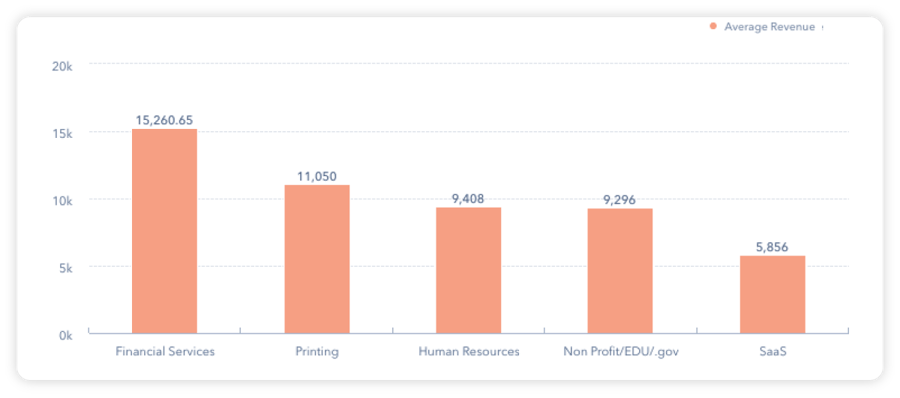 Datanyze sources technographic and firmographic information to automatically enrich contact records in your HubSpot portal, taking the heavy lifting out of prospecting and helping you fill in key informational gaps in your contact database to keep it healthy and actionable.
Additionally, this integration can be configured to trigger alerts based on the contact properties sourced by Datanyze, so your team can stay on top of the most qualified leads.
18. Virtual CRM Assistant: ChatSpot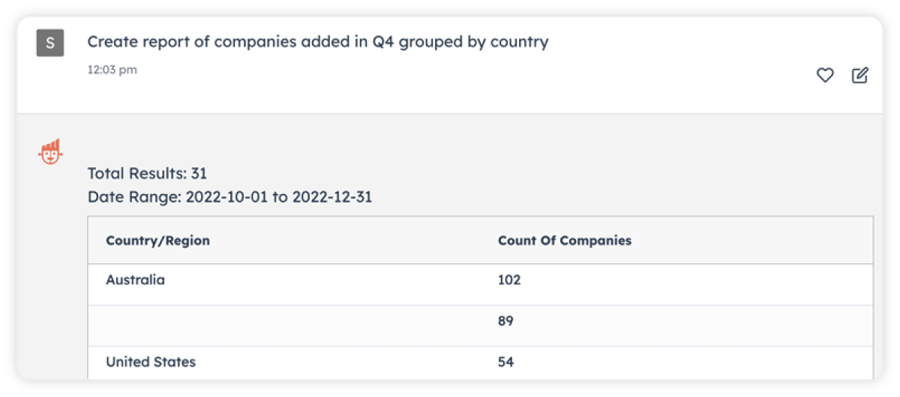 And if you're looking for an AI-powered tool to help you manage your tasks faster, ChatSpot has got you covered! With its chat-based commands, you can easily add contacts, draft emails, create reports, and more. Plus, it uses natural language to understand your requests and leverages HubSpot CRM data to provide quick insights into your business performance.
And the best part? ChatSpot reduces data entry efforts by identifying and populating relevant properties. Don't miss out on the chance to try this helpful tool, get early access here.
HUBSPOT INTEGRATIONS FOR VIDEO ↓
19. Webinar Integration: GoToWebinar
Webinars are an essential element of inbound content strategy and with HubSpot's GoToWebinar integration, using them to fuel your lead generation efforts is easier than ever. With this integration, webinar registrant data is shared effortlessly between the two platforms.
Prospects can register for your webinar on a HubSpot landing page and the data will automatically flow into GoToWebinar and register that prospect. Employ this integration to streamline your webinar strategy and drive efficiency.
20. Conference Calls: Zoom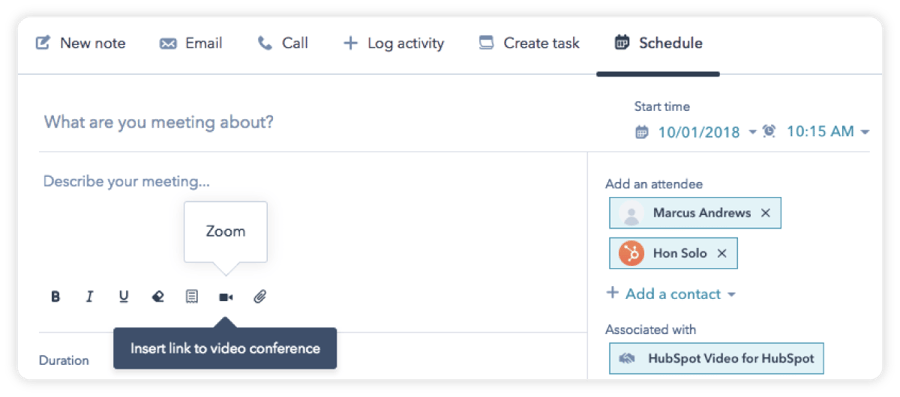 As we're more than aware, Zoom has become a popular video conferencing platform that allows businesses to host virtual meetings, webinars, and online events. With Zoom plus HubSpot, you can easily schedule, manage, and track Zoom meetings and webinars directly from your CRM.
By connecting Zoom to HubSpot, you can simplify your event planning process, gain valuable insights into attendee engagement, and automate follow-up communications to ensure your virtual events have maximum impact.
HUBSPOT INTEGRATIONS FOR CONTENT ↓
21. Website Management: WordPress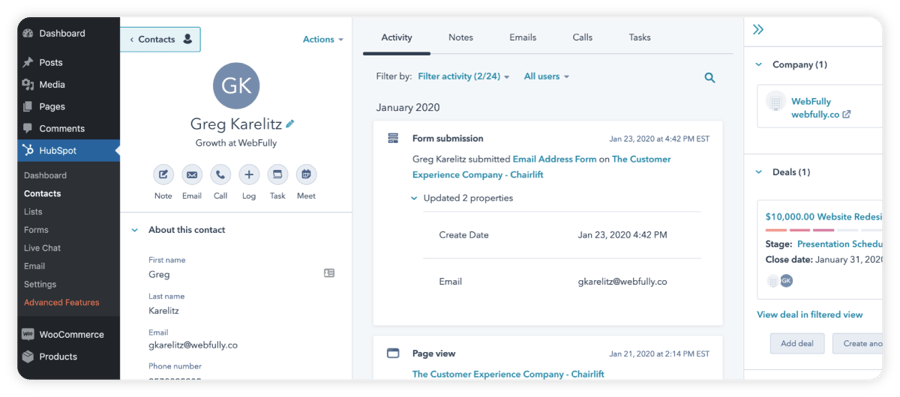 With WordPress as your CMS, you can easily create and manage your website or blog without any technical knowledge. The HubSpot integration takes it a step further by enabling you to track visitor behavior, capture leads, and measure the performance of your content. By leveraging HubSpot's CRM and marketing tools, you can optimize your content strategy, improve your search engine rankings, and increase your website traffic and conversions.
With this integration, you can create personalized landing pages, track visitor behavior, and analyze your content to optimize your content strategy. It also helps you nurture leads, automate marketing workflows, and track performance for maximizing lead generation and revenue growth. Plus, it enables you to provide personalized experiences for your website visitors.
22. Graphic Design: Canva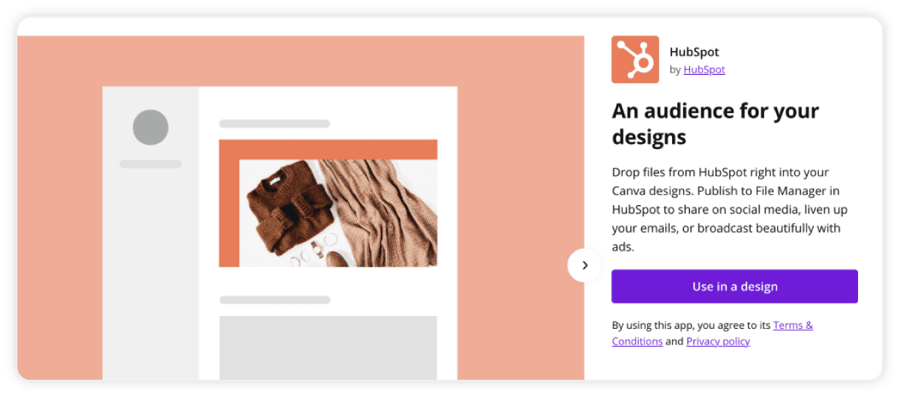 Canva's user-friendly graphic design platform empowers non-design-savvy teams to create visually stunning graphics, presentations, and marketing materials with ease. The Canva HubSpot integration makes it effortless to link your Canva account with your CRM, enabling you to effortlessly create, store, and share visual content with your team.
Incorporating Canva into your workflow streamlines your content creation process, enhances brand consistency, and elevates the overall visual appeal of your campaigns or social media assets.
23. Content Planning: Notion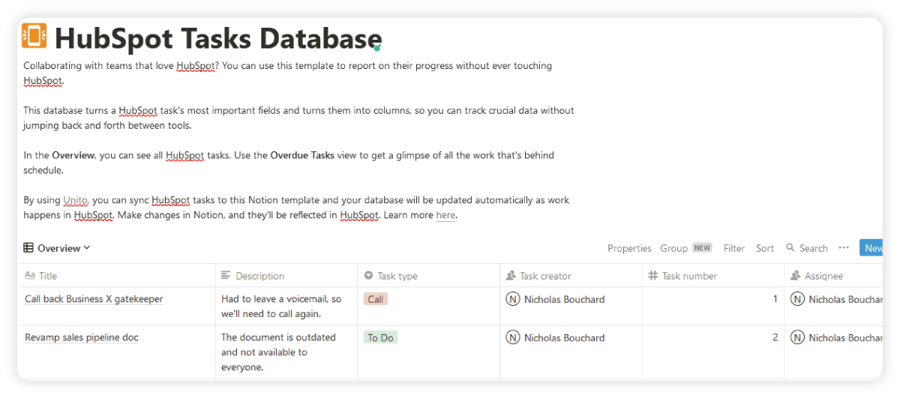 A content tool our content strategist Liza (that's me!) absolutely won't shut up about, Notion helps teams create, organize, and share documents, notes, and tasks. With the Notion-HubSpot integration, you can link your CRM data with your Notion workspace, allowing you to manage your content creation and planning more efficiently.
This integration streamlines your content workflows, ensures alignment between teams, and creates a centralized hub for all your content-related projects and assets. It's an absolute game-changer for teams looking to boost productivity and collaboration.
HUBSPOT INTEGRATIONS FOR WORKFLOW AUTOMATION ↓
24. Project Management: Asana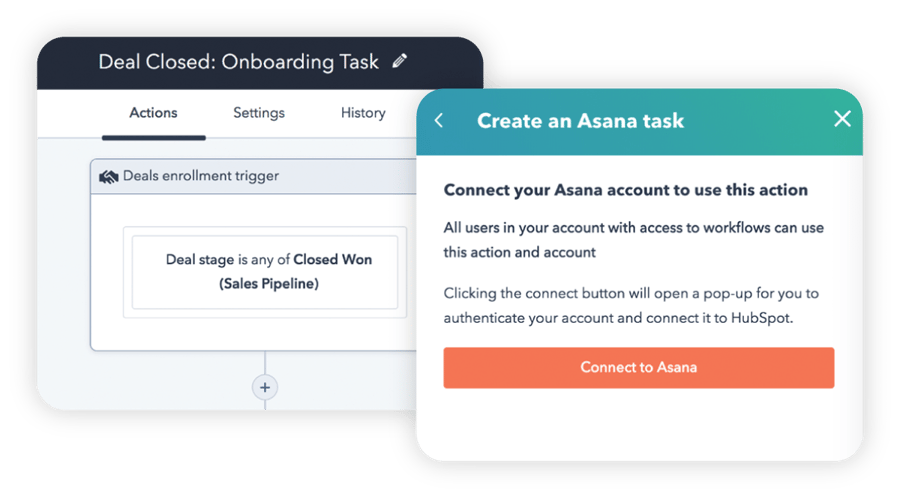 A powerhouse when it comes to project management and collaboration, Asana enables teams to plan, organize, and track their work with ease. With an integration with HubSpot, you can create and manage tasks, projects, and workflows directly from your HubSpot navigation, streamlining communication, ensuring alignment across departments, and automating repetitive tasks to boost productivity and efficiency.
25. Cross-Functional Collaboration: Teamwork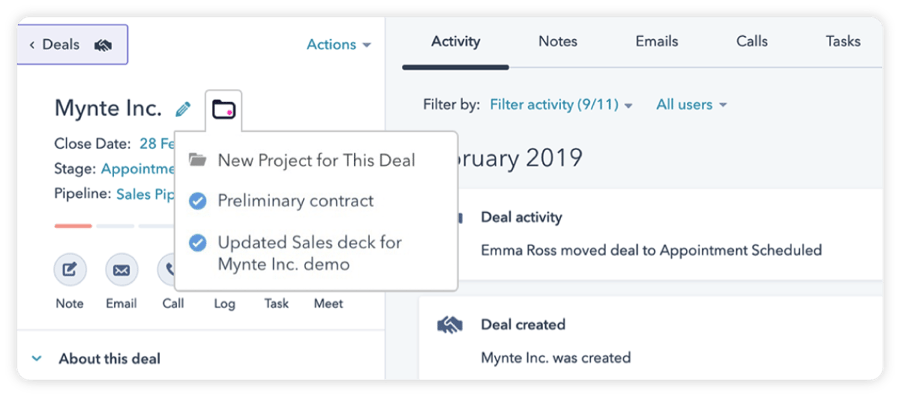 Maximize collaboration between your sales and marketing teams effortlessly with the integration of Teamwork and HubSpot. Create, manage, and automate projects, tasks, messages, and events in Teamwork without leaving HubSpot. With Teamwork's Automations Engine, project creation is automated, and you can customize project names and descriptions.
Keep everything in sync by linking items in Teamwork Projects to any item in HubSpot, and reduce manual workflows by automating project creation when a deal stage changes in the CRM. It's the perfect way to boost productivity and streamline your team's collaboration around customer data insights.
26. Communication: Slack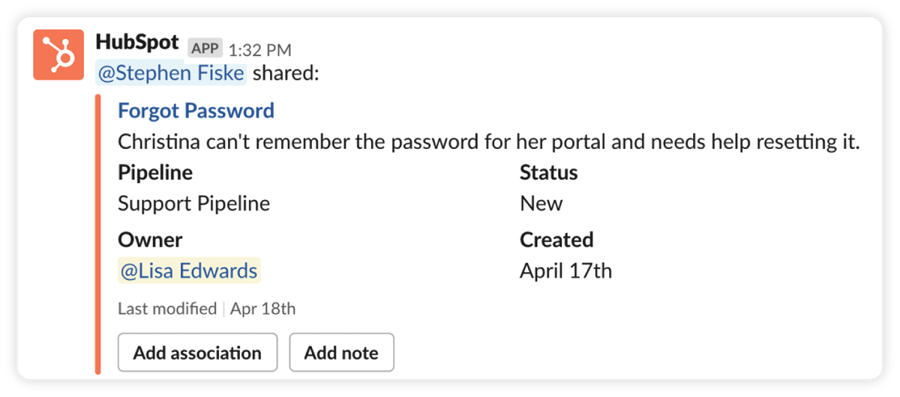 With the integration of Slack and HubSpot, you can receive notifications, send messages, and work together on tasks directly from your CRM. By connecting these two platforms, you can enhance team communication, streamline workflows, and keep everyone informed of the latest updates and developments.
So, say goodbye to communication barriers and hello to seamless collaboration with Slack and HubSpot!
27. Workflow Automation: Zapier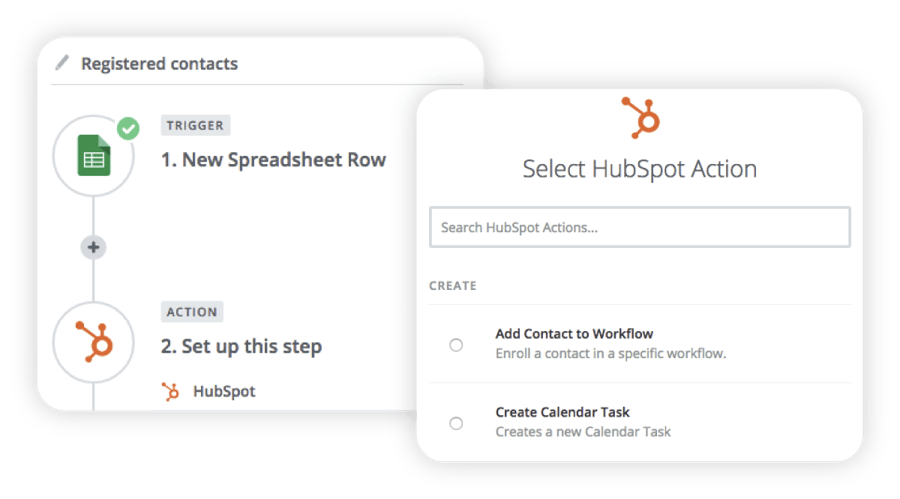 Zapier is an amazing tool for not-so--tech-savvy teams that can automate your workflows and integrate your favorite HubSpot apps. By connecting your CRM with thousands of other apps, such as Gmail, Trello, and Airtable, you can create custom workflows and streamline your processes.
With Zapier, you can reduce the amount of manual work you have to do and increase your team's productivity. It's a game-changer for teams looking to optimize their operations and unlock the posibility of HubSpot integrations.
CUSTOM HUBSPOT INTEGRATIONS ↓
Implemement Custom Integrations with HubSpot API
While the pre-built HubSpot integrations covered here are invaluable for many teams, there may be instances where you need a more tailored solution to meet your specific requirements. Custom integrations, made possible through the HubSpot API, allow you to create unique connections between HubSpot and other software applications that aren't available in the App Marketplace.
Developing Custom Integrations
If you have unique operational needs that are not met by the pre-built HubSpot integrations, a custom integration may be necessary. You can work with a developer or a development team who is familiar with the HubSpot API to create a bespoke integration that ensures seamless data exchange and improved efficiency between your applications.
Custom integrations are especially useful for niche industries, proprietary software, or when you require additional functionality beyond what is offered by existing integrations.
Benefits of Custom Integrations in HubSpot
Tailored Solutions: Custom integrations allow you to create connections that perfectly cater to your requirements, addressing unique challenges and streamlining processes. Don't be limited by off-the-shelf solutions when you can tailor your integrations to perfectly cater to your needs.
Scalability: Integrations designed with scalability in mind allow them to grow and evolve alongside your operations without the need for constant updates or replacements. This ensures that you're always ahead of the game and that your integrations are always perfectly functional.
Enhanced Data Sharing: Custom integrations enable seamless data sharing and synchronization between HubSpot and other apps in your tech stack, reducing manual data entry and ensuring that all teams have access to accurate, up-to-date information.
Improved Efficiency: With custom integrations, your teams can focus on more critical tasks and boost productivity, driving growth by automating processes and eliminating redundancies.
The Takeaway
Whether you opt for pre-built integrations or custom solutions, integrating your marketing and sales tech stack can be a pivotal point for skyrocketing efficiency and driving growth in today's ever-evolving B2B landscape. Thanks to HubSpot's open API and the vast range of integrations it makes possible, you can create a personalized, seamless, and one-of-a-kind experience that helps your business stand out from the crowd.
Sr Creative Strategist specializing in B2B brand creation, sales enablement, and SaaS demand generation. With 8 years of experience, she excels in driving ROI and revenue-driven KPIs through collaborative innovation.