As we reflect on the traditional sales playbook, one theme emerges: "More is more." However, the ever-changing macroeconomic landscape has fractured this once-successful approach. Growth has stagnated, teams have become more demoralized, and sales reps are finding it increasingly difficult to connect with customers. As a result, reps struggle to meet targets and spend too much time on non-sales tasks.
While these changes may seem daunting, they also present an opportunity for a new approach. It's time to shift from a mindset of "selling" to one of "serving," where the needs of the customer are prioritized and empathy takes the lead.

We've discovered three trends that top-performing sales teams like HubSpot, Teamwork, SEMRush, SaaSworks, and New Breed prioritize to optimize their people, processes, and technology. By aligning these elements, these teams ensure that their sales representatives are fully equipped to provide exceptional service to prospects and customers, effectively bridging the Connection Gap that many are facing today.
The Rise of the Cautious Customer
In today's market, customers have become increasingly cautious and deliberate when making purchasing decisions. This shift in buying behavior has redefined the relationship between companies and their customers, with a growing expectation for greater value and a personalized approach right from the start of the journey.
Addressing the Connection Gap is crucial because we understand that establishing a strong connection with customers is what fuels growth. Failing to harness Generative AI effectively can further widen this Connection Gap, making it even more imperative to take proactive measures. To scale empathy in sales, leaders must enable teams to leverage cutting-edge technologies that increase efficiency and focus on revenue-contributing tasks.
New Sales Hub Features Solving for Customer Connections
Sales teams using Sales Hub have a golden opportunity to take advantage of the latest features introduced by HubSpot. These features empower teams to revolutionize their approach to connecting with prospects and customers, as well as delivering exceptional value. Here's how your team can leverage these features to overcome the challenges presented by cautious customers: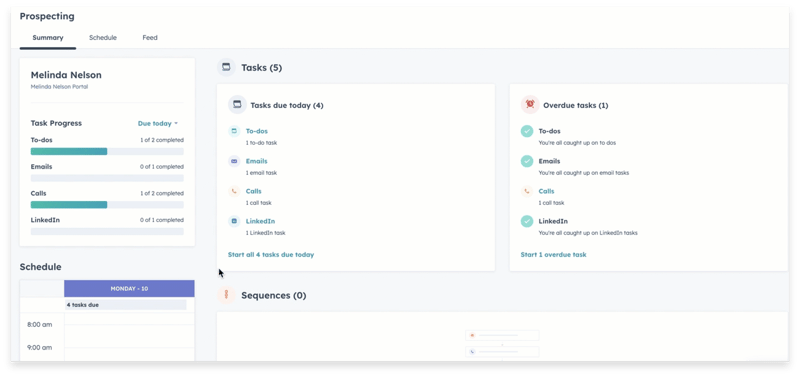 Prospecting workspace (public beta)
HubSpot has introduced an innovative prospecting workspace that enables sales teams to maintain focus and productivity. Salespeople have all the tools and data they need in one place. They can easily complete their work without switching between apps. This new feature empowers teams to streamline their workflow and maximize efficiency, ultimately driving better results.
Report on prospecting activities (live) to find areas for improvement and create effective strategies to increase conversion rates and improve outreach performance. With the prospect engagement reporting tools, you'll gain a comprehensive perspective on your sales reps' outreach activities, including:

Conversation rates
Activities per contact
Activities per day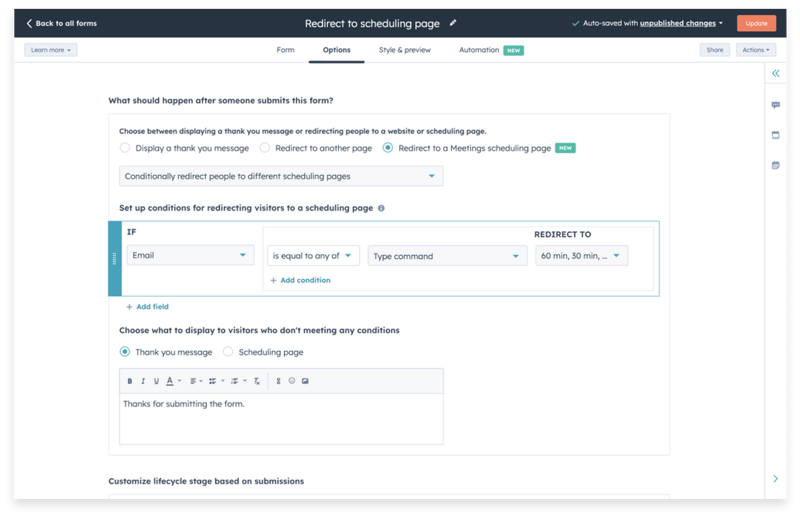 Seamless handoffs
Deliver exceptional buyer experiences by seamlessly transitioning leads at the exact moment of peak buyer interest, resulting in effortless and seamless handoffs between marketing and sales.
HubSpot forms now have a feature called lead form scheduling (live). It allows you to set rules to send leads to the correct representative automatically.
Book meetings on behalf of others (live) or simply round-robin your leads evenly across your team and give credit to the reps booking and hosting the meeting.
The Imperative of Transparent Reporting
In the current economic climate, revenue leaders are facing the challenge of adapting their sales management approach to focus on specific metrics that can increase deal velocity and predictability in the pipeline. This has led to a complete evaluation of sales processes and team performance. Leaders are now actively involved in regularly managing the sales pipeline on a weekly, or even daily, basis. The mounting pressure from boards, executive leaders, and investors has significantly heightened the need for transparent and relevant reporting.
New Sales Hub Features Solving for Smarter Reporting
So, how can sales leaders leverage Sales Hub to not only keep track of but also improve key metrics such as deal cycle length, push rate, pipeline hygiene, and, ultimately, revenue? Sales Hub recently launched updated features enhanced by artificial intelligence that put more power in sales leaders' hands: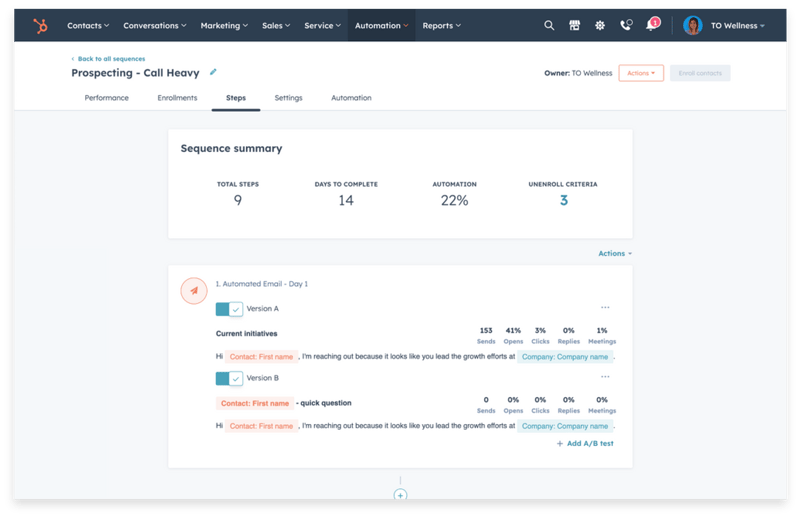 Smarter sequences
Find the insights behind your sales engagement strategies and witness the power of experimentation and measurement in driving impactful outreach at each stage with smarter sequences:
A/B testing (public beta) allows you to explore various email strategies within a sequence to enhance the effectiveness of your outreach efforts.
With sequence step analytics (public beta), you can dive deeper into the performance of tasks and emails within a sequence to uncover valuable insights on the most effective steps for conversion.
Tie sequences to sales outcomes and understand the business impact of your outreach with sequence outcome reporting (public beta)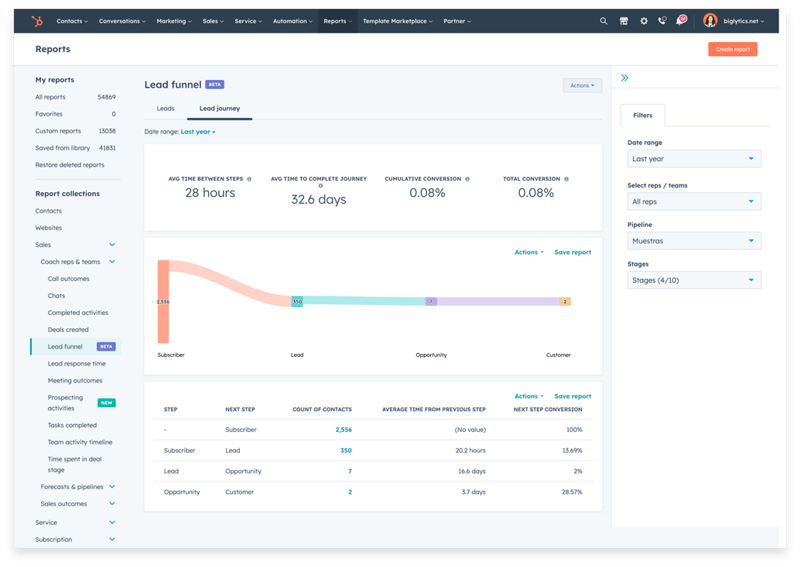 Lead reporting
The new lead reporting features help your teams uncover the path from lead generation to revenue and unite your marketing and sales teams with clear objectives and valuable insights.
Discover the methods reps are using to engage with your high-quality leads and understand the reasons behind their successful conversions with the lead contact rate report.
The lead source report allows you to tap into the impact of your inbound, sales, or product-qualified lead sources and their contribution to generating valuable leads.
The Challenge of Extended Sales Cycles
For sales teams, longer sales cycles create several challenges. The financial pressure can halt investments in growth initiatives, further stunting revenue potential. They mean that reps may feel like they're not making progress and can become demotivated, leading to a dip in productivity.
New Sales Hub Features Solving for Longer Sales Cycles
Forecasting can also become more difficult, with longer sales cycles creating more uncertainty around closing plans and contract terms. In this environment, teams must adapt to build customer relationships that can withstand the longer sales cycle while simultaneously leaning on technology such as Sales Hub to identify and act on any opportunities to reduce sales cycles and improve pipeline hygiene.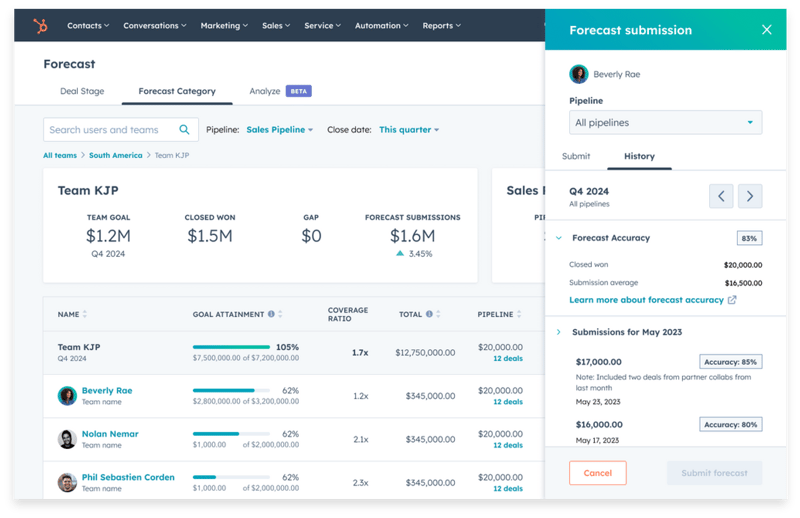 Forecast intelligence
Predict sales more accurately with the help of artificial intelligence.
Use the power of AI to assess your manual forecast submission against a cutting-edge predictive forecast (private beta). Take strategic actions to surpass your goals and outperform your plan.
The accuracy tracking (public beta) feature allows the team to use historical forecast data to track the accuracy and reliability of your forecast submissions over time.
Stay on track with insights on how your forecast and pipeline are trending throughout the quarter with embedded insights (live).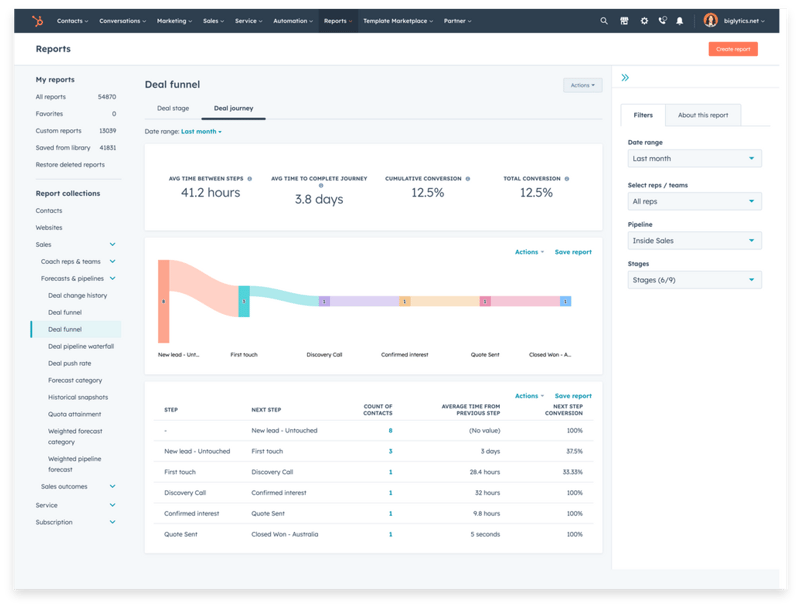 Deal velocity reporting
Track how your prospects, deals, and customers are moving through your sales pipeline from end to end.
Measure how fast deals leads convert into revenue, identify bottlenecks in your sales process and measure everything from lead quality, to cost per lead with deal funnel reporting (live).
By using deal journey analytics (live), teams get a true reflection of the path from prospect to revenue and see where your deals are dropping off or skipping steps.
Conclusion
Sales are changing, and the old "more is more" tactic isn't cutting it anymore. Customers want connection and value from the get-go, and traditional approaches are falling short. But, this new challenge opens the door for fresh, customer-focused strategies.
Tools from platforms like Sales Hub offer innovative ways for sales teams to adapt, fostering stronger customer connections and harnessing technology to streamline processes and navigate the current sales challenges. Moving forward, the key to sales success lies in embracing change, adopting new tools, and putting the customer first, ensuring a promising and adaptable future.
Ready to dive deeper into the future of sales? Check out the industry-first "State of HubSpot 2023" report! And don't miss our webinar. Hear insights from experts at HubSpot, Jasper, and New Breed on the tactics behind the top-performing leaders in the HubSpot ecosystem. Secure Your Spot Now!
Kelly is the Product Marketing Manager at New Breed.
Connect with the author