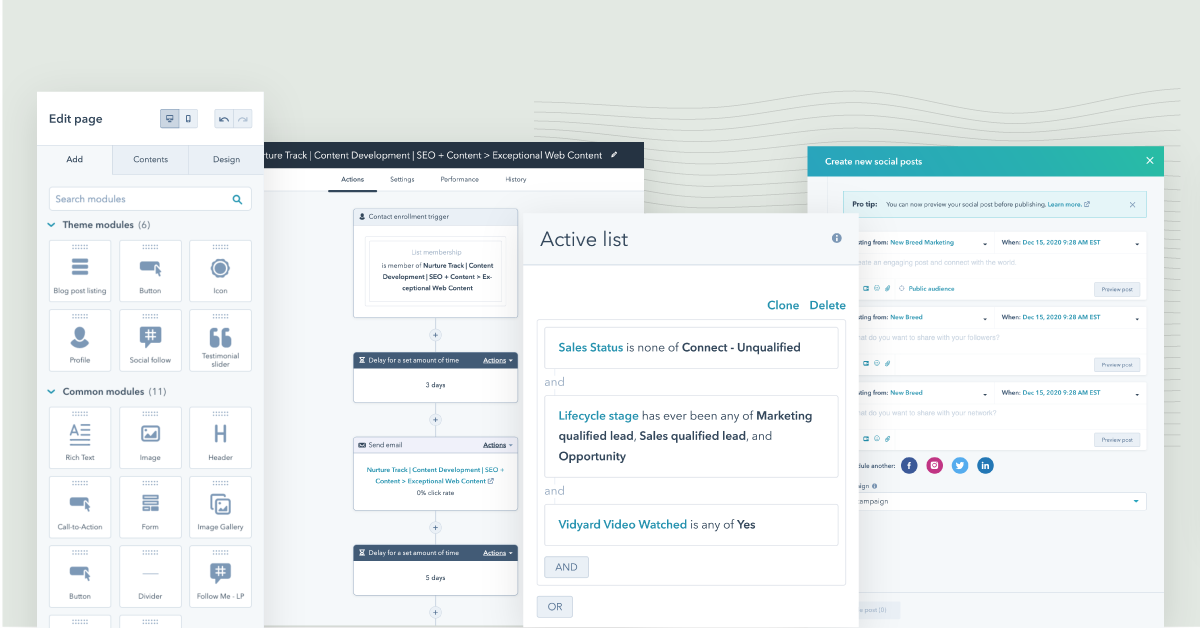 There are an endless amount of tools out there that a marketer could use on a day-to-day basis. But the real value of any great marketing tool can be simplified into three different characteristics: It should improve efficiency, integrate with the rest of the company's tech stack and, most importantly, help maximize a marketer's time.
HubSpot Marketing Hub contains great features for marketers from all company sizes and experience levels. Here are eight of the best features of the HubSpot Marketing Hub:
1. Free CRM
While the HubSpot CRM is technically its own standalone feature, it made this list because it's what makes so many of the marketing hub features function the way they do. The CRM is at the heart of HubSpot — and it's free.
With HubSpot's free CRM, users get access to contact behavior tracking information across different HubSpot objects. Those objects are contacts, companies, deals, and tickets and all information is entered as properties on those object records.
When the CRM is combined with the Marketing Hub tools it enables team members to make better, more informed decisions around their leads, prospects, and customers while working simultaneously with the other teams using the CRM as well.
If your team isn't planning to use the HubSpot CRM, and instead uses a CRM like Salesforce, you can have properties and information mapped between the two so that you can still access information inside of HubSpot.
2. Landing Pages
Landing pages are a critical part of any marketing strategy, and being able to spin them up in no time without needing to loop in designers or developers is a major time saver.
Marketers can choose to design their own templates or use their pre-designed ones. The drag and drop editor makes it easy to move modules around and add text or images for marketers with little to no design or coding experience.
This feature also offers the ability to spin up a form and follow-up email right within the landing page itself. That makes creating assets for lead capture an easier process while maximizing time and efficiency for marketers. It also eliminates the need for multiple workflows in order to create and utilize a landing page for lead generation.
3. List Segmentation
In HubSpot, you can create lists, which are groups of contacts in your database that are alike based on criteria that you have dictated. You can group these contacts based on a ton of different things like page views, lead score, interactions with emails, number of interactions, form fills, last activity or any of the properties that you are storing on your contact records.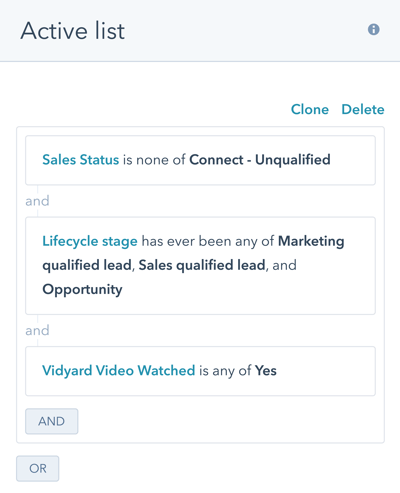 HubSpot lists enable you to group individuals for marketing or sales efforts, like sending emails, enrolling in sequences or workflows, grouping leads for sales or service teams, reporting and much more.
Segmentation is how you build personal and customized experiences for leads, prospects and customers, and HubSpot lists make it easy to get very specific in the way you segment your contact database.
4. Email
An email automation platform is a necessity for marketers, and the fact that HubSpot's offers so many capabilities while still being inside the same platform as your other marketing tools makes it a no-brainer.
HubSpot's email feature allows users to send bulk emails that are customized with personalization tokens, calls-to-action, links and images. You can also use the tool to test your emails across different email clients and devices prior to hitting send.
As far as design goes, there is a drag and drop editor that lets marketers adjust templates as they see fit depending on the type of email they are sending without needing to loop in a developer for code.
The email feature also has reporting tools that let you analyze metrics like bounce rate, unsubscribes, open rate and click-through rate over time and broken out by type of email.
Because HubSpot email is tied to the HubSpot CRM, team members can use their HubSpot lists to send and suppress users from receiving emails. If you were to use an outside tool like to send emails, it would need to be integrated with whatever CRM you do use, which may not be super user-friendly for marketing teams.
5. Workflows
Automation is a beautiful thing for marketers — it makes daily tasks and activities simpler and more intuitive. HubSpot's workflows are used to automate tasks like email sends, list building or property filling. This is done through the selection of certain criteria or rules that trigger the action needed.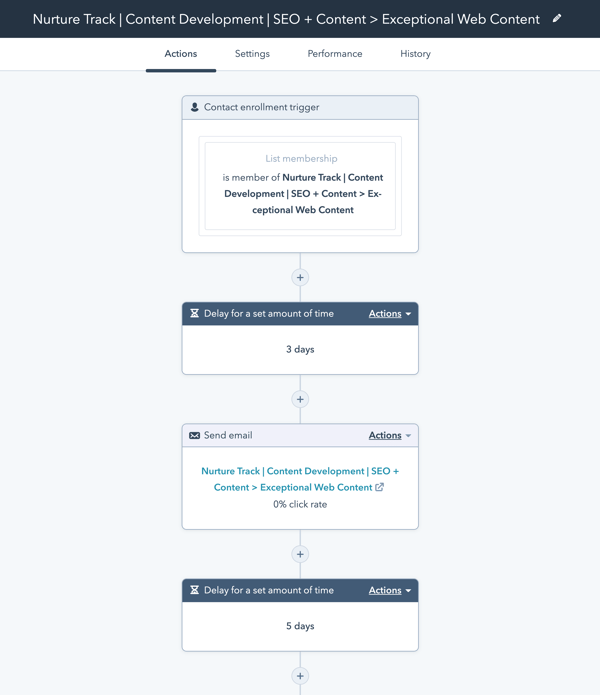 HubSpot workflows is a favorite feature for marketers because it makes their lives easier and provides better experiences for customers and prospects, all while being easy to use. Workflows also enable companies to automate tasks that needed to be done manually prior, which helps companies scale as their teams and responsibilities grow.
HubSpot workflows can be used to accomplish something once or on an ongoing basis as contacts or companies meet the criteria specified. Here are some things marketers may want to use workflows for:
Email nurture campaigns
List building and segmentation
Routing leads to sales
Assigning or re-assigning properties
Sending internal notifications
Workflows can also integrate with tools like Zoom, Slack, and LinkedIn. The Slack integration lets you notify your team members of updates like new leads or new chat conversations immediately when they happen. The notification goes right to a preselected Slack channel and features a link back to the HubSpot page being referred to. The LinkedIn Sales Navigator integration allows you to copy information from LinkedIn over onto CRM contact records as well as send InMails directly from HubSpot, and the Zoom integration is great for enrolling people into scheduled meetings or webinars.
6. Paid Ad Tracking
HubSpot's ad integration helps marketers analyze the performance of their Linkedin, Facebook and Google Ads.
While the tool doesn't replace your Google Analytics account or social profiles for managing the ads entirely, it makes daily performance metrics, maintenance, and attribution easier and more digestible — especially for users not fully trained on an ad platform like Google's.
The best part of integrating your ads with HubSpot is the ability to track that interaction back to contact records in your HubSpot CRM. This gives ad information and attribution to all of your teams while increasing your visibility into what's truly driving conversions and revenue.
7. Social Media Integration and Management
HubSpot integrates with LinkedIn, Instagram and Facebook, allowing users to connect multiple accounts across platforms, making it easy to plan and schedule posts. Posts can be drafted, edited and scheduled right from inside HubSpot.
It's important to add that there are limits to the social tools in terms of analytics, tracking and in-app functionality, but the fact that you can schedule and post from inside of HubSpot is a major plus.
8. Dashboards
Reporting is a key function of any marketing team, and typically marketers have to use multiple platforms to be able to report on their entire buying cycle, customers, and marketing interactions. But, when your entire team is using HubSpot, you can also do your reporting in the same platform.
You can add HubSpot's out-of-the-box reports, custom reports and attribution reports to a dashboard for easy reviewing and analyzing.
Those dashboards can be emailed out to users, edited for different date selections, or even kept private to limit access. Above all else, dashboards make your customer and prospect data easy to access and refer to. Having that information at your fingertips and referring to it will often make you a more informed and well-rounded marketer.
The Takeaway
The real benefit to using any of HubSpot's tools is seen when they are used in tandem. The CRM is the basis of all things HubSpot, and when your company is using the Sales Hub, Marketing Hub and the Service Hub, you are able to share information across teams like never before.
For instance, if you were to compare HubSpot's email tool to an outside platform that's sole purpose is email automation, you will probably find that HubSpot's tool doesn't have as many specialized features. But the fact that HubSpot's email tool integrates with the rest of the platform makes creating, sending and analyzing emails easier. This same principle reigns true for the rest of the HubSpot tools, which allow all teams to streamline their tech stack and maximize efficiency in a single shared platform.
Weslee Clyde is an inbound marketing strategist at New Breed. She is focused on generating results using inbound methods and is driven by the customer experience. When not at the office, you can find her binging a docu-series on true crime or perfecting her gluten-free baking skills.