Customer engagement platforms give companies a single tool to track, analyze, and manage all the customer activities, touchpoints, and interactions that impact the awareness, perception, and commitment to their brand.

Why does that matter?

If people know about you, like you, and are committed to buying from you over the competition — your company will thrive. But before we dive into customer engagement platforms, it's important to understand exactly what we mean when using the term "brand."
Customer Engagement and Brand: How They're Connected
Your company's brand is a culmination of every interaction someone has with your business. People traditionally think of a brand as being your colors and fonts — the visual aspects of your company — but in reality, your brand is what people think and say about you when you're not in the room.
Marc Benioff, the founder of Salesforce, once said, "If the company's facts (speed, price, quality) are superior to the competition, any good competitor will duplicate them, or worse, improve upon them. What a company can own, however, is a personality."
Your brand is the one thing that none of your competitors can replicate. They can steal your software. They can steal your features and functionality, but they can't steal the way that people connect with who you are as a company.
To facilitate positive experiences and solidify their feelings about you, you need to deliver a frictionless experience through their entire customer journey, ensuring every touchpoint is optimized.
Because a customer's experience happens across several channels and at various times, this can feel like a daunting task. The good news? Turning this overwhelming challenge into a manageable process is exactly what customer engagement platforms do.
What is a Customer Engagement Platform (CEP)?
A customer engagement platform gives you a centralized place to track, analyze, and manage every interaction between you and your customers and engage them across any and every possible communication channel.
It houses a database of connected content and tracks your audience as they transform from strangers to prospects to customers and, eventually, to champions.
You might think that's what your CRM does. But there's an important difference: a customer engagement platform is a blend of CRM, Marketing Automation, and Sales/e-commerce tools, like HubSpot or Twilio's CEP.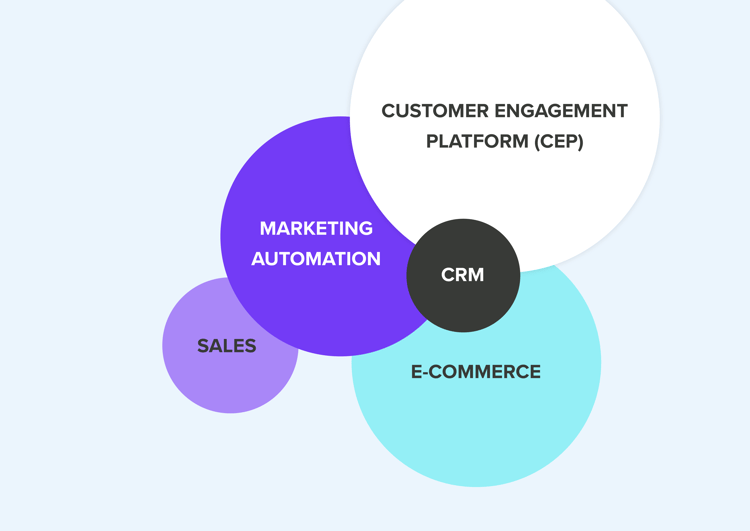 Customer Engagement Platform vs CRM
Many modern customer engagement platforms started as customer relationship management (CRM), a way to store data and track the activity of your customers.
A CRM is, in its most basic form, a contact database. That same contact database is the foundation of a customer engagement platform. The difference is what you use to execute marketing, sales, and services tactics when using just a CRM vs. using a customer engagement platform.

With only a CRM, a company might also:
Host their website on the WordPress CMS.
Use marketing automation, create email campaigns, develop landing pages, and generate leads with Pardot or Marketo.
Manage their social media with HootSuite or SproutSocial.
Conduct sales engagement and automation on Outreach.
House their knowledge base and ticketing tools on Zendesk.
Cobbling disparate tools like this together and integrating them with a CRM is what many companies do.

A customer engagement platform packs all that power into one simple solution.

It's one software that houses all the tools your marketing, sales, and services teams use to engage prospects, convert them to customers, and turn them into loyal fans who will share their glowing feedback with others.
The Benefits of Using a Customer Engagement Platform
The benefits of using a customer engagement platform include:
Improved customer satisfaction
Increased customer loyalty
More effective communication with customers
Sales and revenue growth
Cleaner and more reliable customer data
Here's a quick breakdown of each benefit.
Improved customer satisfaction
A customer engagement platform provides your services team with useful data and gives them visibility into every interaction and touchpoint throughout a customer's entire journey. They can then use that information and the tools within the platform to quickly and proactively meet customers' needs.
Increased customer loyalty
This is really the effect of more satisfied customers.

It all starts with your marketing team understanding a prospect's pain points and challenges. Then, sales crafts an offer that promises a solution to their obstacles. Lastly, your services team helps the customer actually overcome them using your product or service.

A customer engagement platform helps you stay focused on the customer and deliver the right messaging through the right channel throughout every stage of their journey. Over time, your reward will be more loyal customers.
More effective communication with customers
If you're not sure what you're saying to customers in one place, you may end up sending redundant communication, conflicting messaging, or even too much or too little engagement.

A customer engagement platform makes marketing, sales, and services aware of each other's communications to the customer across every channel — and it even provides information on how the customer responded (or didn't respond) to that outreach. As a result, you can now communicate more effectively with your customers because you can learn from your customer engagement platform the best channels, times, and formats to communicate with your customers.
Sales and revenue growth
There are two primary ways a customer engagement platform drives revenue.

The first is word-of-mouth. If you're generating more loyal and satisfied customers, they're going to tell others about you. The second is the seamless flow of information between marketing, sales, and services.

Services can learn nuances about a customer from the past interactions they had with marketing and sales and even the notes those teams left regarding those interactions. Marketing and sales can learn from services what's resonating with customers or even things that customers aren't fully understanding before they become customers. This enables them to craft better messaging to prospects that can boost marketing's lead generation rate and sales' close rate.

This is all much more difficult to achieve without a customer engagement platform.
Cleaner and more reliable data
This is what fuels every other benefit we've listed above.

Because you're not looking at data in different systems and trying to make sense of what matches and what doesn't, you can quickly access the data you need, trust its reliability, and make fast, smart decisions. Plus, instead of having to collect, analyze, and manage data across multiple platforms, you can do it all in one place. This makes maintaining data integrity a much more seamless process.

A customer engagement platform is a powerful growth platform. It's not a luxury item that makes life a little more convenient for your customer-facing teams. It's how you eliminate the friction between your organization and your customers, grow your brand, and drive more revenue.
How Customer Engagement Platforms Work
It all comes back to the customer experience. The goal is to help you deliver a connected experience across the many customer interactions that happen across disconnected channels. These touchpoints could be:
Visiting your website
Downloading a free eBook
Engaging with you on social media
Interacting with your email nurture campaign
Getting a demo from a sales rep
Becoming a customer
Submitting a ticket to customer service
Customer engagement platforms give you first-party data from these channels in one place and the tools to act on that information. You can even make connections and see correlations between activity on different channels and build workflows that trigger actions on one channel based on actions that occurred (or didn't occur) in another channel — all from a single platform. This gives you powerful control over the entire customer journey.
To fully understand the importance and breadth of customer engagement platforms, it's worthwhile to consider the touchpoints involved in a customer's journey. And every customer journey begins with discovery.
Gaining brand visibility
The first thing to think about is how people could interact with your brand today. For customers, it starts with discovering your business in the awareness stage. It's becoming more and more common for people to discover companies and solutions online. Here, there are a number of potential touchpoints that could occur. A few common examples include:
Organic search: If you're well-positioned from an SEO perspective, a prospect might search for a topic and click one of your blog posts that ranks in their results.
Paid advertising: If you're running a paid advertising campaign on Google to promote a PCO, they might click on your ad and visit the landing page.
Social media: Someone might have been using social media and happened upon one of your offers, leading them to your website.
These are just three common examples, but this first touchpoint could really happen in several ways. Your customer engagement platform can give you access to your blog, landing pages, SEO, paid advertising, and social media tools all in one place. That way, no matter how customers interact with your content, you can always account for it.
Converting and nurturing leads
From there, the next set of touchpoints involves converting and nurturing leads. This can be accomplished with a mix of tools and strategies, including:
You can also utilize A/B testing and smart content to optimize your conversions. All of these features can help prospects take the next step, so having them live in one place on your customer engagement platform is a game-changer. Once you convert a prospect and receive their information, you can begin to nurture them.
Eventually, when they reach a certain amount of interest and engagement, they'll be ready to hand off to sales.
Engaging in sales conversations
As contacts move down the funnel, you need to streamline your outreach.
When sales receive qualified leads from marketing, they should focus their conversations, beginning to position their offering as a solution to prospects' problems. Email and phone outreach are common tactics to use at this point, so having a platform that includes email tracking and notifications, Gmail and Outlook integrations, task automation, email sequences, and native calling options is ideal. These initial sales efforts should then guide prospects to schedule meetings with sales reps.
Live chat, one-to-one video tools, and meeting scheduling features are incredibly useful at this stage as well.
Over time, as you provide value to prospects, you will gain their trust. By continuing to nurture them and positioning your product as a way to solve their problems, qualified leads can become opportunities and then customers. Once a customer closes, ensuring a smooth handoff from your sales team to your services team is vital for providing a great customer experience.
Onboarding customers
To deliver a great onboarding experience, you need to organize and track customer communications. This is best accomplished by using ticketing, live chat, conversational bots, and team email features on your platform so that no interaction slips through the cracks.

After onboarding has occurred, customer success managers and service team members must help and delight customers at scale.
Delivering excellent customer service
This is where you turn a customer into a promoter.

Regular check-ins with customers are vital to make sure they're getting the most out of your product. It's also important to supplement check-ins by enabling your customers to solve problems on their own. This requires a robust solution that can exist as your customer engagement platform. Some tools you can use to deliver excellent customer service include:
A knowledge base
Task automation
Your customer engagement platform also needs a powerful database. With it, you can track contacts within your system, manage content distribution, and host your website. It also needs to provide reporting capabilities, so you can measure your performance, diagnose problems, and optimize results. Combining all of these tools into one platform is an immense undertaking.

So, how do people do it? What's the best solution out there to create a customer engagement platform?
5 Customer Engagement Platforms We've Tried and Tested
When it comes to customer engagement, having the right platform can make all the difference. We've thoroughly tested a range of platforms to identify the best tools to help businesses connect with their customers more effectively. Below are five customer engagement platforms that have stood out in our evaluations, along with a feature from each that we particularly admire.
1. HubSpot Customer Platform
HubSpot's customer platform is an all-encompassing solution designed to cater to various business needs, including marketing, sales, customer service, content management, and operations. It's a comprehensive suite that integrates multiple functionalities into one platform, facilitating seamless interaction across different departments within an organization. It's designed to grow alongside your business, providing scalability and ease of use.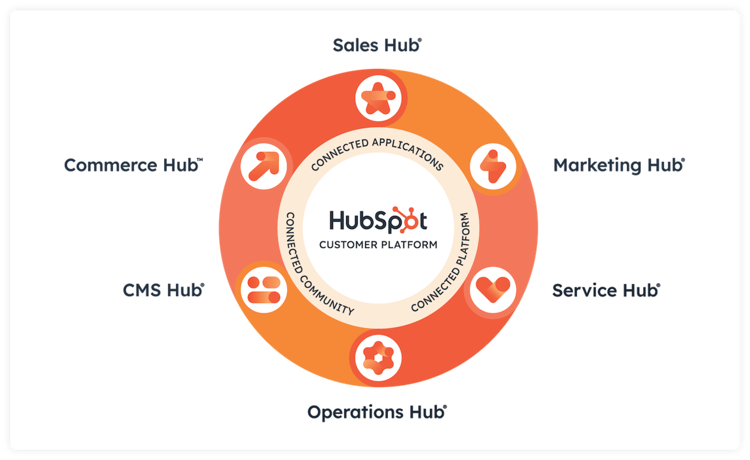 Pros: Offers a complete CRM platform that includes marketing, sales, customer service, CMS, and more, all seamlessly integrated. It's user-friendly with a free version available that's quite robust.
Cons: While it offers a free tier, the costs can quickly add up as you add premium features and grow your team. Some users report that the system can get a bit complex with the addition of more advanced tools.
Intended for: Small to large businesses looking for a versatile platform that can handle multiple aspects of the business in one place. Particularly suitable for those who value a seamless flow of data between different departments​.
Feature We Like: Flexible associations within HubSpot's CRM are a game-changer for automation, allowing businesses to have more control over email delivery based on associated records. This capability enhances segmentation and workflow personalization, which is pivotal for professional and enterprise tiers.
2. Intercom
Intercom is renowned for its conversational engagement features, which are underpinned by robust customer data analytics. It's an effective tool for businesses that want to track and understand product usage and customer behavior across channels.
Pros: Provides a suite of messaging-first products for sales, marketing, and support that work seamlessly together. Known for its sophisticated targeting and customer segmentation capabilities.
Cons: The pricing structure can be expensive, particularly for startups or small businesses. Some features may be overkill for companies that only need basic engagement tools.
Intended for: Medium to large businesses or fast-growing startups that require a comprehensive set of tools for engaging customers throughout the customer lifecycle.
Feature We Like: The customer data analytics of Intercom allow for detailed tracking of customer interactions within your product. This powerful feature enables precise segmentation and the delivery of personalized communication, which is integral for an effective business intelligence strategy.
3. Drift
Drift has established itself as a leader in conversational marketing and sales platforms. It offers a variety of sales enablement tools and playbooks to help businesses engage customers in real-time.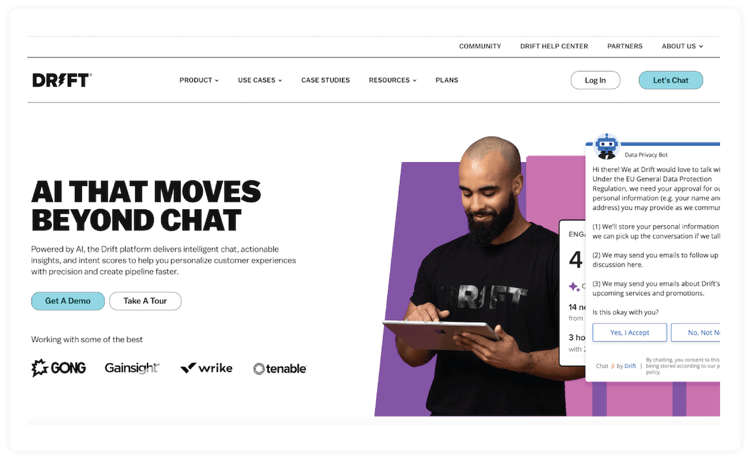 Pros: Focuses on real-time lead capture and conversational marketing, excellent for businesses that want to engage customers directly on their website. It also offers a unique video feature to personalize the customer experience.
Cons: Drift can be quite expensive, and its focus on real-time engagement may not suit all business types, particularly those with less emphasis on immediate sales conversions.
Intended for: Mid-sized to enterprise-level organizations with a strong focus on inbound marketing and real-time customer communication, especially in B2B sectors.
Feature We Like: What stands out with Drift is its suite of conversational marketing tools, which are instrumental in shortening sales cycles and enhancing the customer experience. The platform's playbooks make it a standout choice for implementing a powerful conversational strategy​.
4. Zendesk
Zendesk offers a solid and customizable customer support and engagement platform. It provides a robust ticketing system and integrates seamlessly with various communication channels.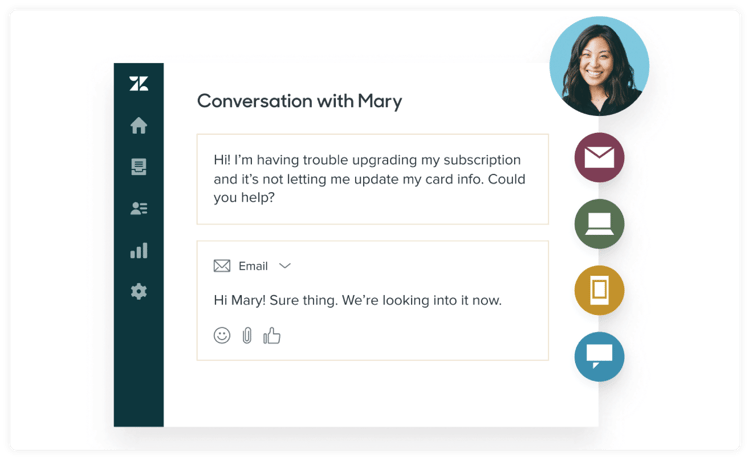 Pros: Zendesk is a popular platform for its strong ticketing system and customer support features. It's highly customizable and can handle a large volume of interactions.
Cons: Experience Cloud has a steep learning curve and can be costly to implement and maintain, especially with custom features. It's resource-intensive and may pose challenges for smaller businesses or those without a dedicated IT department.
Intended for: Businesses of all sizes that need reliable customer service software that can grow with them, from startups to large enterprises.
Feature We Like: Zendesk's powerful database and reporting capabilities provide businesses with the tools to track and manage customer interactions effectively. The platform's ability to consolidate first-party data from different channels into actionable insights is particularly beneficial for managing the customer journey.
5. Salesforce Experience Cloud
Salesforce Experience Cloud is part of the larger Salesforce ecosystem and is known for its extensive customizability and comprehensive customer service tools.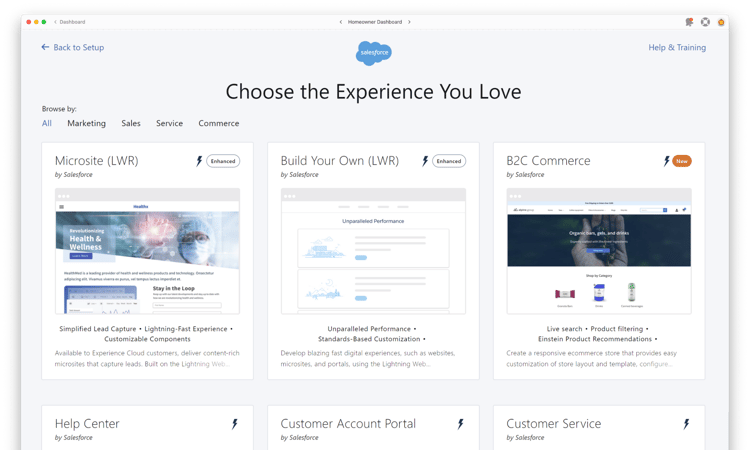 Pros: Known for its extensive customization options and comprehensive customer service tools. It's part of the larger Salesforce ecosystem, which offers a wide range of additional business solutions.
Cons: The platform has a steep learning curve and can be resource-intensive to implement and maintain. Customization, while powerful, requires technical expertise.
Intended for: Large businesses or enterprises that need a powerful and customizable CRM with extensive customer engagement capabilities and are willing to invest in the setup and maintenance.
Feature We Like: The platform's versatility in integrating data from multiple sources, including Salesforce, third-party, or legacy systems, allows for highly sophisticated and customized customer engagement strategies.
These platforms each bring unique strengths to the table. The right choice for a business will depend on specific needs such as the size of the organization, the nature of customer interactions, and the desired level of customization. We've found that these platforms can provide powerful solutions to enhance customer engagement and drive growth when utilized effectively.
How To Leverage Your Customer Engagement Platform
More often than not people resort to connecting a bunch of disparate tools together in an attempt to form one customer engagement platform.
For instance, they host their website on the WordPress CMS. They adopt Pardot or Marketo as their marketing automation tool to create email campaigns, develop landing pages and generate leads. They manage their contact database by using Salesforce as their CRM. Their sales engagement and automation live on Outreach. And finally, they use Zendesk to house their knowledge base and ticketing tools.
While such a tech stack does offer many of the tools we discussed above, you need to make sure that the software integrates together. For the system to work well, the different programs should pass information back and forth seamlessly.
If you're trying to analyze one of your customers in Salesforce and then look in Marketo to find more data on the same customer, you want that information to match up. Overall, such a system normally requires an in-house specialist for each platform and is very difficult to manage.
Use HubSpot Customer Platform to Drive Engagement
Thankfully, there is a simpler option. Our marketing, sales, services, and operations teams at New Breed use HubSpot CRM which allows us to perform all of these tasks on one platform for all of our customers.
With HubSpot, you can start from the very beginning of the customer journey and guide prospects to becoming evangelists. It has the tools for every stage we discussed above: getting found online, converting and nurturing leads, streamlining your outreach, connecting with prospects on their terms, organizing and tracking customer communications, and delighting customers at scale.

All of the tools are housed in HubSpot's Marketing, Sales, and Service Hubs, and each one has the reporting features and database to make everything functional and practical. Read more about the individual Hubs here:
HubSpot's ease of use sets the standard in the industry. It doesn't require extensive training to operate. Some of our new hires don't have experience on the platform, but they're able to pick it up and quickly make contributions.

Since it is an all-in-one platform, HubSpot also minimizes technical debt. Basically, by choosing HubSpot now, you can avoid the implied cost of additional rework caused by using a piecemeal tech stack. You won't have to worry about maintaining as many integrations (although there are plenty available to expand the platform's functionality if you wish).
Key Takeaway
Today, the whole customer journey is evolving. To create evangelists for your brand, you need to present seamless interactions to consumers. Engaging your audience in one place makes that easier.
Considering the modern buyer, HubSpot stores all of the data you collect in one location.

As a result, your marketing, sales, and services teams can all work off from one record for each contact, company, and deal that enters your organization. That one source of truth improves handoffs between teams and results in a great consumer experience. With each touchpoint flowing smoothly into the next, prospects will build trust faster, and customers will be more likely to refer their colleagues to your company.

HubSpot constantly strives to reduce friction in your conversion funnel. While other software programs try to emulate that, they lack the all-in-one functionality necessary to accomplish it.
You can try to create a customer engagement platform by combining numerous programs, or you could simply use HubSpot and do everything in one place.
Guido is Head of Product and Growth Strategy for New Breed. He specializes in running in-depth demand generation programs internally while assisting account managers in running them for our clients.